For many years we've attended a beautiful local Thai restaurant in Noosa. My husband and I always used to love our occasions where we would share this delightful Thai soup called Tom Kha Gai. It was so warming and soothing with its brothy feel and being infused with the rich spicy Thai flavours of lemongrass, ginger, garlic, kaffir lime & coriander.
I decided that I had to make it at home! And it had to be really really like the original in the restaurant! After much research and many many batches and tweakings I came up with the following. My husband thinks its pretty fantastically close to the original! I was VERY excited as he is a real food critic!
I love soup. I even like soup when it's not winter! It's been pouring rain here in Queensland this week and it just seemed fitting for dinner tonight. We had some friends for dinner and it went down a treat!
My husband often lectures at nights and this is perfect for him if he is hungry when he gets home late. It's very low carb and easy on the digestion. You can add vermicelli to it, however I prefer to keep it grain free and keep the carbs that little bit lower…and I just don't think it needs it!
Enjoy!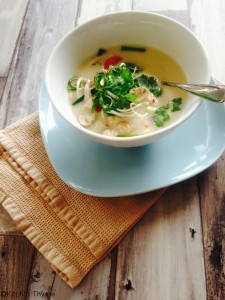 Tom Kha Gai (Thai Chicken Soup
2015-01-22 02:23:40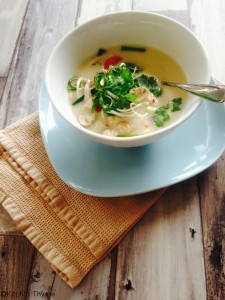 Serves 4
Warming, coco-nutty, delicious soup with all the punchy Thai flavours! "Fantastic Thai soup. Great mix of flavours with a good hit of chilli." Bec of The 4 Blades Magazine, July 2016
Ingredients
800ml Bone Broth (or Chicken Stock)
800ml Coconut Cream (2 Cans)
1 1/2 tsp Celtic Sea Salt
6 Kaffir Lime Leaves
6 Coriander Roots and stalks, washed thoroughly
2 Stalks Lemongrass, halved and bruised
4cm Knob Ginger, sliced thinly
2 Cloves Garlic, bruised
2 Chicken Breast, halved in thickness
250g Button Mushrooms
125g Cherry Tomatoes, halved
4 Spring Onions, cut into 4cm batons
1 Long Red Chilli, finely diced
1 Tbsp Sesame Oil
2 tsp Fish Sauce
Fresh Coriander to serve
Instructions
Place the chicken stock, coconut cream and salt into the Thermomix. Position the basket in place and add the lime leaves, coriander, lemongrass, ginger, garlic and chicken breast. Cook for 18 Mins/90°/Speed 3.
Lift the basket out of the Thermomix with the spatula and discard the aromatics. Check that the chicken is cooked, and take it out of the basket and set aside to cool slightly.
Insert the butterfly into the Thermomix and add the mushrooms, tomatoes, and white stems of the spring onions and cook 8 Mins/90°/Speed 3/Reverse.
Add the green pieces of spring onions, chilli, sesame oil and fish sauce and cook for a further 2 Mins/90°/Speed 3/Reverse.
Shred the chicken with a fork and add to serving bowls. Pour the hot broth over the top.
Garnish with coriander and serve.
Kitch'n Thyme http://kitchnthyme.com.au/