These ones are a recent creation! And they are good!
I've used Carob instead of Cacao. Carob is naturally sweeter than cacao and is caffeine free. It's a great alternative to cacao and has a beautiful sweet, mellow flavour. You can use Cacao, but I much prefer the carob in these ones, it's just a perfect flavour with the slight saltiness.
More and more I realise how much I'm going back to my childhood. Carob was the only thing we ate, chocolate was unheard of in our house!…I know deprived! But now I think oh yum carob for a change!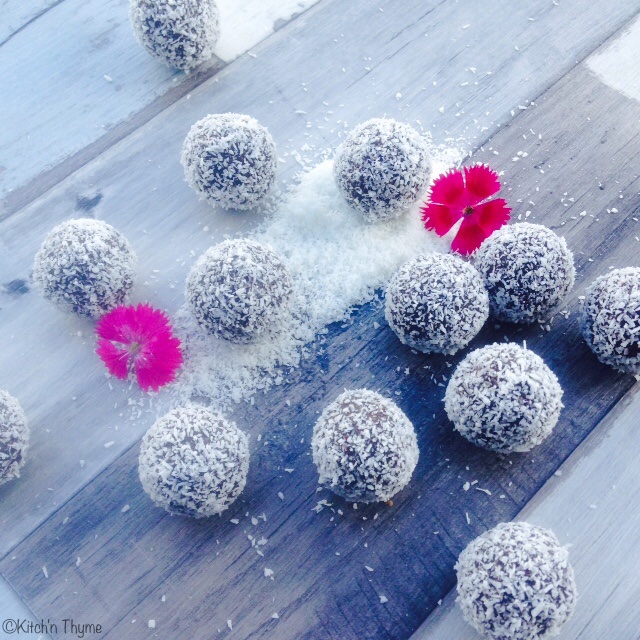 I've used part almonds, part sunflower seeds, and I roast both of them. The almonds are easy to do in the oven on about 180° for 15 minutes and the sunflowers are easiest to toast in a frypan over medium heat until golden. You don't have to roast them if you want them to be completely raw, but I do love the flavour of roasted nuts and seeds!
There is no added sweetener other than the dates. I love this. You could eat a couple for breakfast they are that good!
The little bit of coconut cream adds to the texture and helps bind them too.
I love having some ready make bliss balls in the fridge at all times so there's a quick fix snack for lunchboxes or just when there's a hankering for something sweet.
Salted Carob Bliss Balls
2015-07-09 03:40:09
A bliss ball good enough to eat for breakfast!
Ingredients
100g Roasted Almonds
50g Toasted Sunflower Seeds
4 Medjool Dates, seeds removed
50g Coconut Oil
20g (2 Tbsp) Carob Powder
40g Coconut Cream
1 tsp Vanilla Essence or Paste
1/8 tsp Celtic Sea Salt
Desiccated Coconut for rolling
Instructions
Place all the ingredients into the Thermomix and process 10 Sec/Speed 6. Scrape down the sides of the bowl and process a further 10 Sec/Speed 7, or until a nice sticky crumb is achieved.
Roll the mixture into balls and toss through the coconut to coat before placing into the fridge to set.
Notes
If the mixture is a bit too oily to roll easily, place into the fridge to set for 30-60 mins before rolling.
Kitch'n Thyme http://kitchnthyme.com.au/