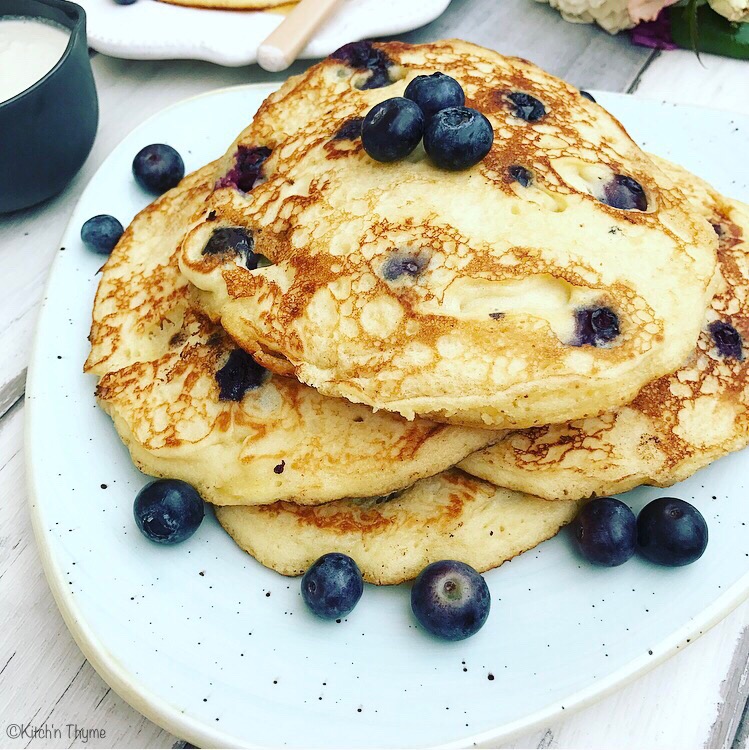 These Lemon & Blueberry Pancakes are SOOOOOOOOOOOOOO good!!
Seriously they are SOOOO easy and SO delicious!!! I've been wanting to share this delicious recipe with you for quite sometime! Upon developing this recipe, I was absolutely stoked with how light and fluffy they are! I doubt you will be disappointed!
You can substitute the couple of Tbsp of raw sugar with honey or coconut sugar, it may just change the batter to be slightly off white in colour, but the taste it still just as delicious!
Spelt flour can also be substituted for plain flour. As I've said in previous posts I use spelt flour in my kitchen as a straight swap for plain all purpose flour as it's a more ancient form of wheat which has been less hybridised and is easier on the digestive system. In some cases those with wheat intolerances can tolerate spelt with it's lower gluten content. It has a slightly nutty flavour and is a little more wholesome tasting!
You can basically use any berries like blueberries, raspberries, blackberries, strawberries etc.
Topped with my delicious Cashew Macadamia Cream and a drizzle of maple syrup there's not much not to love!
We make these probably once a fortnight and they are a real hit in our home! I hope you enjoy them too!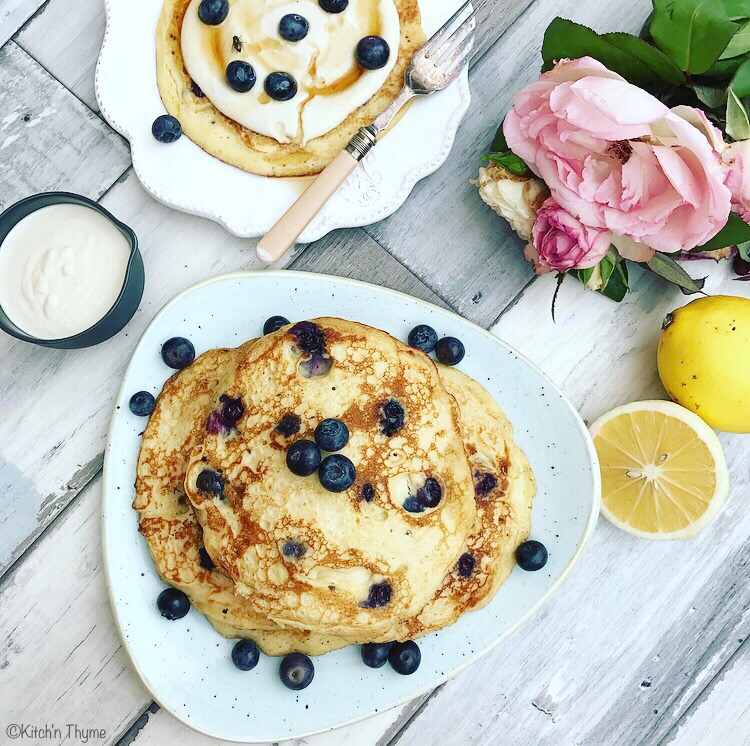 Lemon & Blueberry Pancakes
2017-02-05 05:02:37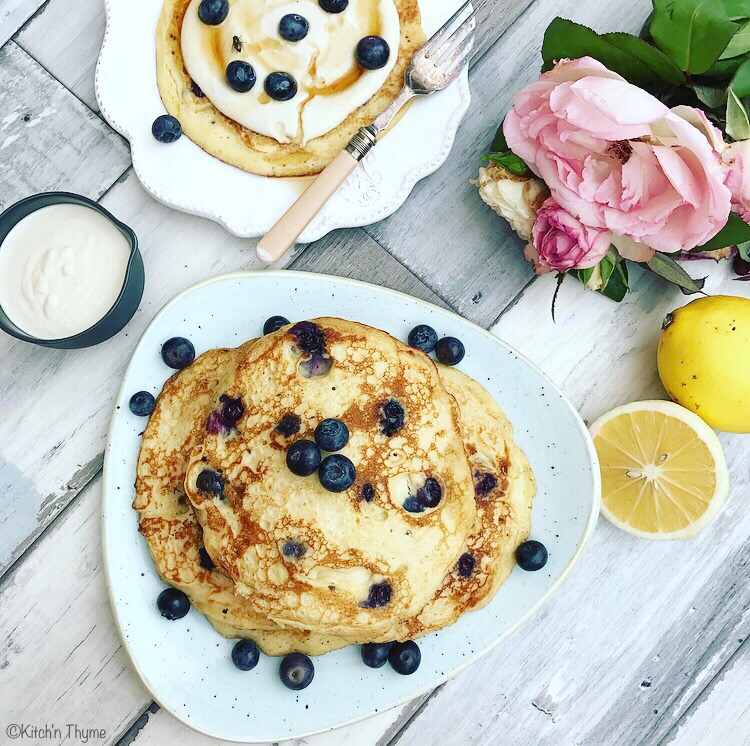 Delectable fluffy, moist berry popping pancakes! Perfect for your weekend breakfast!
Ingredients
60g Organic Butter
200ml Almond Milk
1/2 tsp Vanilla Paste or Extract
1 Organic Egg
1/2 Lemon, zested
150g White Spelt Flour
40g Raw Sugar
2 tsp Baking Powder (Aluminimum Free)
125g Fresh or Frozen Blueberries
60g extra butter
Cashew Macadamia Cream
75g Cashews
75g Macadamias
1 tsp Vanilla Bean Paste or Extract
50g Maple Syrup
150g Almond Milk
Instructions
Place the butter into the Thermomix and melt 2 Mins/50º/Speed 1.5.
Add the almond milk, vanilla, egg & lemon and mix 10 Sec/Speed 3.
Add the flour, sugar & baking powder and mix 5-10 Sec/Speed 5.
Melt 10g butter in a non stick frying pan over low-medium heat. Pour slightly less than 1/2 cup batter in pan, and if necessary, using the back of a spoon, spread to a 12cm round.
Cook for 2 minutes or until bubbles appear on surface. Scatter over approx 10 blueberries. Using a spatula or egg flip, flip and cook for a further 30 seconds or until golden underneath. Transfer to an oven tray and keep warm in the oven. Wipe pan clean. Repeat with remaining butter, batter and blueberries.
Serve the pancakes with a dollop of cashew macadamia cream and a drizzle of maple syrup. Alternatively, top with your favourite fruits and yoghurt, figs in vanilla syrup or a simple squeeze of lemon juice and maple! Yum!
Cashew Macadamia Cream
Place all the ingredients into the Thermomix and blend 1 Min/Speed 9. Can be served at room temperature or chilled.
Kitch'n Thyme http://kitchnthyme.com.au/