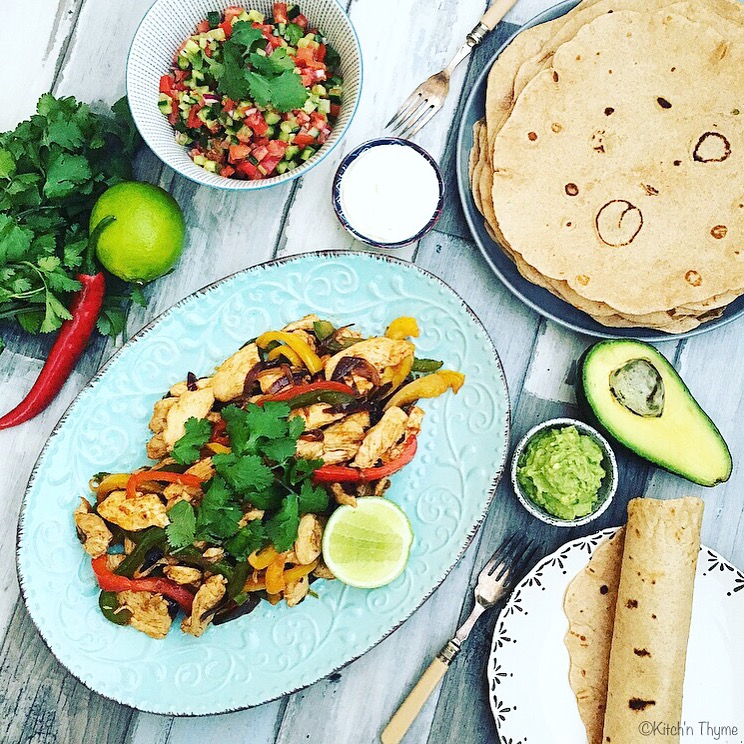 My delicious Chicken Fajitas is a family favourite! It's simple and yummy and something my little ones love too! You can very easily just eat it without the tortillas for a lower carb option as well!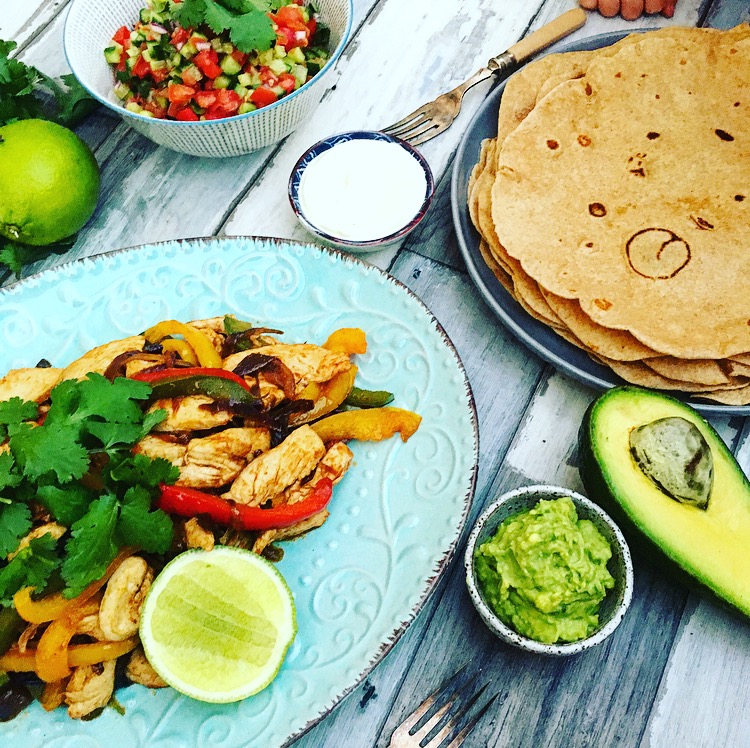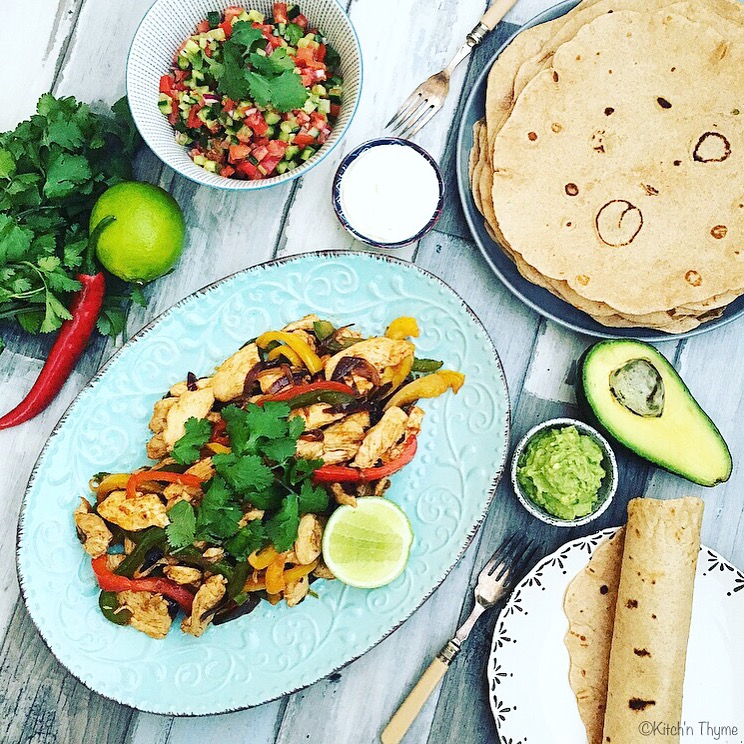 Chicken Fajitas
2016-08-09 13:08:43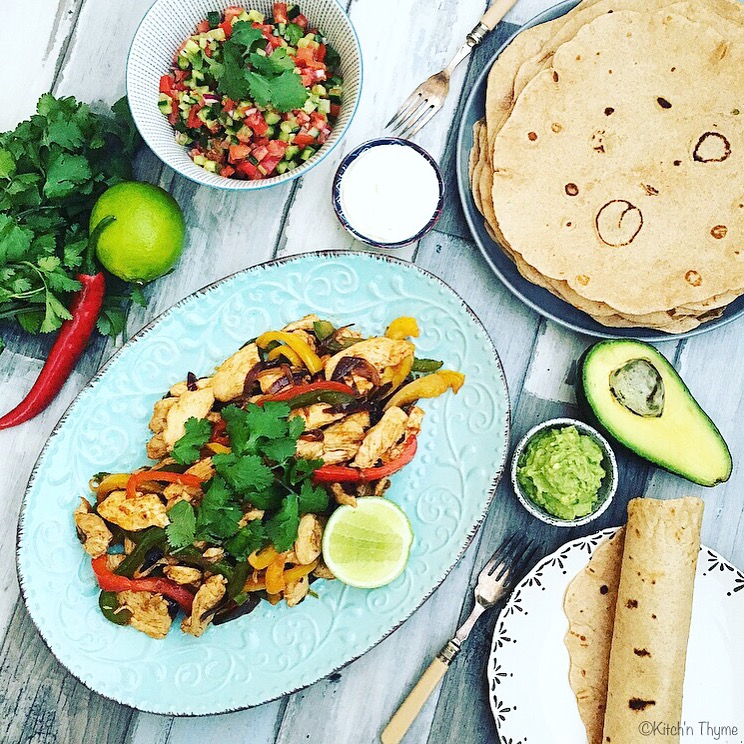 Serves 4
These delicious Chicken Fajitas pack a punch in flavour and if you plan ahead and make the Tortillas earlier it can be a quick 30 minute meal!
SPELT TORTILLAS
200g Wholemeal Spelt Flour
200g Spelt Flour
1 teaspoon Celtic Salt
1 teaspoon Baking Powder
80g Olive Oil
200g Water
GRILLED CHICKEN
4 Tbsp Olive Oil
2 Organic Chicken Breasts, thinly sliced
2 Red Onions, sliced into wedges
1/2 Red Capsicum, thinly sliced
1/2 Yellow Capsicum, thinly sliced
1/2 Green Capsicum, thinly sliced
1 tsp Ground Cumin
1 tsp Ground Coriander
1 tsp Smoked Paprika
1 tsp Celtic Salt
FRESH SALSA
2 Lebanese Cucumbers, finely diced
4 Roma Tomatoes, finely diced
1/2 Red Onion, finely diced
1/4 Bunch Coriander, roughly chopped
1/4 tsp Ground Coriander
1/2 tsp Celtic Salt
2 Tbsp Olive Oil
1 Tbsp Lime Juice
GUACAMOLE
2 Ripe Avocados
1 Garlic Clove
1/2 Lemon, juiced
1/4 - 1/2 teaspoon Celtic Salt
Paprika, for sprinkling on top
250ml Sour Cream, for serving
SWEET PEPPERS (OPTIONAL)
500g Mixed Sweet Peppers
4 Tbsp Olive or Coconut Oil
1/2 - 1 teaspoon Celtic Salt
TORTILLAS
Place the flour, baking powder & salt into the Thermomix. Mix 5 Sec/Speed6. Add the water and olive oil and knead 20 Sec. Let rest for 10 minutes.
Divide the dough into 10 portions. Roll out on a floured surface to 8-10 inch rounds.
In a large non-stick frypan, cook the tortillas for 1 minute each side or until lightly browned. Keep warm.
GRILLED CHICKEN
Heat the oil in a large fry pan and add the onion. Fry until beginning to caramelise. Add the capsicum and fry a little longer. Then add the chicken along with all the spices and salt. Cook turning for 3-5 minutes until all the chicken is cooked through. Set aside and keep warm. (You can do this step on the BBQ if you have one for a beautiful charred result or on a griddle pan).
FRESH SALSA
Place all the diced salsa ingredients into a bowl and just before serving add the ground coriander, fresh coriander, lemon, olive oil and salt. Toss to combine.
GUACAMOLE
Place the garlic into the Thermomix bowl and chop 3 Sec/Speed 5. Scrape down the sides of the bowl, add all the other ingredients and process 10-15 Sec/Speed 5.
SWEET PEPPERS
Heat the oil in a large fry pan. Add the peppers and cook for 2-3 minutes or until just softened. Sprinkle with salt and serve.
To assemble the Fajitas, grab a tortilla and top with chicken, salsa, guacamole, peppers & sour cream. Roll up and eat! Yum yum yum!!!
Kitch'n Thyme http://kitchnthyme.com.au/