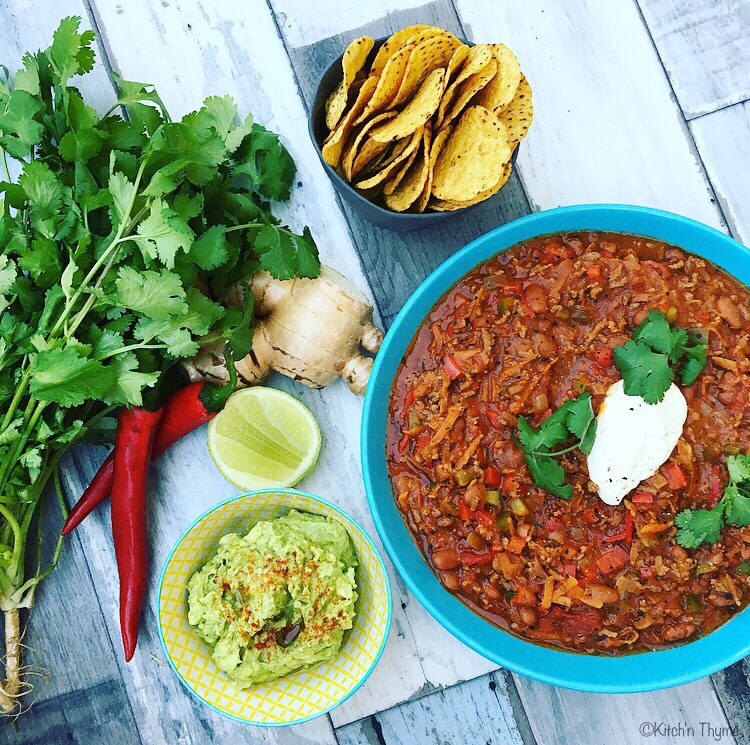 This dish brings back many memoires for me! Growing up, my mum used to make a delicious vegetarian version. It was such a staple in our house and one that I remember fondly!
I've added in a few things and made it more traditional with the organic beef, but essentially it still has all those same hearty flavours that remind you of home!
Some people put cinnamon in chilli con carne. I personally don't, but you are more than welcome to add some in if you like. I absolutely love cinnamon, but am not a huge fan of too much in savoury dishes like this!
There are all different consistencies to the perfect chilli, mine isn't runny, but it's not super thick either.
I use Mexe-beans (Pinto beans) rather than Red Kidney Beans and I don't drain them. The liquid is just water, spices and salt, (no sugar or nasty flavourings), so I add it in for that perfect consistency and extra flavour. You can use Red kidney beans if you like, but I find them a bit more floury than Pinto beans.
I also love the basil and oregano that I put in mine! It adds a beautiful flavour! I tend to not make it too hot with the chilli. 1-2 is enough for me as this suits my little boys taste buds too! But feel free to increase the chilli if you like your food hotter!
It's starting to get cooler now, and this beauty is the perfect winter warmer!
So what are you waiting for?!! Go cook it! Go right now!!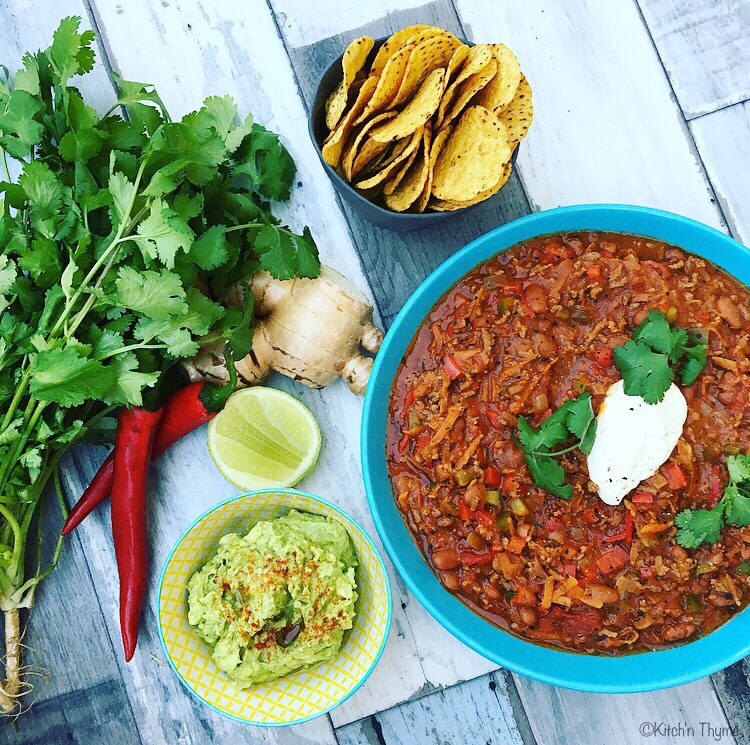 Chilli Con Carne
2015-04-30 12:50:59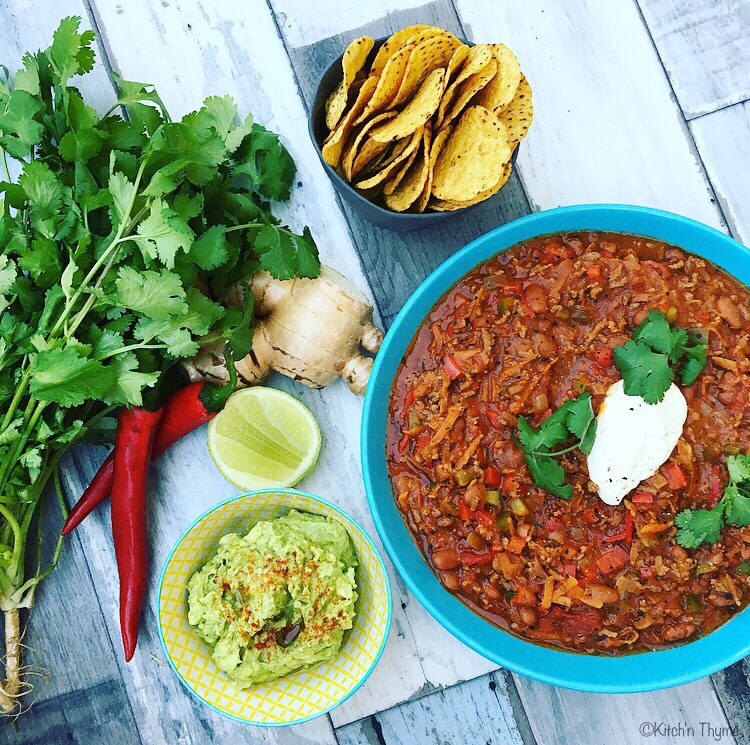 Serves 4
My take on this classically perfect winter warmer!
Ingredients
2 tsp Cumin Seeds
2 tsp Coriander Seeds
1/4 tsp Black Peppercorns
1 Large Carrot, cut into 3-4cm lengths
1 Green Capsicum, quartered & deseeded
1 Red Capsicum, quartered & deseeded
Few sprigs Fresh Coriander, inclu stems and roots
2 Medium Brown Onions, halved
3cm Knob Ginger
2 Cloves Garlic
1-2 Long Red Cayenne Chillies, adjust to taste
1/8-1/4 tsp Cayenne Pepper
2 Tbsp Extra Virgin Olive Oil
500g Organic Beef, partially frozen, cut into pieces
1 Tbsp Dried Basil
1 Tbsp Dried Oregano
400g Can Mexe Beans, Red Kidney Beans or Black Beans
2 x 400g Can Organic Chopped Tomatoes
4 Tbsp Organic Tomato Paste
2 tsp Celtic Sea Salt
Instructions
Place the spices into the mixing bowl and dry roast 2 Mins/120°/Speed 1. Allow to cool slightly then insert measuring cup and mill 1 Min/Speed 9. Transfer into a bowl and set aside.
Without cleaning the bowl, place half of the beef into mixing bowl and chop Turbo/0.5Sec/3 Times to mince. Transfer to the bowl with the spices and repeat the same mincing process with the remaining beef before adding to the bowl with the beef and spices.
Without rinsing the bowl, place the carrot, capsicums and coriander into mixing bowl and chop 5 Sec/Speed 4. Transfer into the bowl with the spices and set aside.
Place brown onion, ginger, garlic, red chillies, cayenne pepper and olive oil into mixing bowl and chop 3 Sec/Speed 7. Scrape down sides of mixing bowl with spatula and sauté 6 Mins/120°/Speed 1, placing simmering basket instead of measuring cup onto mixing bowl lid.
Insert the butterfly. Add the beef mince, spice and carrot/capsicum mix, basil & oregano and cook 10 Mins/100°/Reverse/Speed 1.
Add the mexe beans (or kidney beans), chopped tomatoes, tomato paste, and salt. Cook 10 Mins/90°/Reverse/Speed 1, placing simmering basket instead of measuring cup on to mixing bowl lid.
Serve with corn chips, guacamole, sour cream or your favourite sides!
Notes
*You can use Organic Beef Mince however it does tend to really mince it further. If time permits, I suggest making your own mince!
*If you prefer a slightly thicker consistency only add 1 x 400g Can Organic Tin Tomatoes.
*For Paleo & Ketogenic, omit the beans and serve with cauliflower chips or rice or other suitable option.
Kitch'n Thyme http://kitchnthyme.com.au/