I've been making these little gems for years now! These gorgeous nuts are just so more-ish!! Once you eat a couple you can't help but go back for a whole handful! You won't ever need to buy those flavoured nuts in the supermarket again!
They make gorgeous little gifts in little glass jars with ribbons wrapped around, or just served as an hors de oeuvre at any big gathering or celebration! Or perhaps the perfect side to when you have people over for celebratory drinks! You'
I use a range of different nuts! Whatever you have in the cupboard will work, but I do find some of the nicest are macadamias, cashew, almonds, walnuts, pecans etc. I will say that I don't usually buy the packets of 'mixed nuts' though as the walnuts, pecans and hazelnuts all seem to go rancid quicker than cashews and macadamias do, so they tend to stale the whole packet! Instead, I buy my nuts in bulk and keep them in the fridge or freezer to extend their shelf life.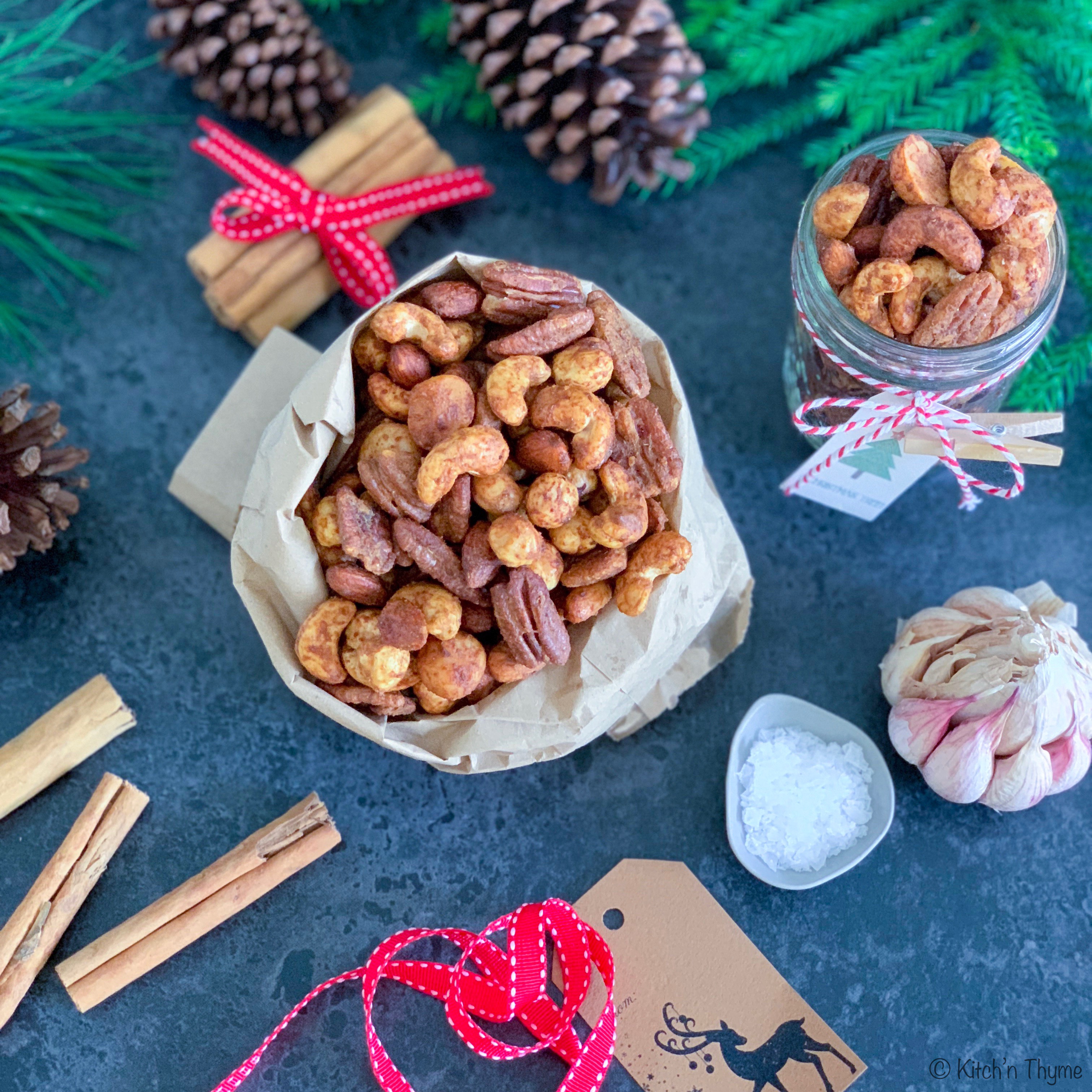 You'll notice I use egg white and you might be wondering why! Well it's because the egg white helps all the spices stick nicely to the nuts and not fall off! Genius really!!
I do use some coconut or rapadura sugar. This isn't necessary but it does add a nice sweetness and balance of flavour. If you are avoiding sugars just leave it out.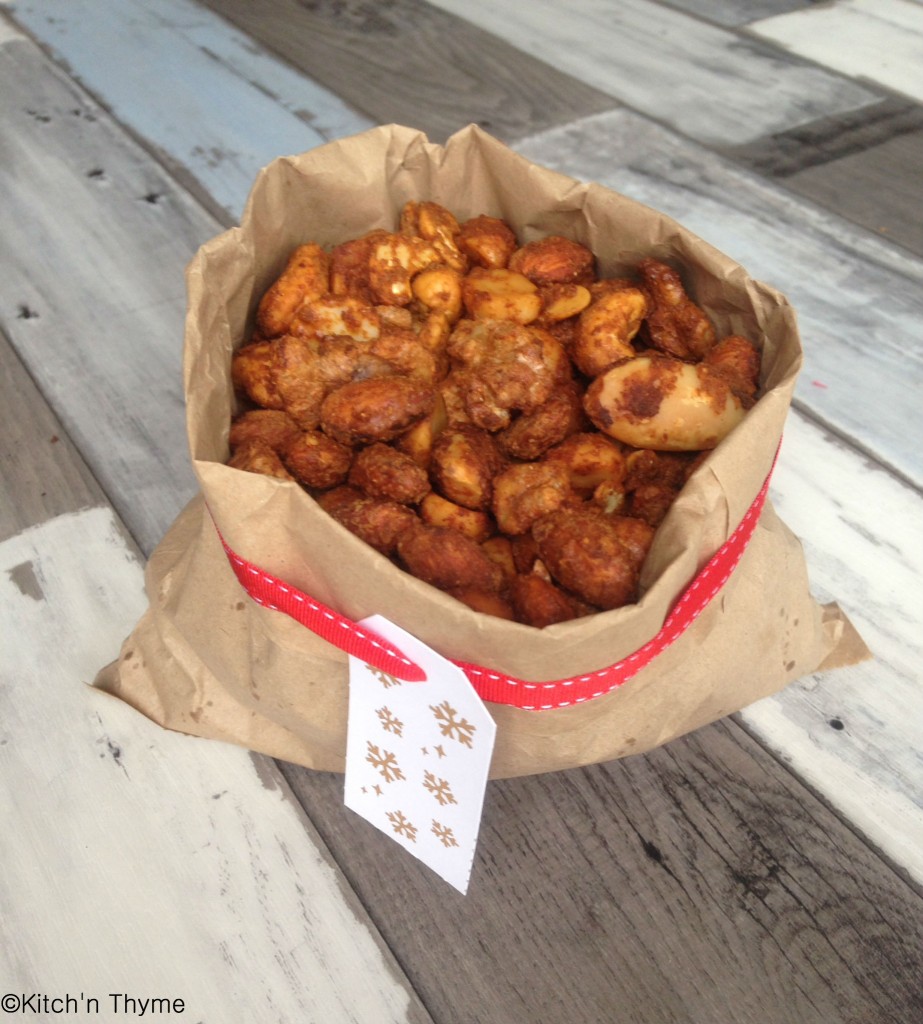 Spicy Roasted Mixed Nuts
2014-12-23 22:13:55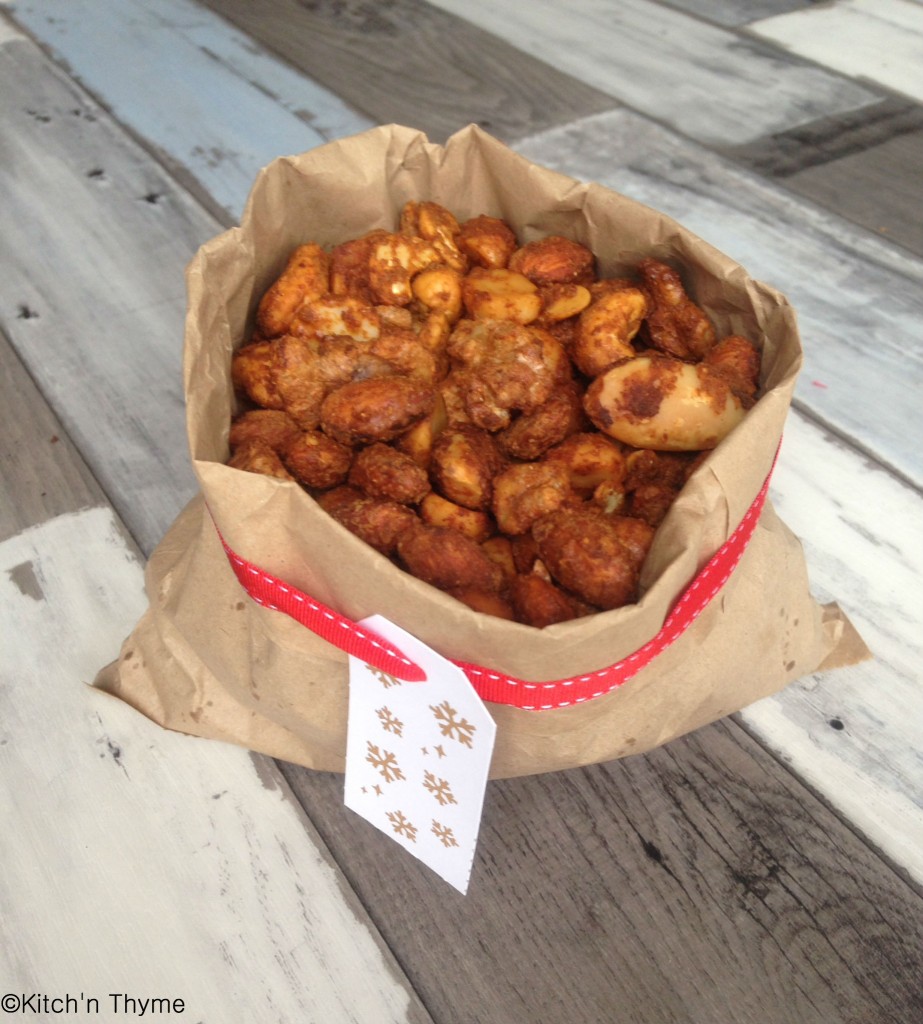 Delicious golden crunchy spicy bites!
Ingredients
1 Eggwhite
20g Rapadura or Coconut Sugar
2 tsp Cumin
1 tsp Coriander
2 tsp Garlic Powder
2 tsp Onion Powder
1 tsp Paprika
Sprinkle of Cinnamon
1/2 tsp Celtic Sea Salt
2 tsp Tamari (optional)
1-2 Tbsp Olive Oil
125g Macadamias
125g Cashews
125g Almonds
125g Walnuts
125g Pecans
125g Hazelnuts
Instructions
Line a large baking tray with baking paper and pre-heat the oven to 180º.
Place the egg white in the Thermomix. Add the butterfly and whip 40 Sec/Speed 4 or just until soft peaks form.
Add sugar, spices, salt, tamari, and oil and mix with the butterfly still in 3 Sec/Speed 3.
Leave the butterfly in and add the nuts and mix 10 Sec/Speed 1.5/Reverse.
Place evenly on the baking trays and roast for 15 minutes at 180º, stirring occasionally throughout the cooking process.
Once cooled store in an airtight container.
Kitch'n Thyme http://kitchnthyme.com.au/