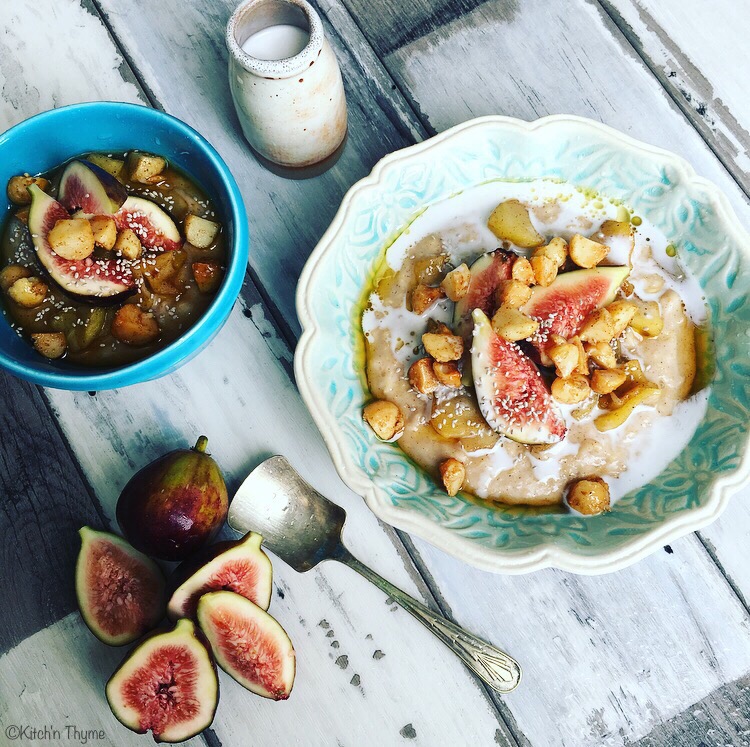 As the long hot days of summer start to dwindle and the wet season rains of early Autumn begin to set in, there is nothing more warming and nourishing than a bowl of porridge to warm up your soul first thing in the morning.
This might look more complicated than it really is! I hope that some of you can look at my recipes and think 'oh yum I can do that!' Sometimes I do use a few ingredients but the steps are hopefully not too hard to follow!
With figs in season and everywhere at my favourite Noosa Farmers Markets I love making food to celebrate their deliciousness!! They are just so magically perfect without having to do anything much to them at all!
You could use walnuts instead of macadamias which would be scrumptious too!
Honestly, the ingredients are quite changeable here, whatever is in season and on your fruit platter – pear, raspberries, blueberries, strawberries, plums, peaches, just whatever mood you are in!
Go make it now! Or at least save it for later! xx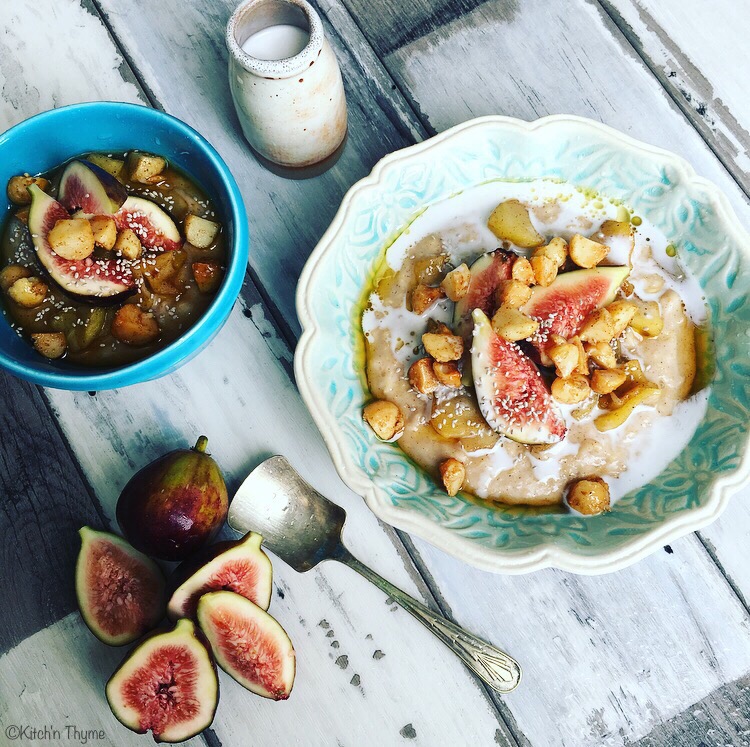 Almond Milk Oat Porridge, Cinnamon Apples, Crunchy Maple Macadamias & Fresh Figs
2016-03-07 03:49:43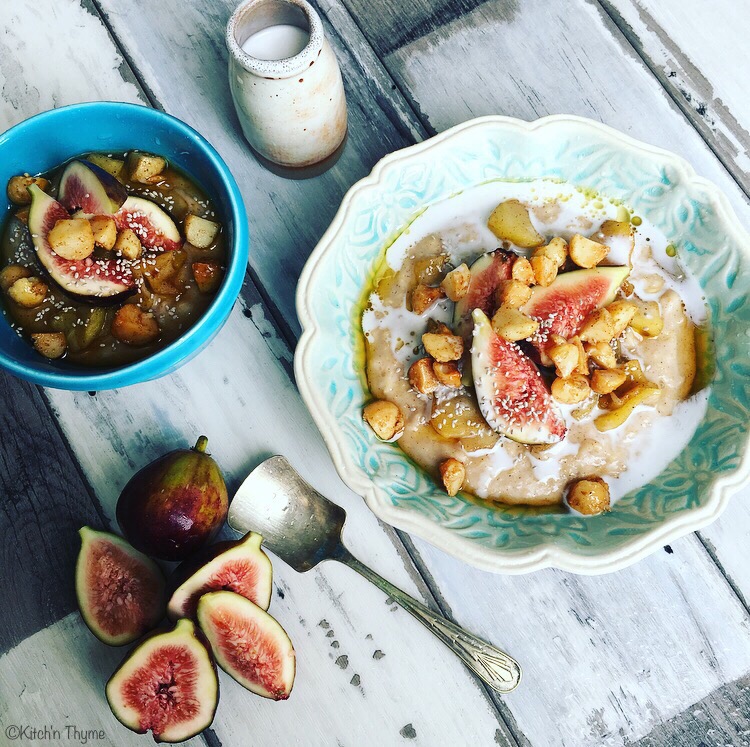 Serves 4
This deliciously warming, relatively super quick porridge will have your tastebuds singing all day!
Cinnamon Apples
2 Green Apples, peeled & sliced thinly or diced into 2-3cm cubes
1 Tbsp Maple Syrup
1/4 tsp Cinnamon
Maple Cinnamon Macadamias
100g Macadamias, quartered or roughly chopped
1 Tbsp Maple Syrup
1/4 tsp Cinnamon
Porridge
100g Organic Rolled Oats
500ml Almond Milk
100ml Water
40g Coconut Sugar (or sweetener of choice)
1 tsp Vanilla Powder
1/2 tsp Cinnamon
1/4 tsp Allspice
4 Fresh Figs, sliced thinly
2 Tbsp White Chia Seeds
200ml Organic Coconut Cream, for serving
Instructions
Preheat the oven to 180°C and line a large baking tray with baking paper. Place the apples together with the maple & cinnamon into the Thermomix and mix to combine Speed 2-3 for 5-10 seconds. Spread evenly over the baking tray and without cleaning the bowl do the same with the macadamias and place onto the tray. Bake the nuts for 10-15 minutes or until golden brown. Remove them from the oven and set aside.
Give the apples a quick toss and place back into the oven for a further 10-15 minutes or until golden brown and just starting to brown on the edges. Set aside.
Whilst the apples and nuts are cooking, place the oats, milk, water, sugar, vanilla and spices ingredients into the Thermomix and cook 11 Mins/90°/Speed 2/Reverse.
Portion evenly among bowls and top with the apples, fresh figs, macadamias, chia seeds & a generous drizzle of coconut cream.
Notes
You can make my super easy Almond Milk here!
Kitch'n Thyme http://kitchnthyme.com.au/