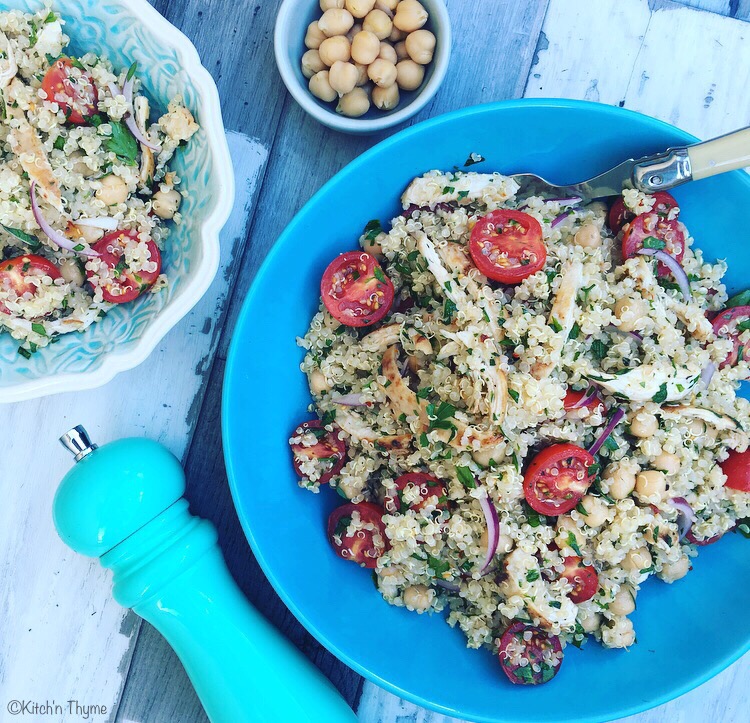 This salad is delightfully fresh, zesty and punchy! The fresh herbs really make it!
My sister-in-law and I always used to make this salad with cous cous. It's merged over the years to have quinoa instead as its a healthier option & of course gluten free. It's delicious with the cous cous, however I think it's better with quinoa!
I love quinoa, it's little nutty tasting, soft textured balls make for a delicious bowl of goodness!
I sear the chicken in a pan and then if necessary finish in the oven. It gives the breast some nice caramelisation which I really love! You can do this too, or if you like the chicken steamed you can steam it on the Varoma tray 17-20 Mins/Varoma/Speed 2, whilst you are cooking the quinoa.
Or if you have 500g pre-cooked and shredded chicken you can toss that into the salad!
The fresh herbs are integral to this awesome salad! They add the flavour and freshness.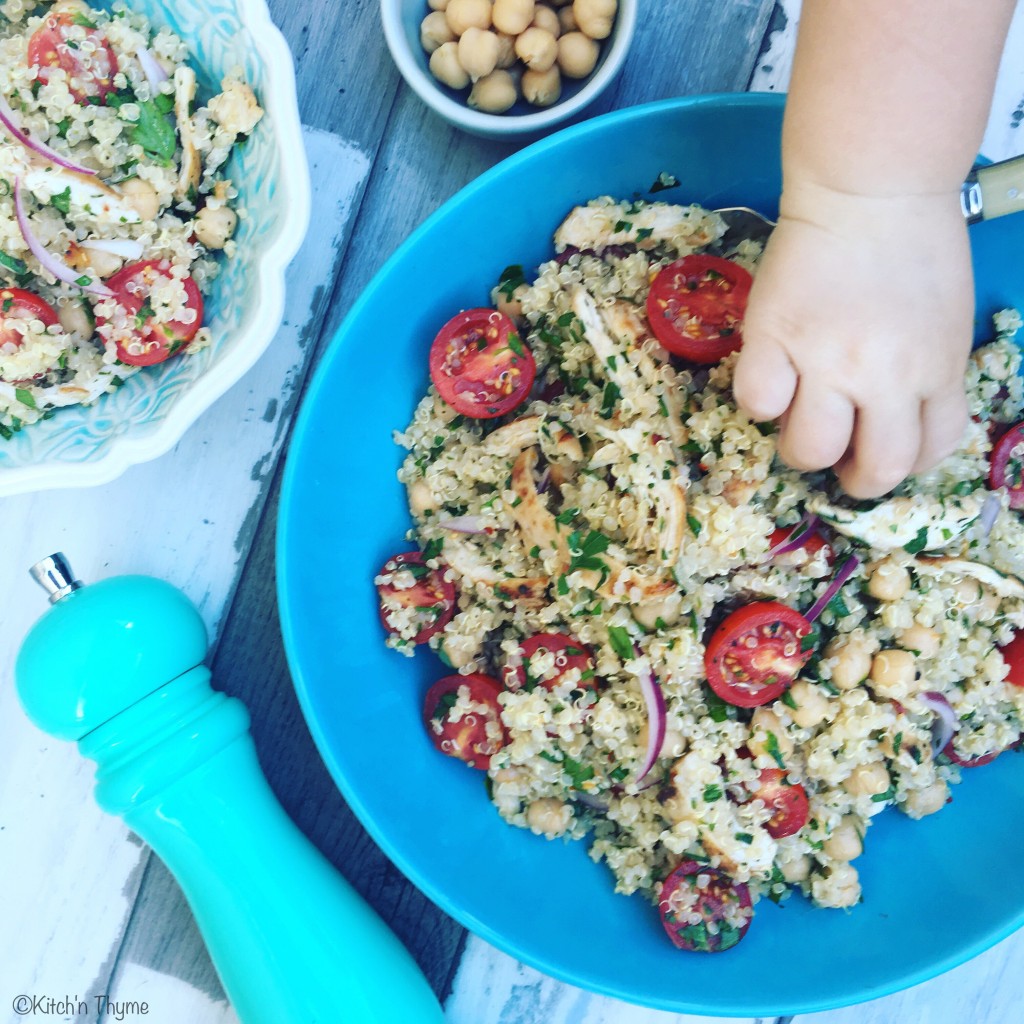 My kids love this salad, especially my little 17 month old! As you can see by the picture she really loves to eat it right when mummy wants to take photos! Of course…it's much too yummy to be looked at, it is to be eaten after all!
Enjoy! xx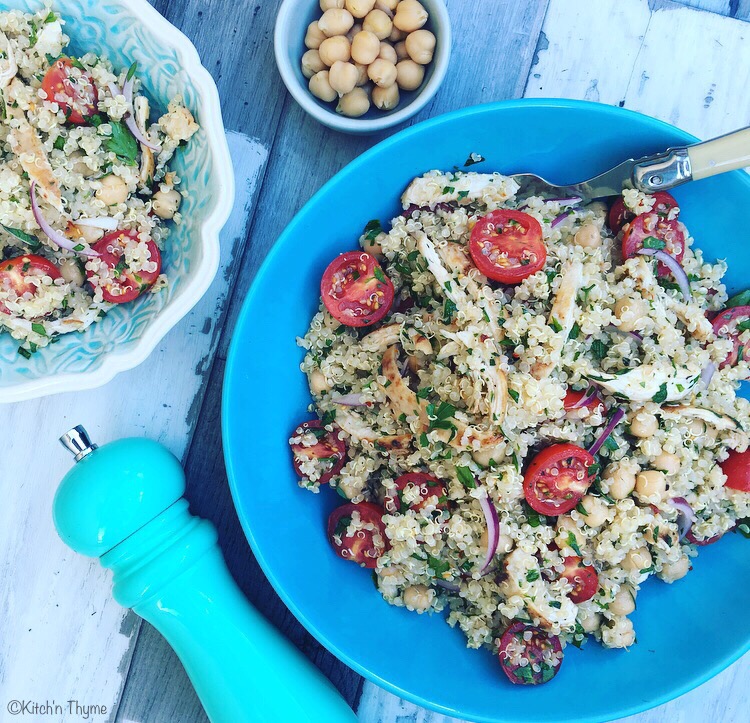 Chicken, Quinoa & Chickpea Salad
2016-01-19 07:04:54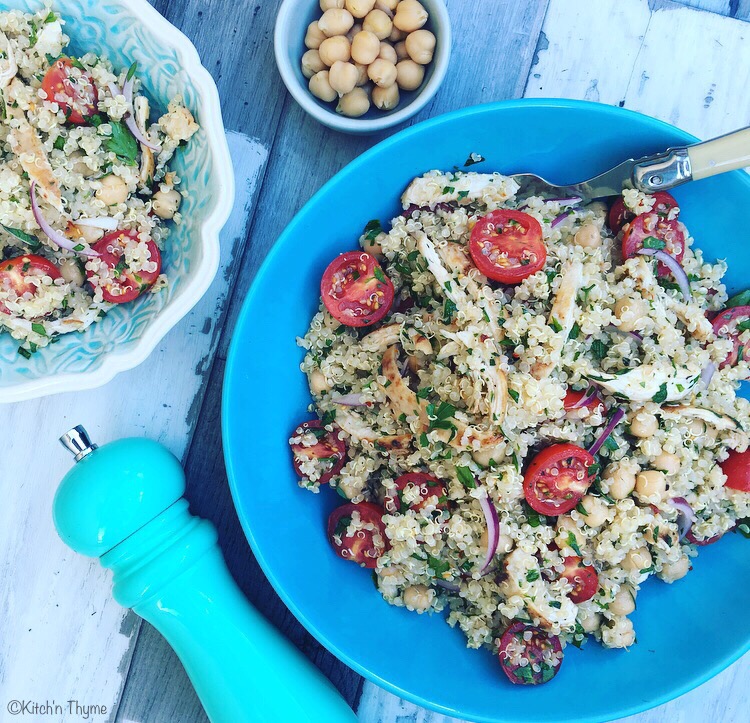 Serves 6
This delicious fresh flavour-packed simple salad makes the perfect addition to any bbq, celebration or simply for weekday lunches or kids lunchboxes! Reader Heidi says: "This is a flavoursome simple recipe which is divine on your taste buds!."
Ingredients
2 Organic Chicken Breasts
1 Tbsp Olive Oil
1 tsp Italian Herbs
1/2 tsp Smoked Paprika
1 tsp Celtic Sea Salt
1/2 Lemon, zested
SALAD
170g White Quinoa
800ml Water
400g (1 Tin) Cooked Chickpeas
250g Cherry Tomatoes (halved)
1/2 Red Onion, sliced into thin wedges
1 Bunch Fresh Italian Parsley, leaves only, chopped roughly
1/3-1/2 Bunch Fresh Mint, leaves only, chopped roughly
DRESSING
60ml Olive Oil
20ml Lemon Juice
1 tsp Italian Herbs
1 tsp Garlic Powder
1 tsp Onion Powder
2 tsp Celtic Sea Salt
Instructions
Soak the quinoa 30 minutes prior to cooking this recipe.
Toss the chicken in the herbs, spices and lemon. Heat a fry pan over medium heat and sear the chicken breasts until golden brown on each side. If not fully cooked through, place onto a baking tray lined with baking paper, cover with foil and finish cooking in the oven 10-15 Mins/180°C.*(Alternatively, you can slice the breast into strips before marinating and cook in the Varoma tray above the quinoa for 17-20 Mins/Varoma/Speed 2.)
Once the chicken is cooked and cooled sightly, shred the chicken into pieces by hand or place into the Thermomix and shred 3-4 Sec/Speed 4-5/Reverse (keeping a close eye on it that it doesn't turn into paste!) Set aside.
Place the soaked quinoa into the simmering basket. Place the water into the mixing bowl and insert the basket. Cook for 20-25 Mins/Varoma/Speed 2. Remove the simmering basket and set aside to drain. Place the quinoa into a large mixing bowl to cool down.
Once cooled, add the chicken along with all the remaining ingredients.
Place the dressing ingredients into the Thermomix and mix 3 Sec/Speed 5. Pour over the salad just prior to serving and toss to combine! Yum!
Notes
*When cooking the chicken breast, if you have really thick breasts you can slice them horizontally to make them a little thinner so that the meat will cook more evenly.
* This makes an awesome salad in a jar too! Place the dressing on the base of the jar, followed by the chicken, quinoa, tomatoes, onion, and herbs on top!
Kitch'n Thyme http://kitchnthyme.com.au/