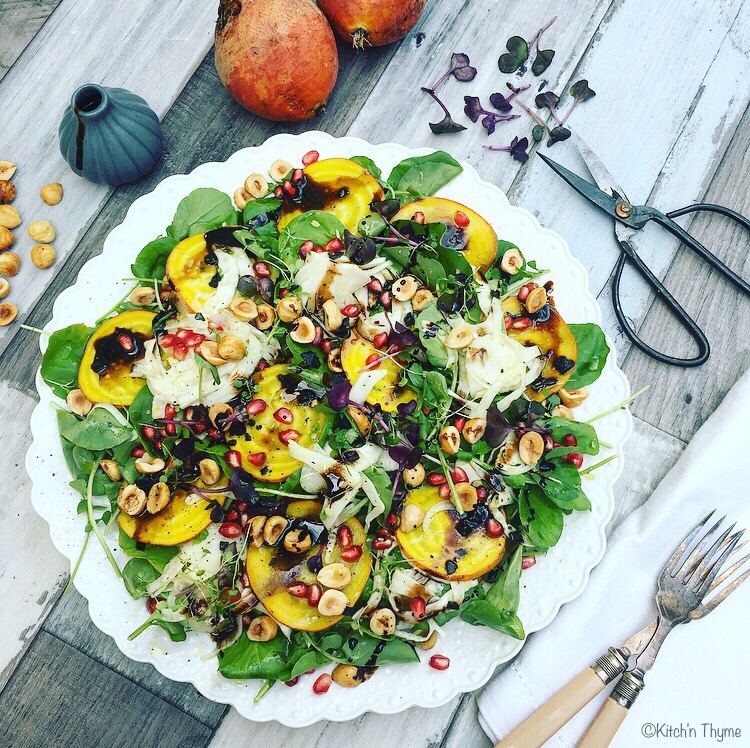 Imagine this gorgeous salad as part of a beautiful Christmas banquet. Adding so much colour, and fresh and light crunch this salad is one that pleases the eye and the palette!
I've been getting such a gorgeous steady supply of these beautiful golden yellow coloured beetroots and I really love them! I love them because they are different, but they also have a slightly more subtle light flavour so they are perfect for a salad like this!
For this salad, I haven't peeled the beets, as they washed up really nicely, but you could do that if you preferred.
If you haven't got roasted hazelnuts in the pantry just roast them for 10 minutes at 180ºC, or until golden in colour. The skins should begin to just fall on when rubbed gently.
There are a number of different ways to extract pomegranate seeds. I like to slice the top off, slice down the ridges, give a good tap and break the segments apart, letting all the seeds just pop out. Perhaps I should do a video on it sometime!
The balsamic reduction is really straightforward to make in the Thermomix. Super easy! You just combine 500g balsamic & 50g honey into the Thermomix and cook 25-30 Mins/Varoma/Speed 3, with the simmering basket on top.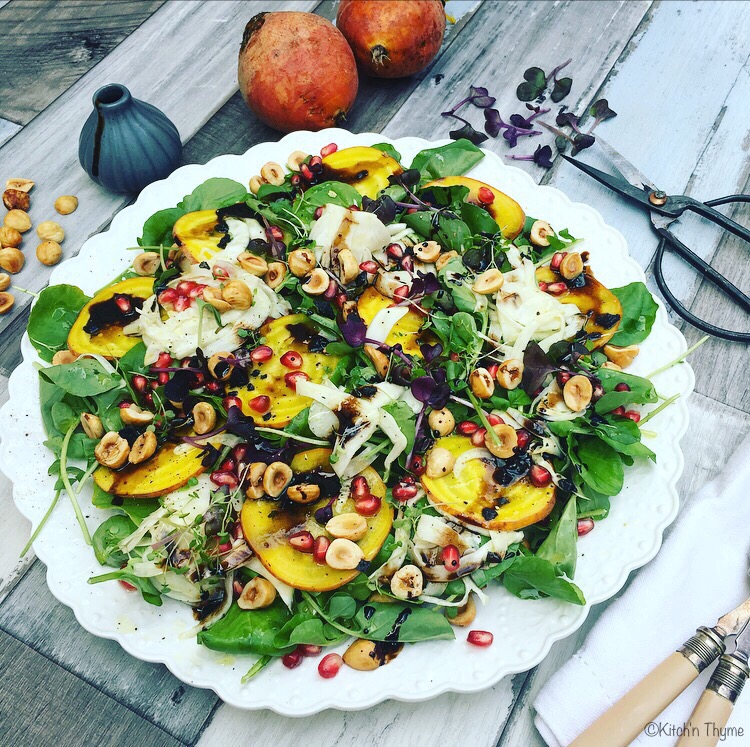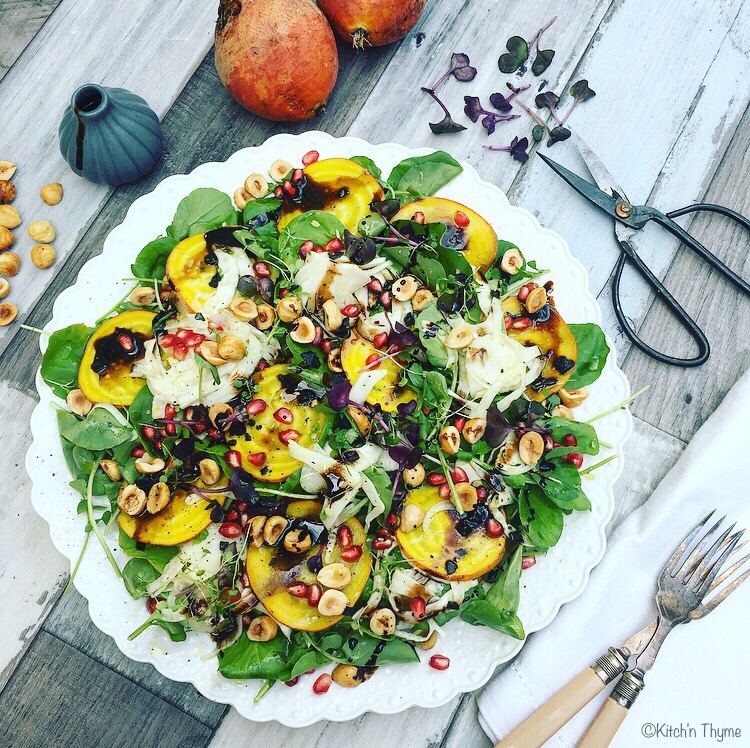 Watercress, Pickled Golden Beetroot & Fennel, Hazelnut & Pomegranate Salad w Balsamic Reduction
2016-11-15 04:28:16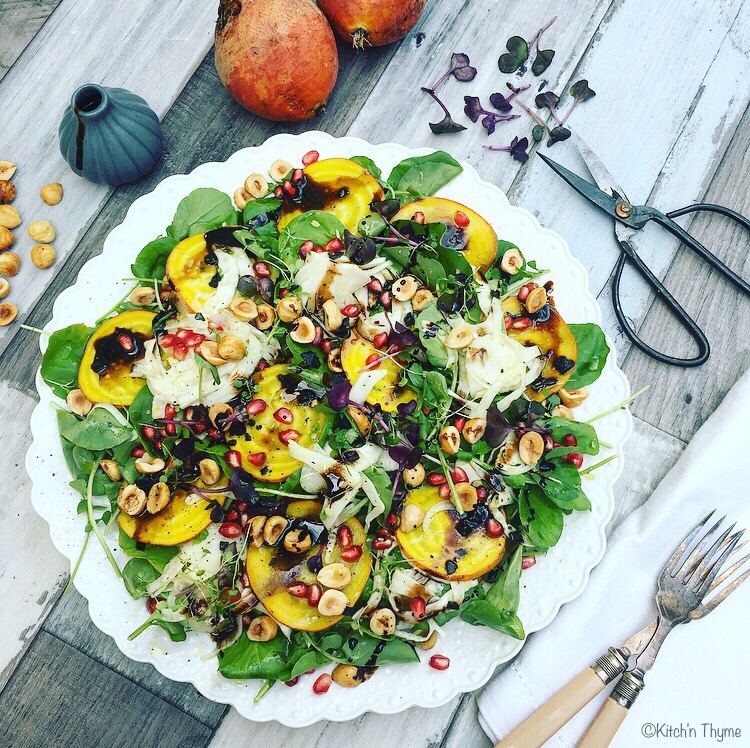 Serves 6
A delicious, punchy, fresh & crisp salad adaptable to any banquet celebration or for a quick lunch with friends!
Pickled Fennel & Beetroot
125ml Rice Wine Vinegar
125ml Water
1 Tbsp Honey
1/2 tsp Celtic Sea Salt
1/4 tsp Coriander Seeds
1/4 tsp Cumin Seeds
1/4 tsp Fennel Seeds
1 Star Anise
2 Pieces Orange Peel
Salad
1 Large Bunch Watercress
2 Medium Golden Beetroots
1 Medium Bulb Fennel
1/2 Pomegranate Seeds
50g Roasted Hazelnuts, halved
1-2 Tbsp Olive Oil
Black Salt
Micro Watercress
Micro Radish
2 Tbsp Balsamic Reduction
Instructions
Place the pickling ingredients into the thermomix and heat 10 Mins/100º/Speed 1.
Finely slice the fennel on a mandolin and place into a small bowl.
Finely slice the golden beetroot on a mandolin and place into another small bowl.
Pour the pickling liquid over the fennel to cover and leave for 10 minutes. Strain the pickling liquid over the beetroot to cover and leave that to pickle for 10 minutes.
Once the fennel and beetroot is pickled, set them aside for plating.
Place the watercress on a large platter and arrange slices of the pickled beetroot nicely around the plate. Place handfuls of the pickled fennel around the platter. Sprinkle with the pomegranate seeds & roasted hazelnuts.
Drizzle with a little olive oil and sprinkle with black salt.
Top the salad with some delicate sprigs of the micro herbs and drizzle with the balsamic reduction.
Serve immediately.
Kitch'n Thyme http://kitchnthyme.com.au/