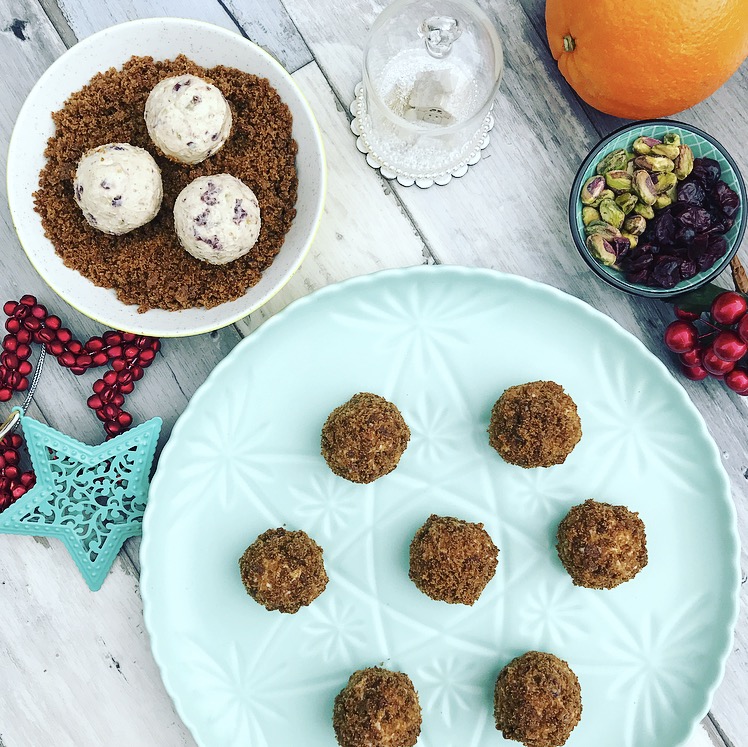 These little morsels are the perfect introduction to Christmas desserts! Still light and simple yet the perfect thing to take along to a family gathering!
Spiced with cinnamon and allspice (pimento) and orange, and with added interest of cranberries and pistachios, then rolled in a ginger nut crumb, they taste everything Christmas!
You could change the flavours around or add other nuts in reference to your tastes!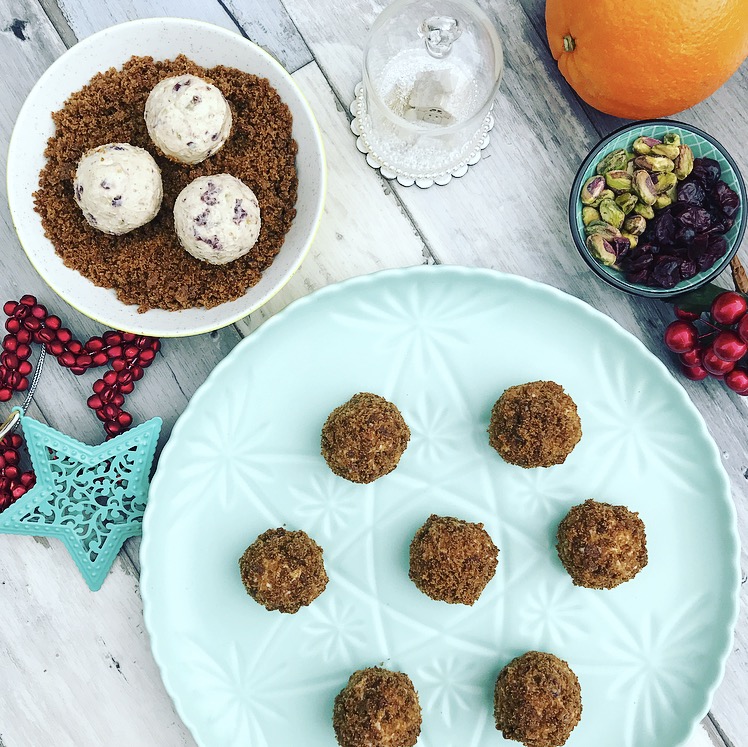 Cranberry & Pistachio Cheesecake Bites w Gingernut Crumb
2016-12-23 07:56:23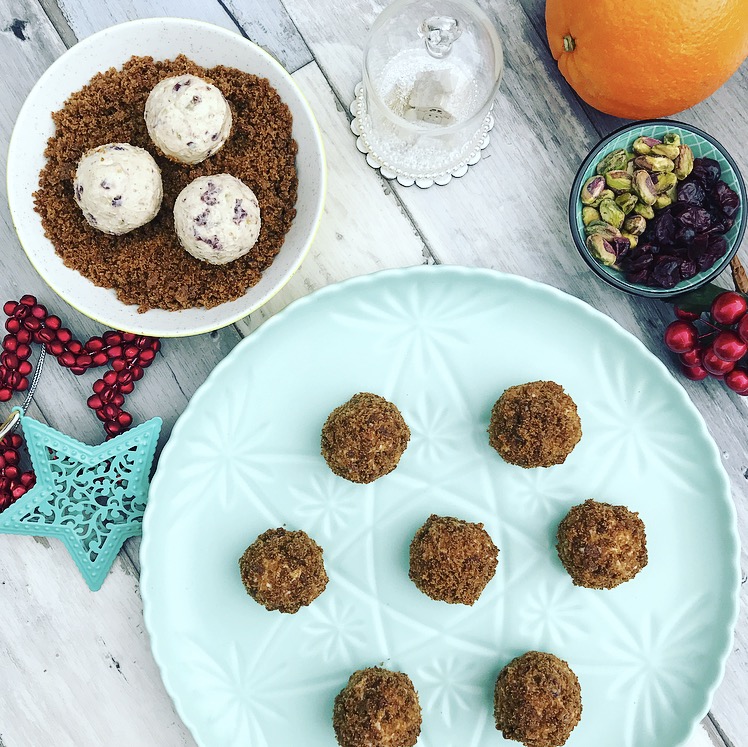 Spiced zesty little bites of creamy Christmas goodness!
Gingernut Biscuit Crumb
160g Rapadura Sugar
150g Organic Butter, cubed
1 tsp Vanilla Essence
1 Organic Egg
2 tsp Ground Ginger
1/4 tsp Bicarb
185g Wholemeal or White Spelt Flour
Cheesecake Balls
250g Cream Cheese
Zest of 1/4 Orange
1/4 tsp Allspice (Pimento)
1/4 tsp Cinnamon
50g Maple Syrup
1 tsp Vanilla Essence
100ml Double Cream or 100ml Softly Whipped Pure Cream
20g Cranberries
20g Pistachios
Instructions
Gingernut Crumb: Preheat the oven to 180ºC. Line a large baking tray with baking paper and set aside.
To make the ginger nut crumb place the sugar, butter, vanilla and egg into the Thermomix and mis 30 Sec/Speed 4.5.
Add the ginger, bicarb, and spelt and mix 10 Sec/Speed 5.
Smooth out the mix onto a prepared baking tray and bake for 15-20 minutes or until dark golden brown in colour. Leave to cool completely on the tray. The ginger nut slab should be slightly crisp to the touch.
Once cooled, process 3 Sec/Speed 6. Pour into a bowl and set aside for rolling the balls in.
Cheesecake Balls
Place the cranberries and pistachios into the Thermomix and chop 3 Sec/Speed 7. Set aside.
Without cleaning the bowl, place the cream cheese, orange zest, maple, spices and vanilla into the Thermomix and mix 5 Sec/Speed 5. Add the cream and mix another 10 Sec/Speed 5.
Add the reserved cranberries and pistachios and mix 5 Sec/Speed 3/Reverse.
Place into a bowl in the fridge to firm for 30 minutes. Roll Tbsp amounts into balls and coat in the ginger nut crumb. Place back in the fridge to firm before serving!
Notes
Use any leftover crumbs to top Christmas morning pancakes or Pavlovas!
Kitch'n Thyme http://kitchnthyme.com.au/