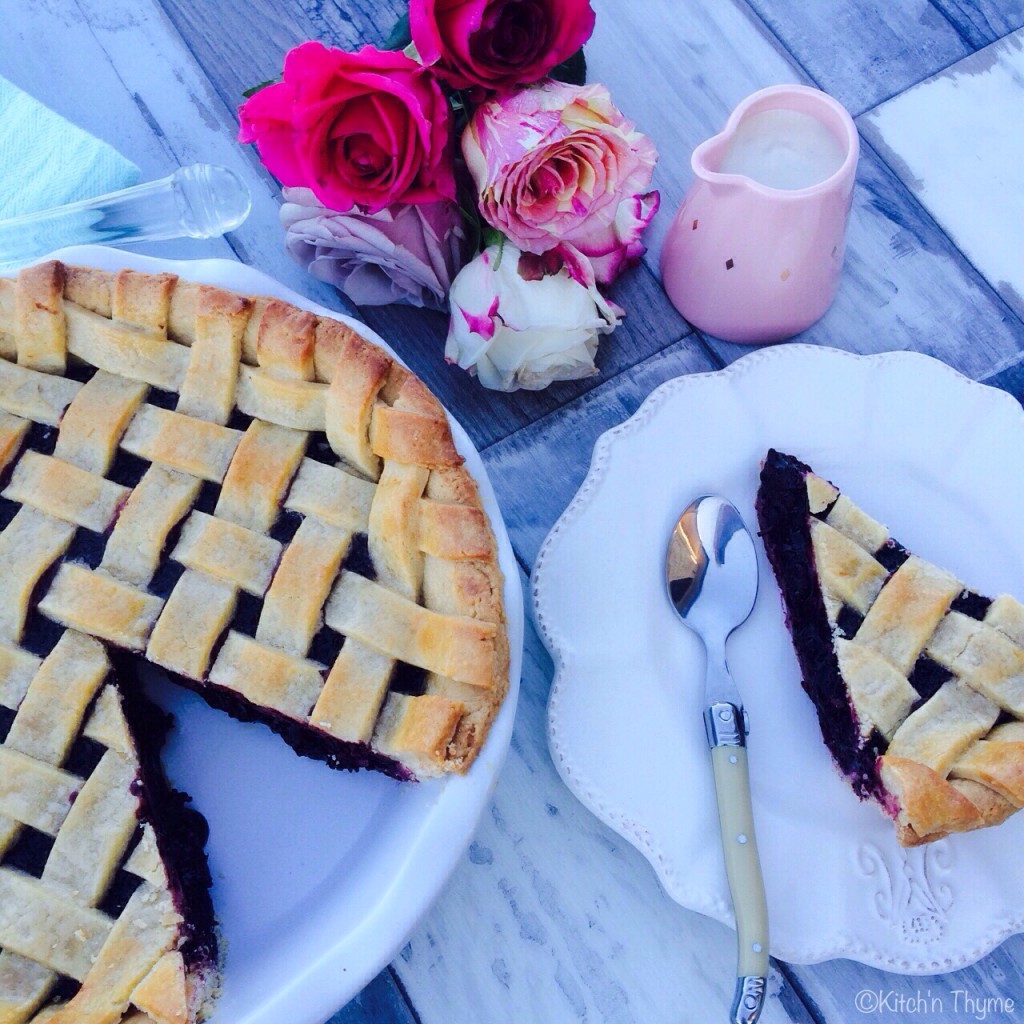 MULBERRY PIE!!! Oh I mean how could one not really love a good ol mulberry pie!! This seriously delightful treat brings back many memories as a child of making Mulberry Pie with mum! One of the properties we lived on had MASSIVE gardens on it! Up the back of the garden lived 2 HUGE Mulberry trees! I'm pretty sure we all ate ourselves sick on Mulberries at one point or another! My Mum used to love making the most of this gorgeous season! And I also remember my brothers whipping up some heart-warming, beautiful pies too! You will see that I've used Organic Unbleached White Spelt Flour as opposed to Wholemeal. You are more than welcome to use the latter but I wanted the real McCoy! So I've of course opted for spelt over white wheat flour, but still giving it a real treat feel and taste. I've used Organic Raw Sugar to keep the pastry white, however you can use Rapadura or Coconut Sugar if you prefer.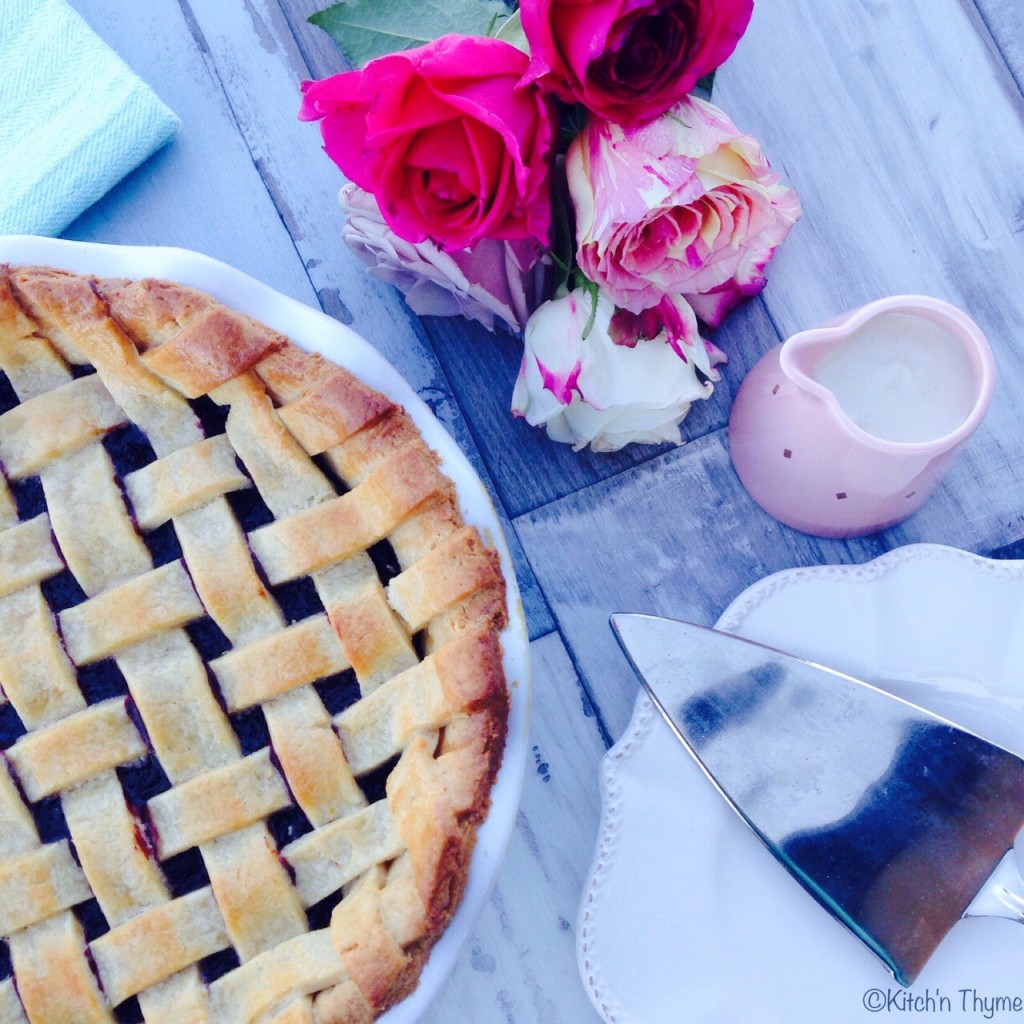 So since this gorgeous purple berry, well technically a fruit, is in season from late Spring to Summer, I figure you may as well go ahead and make the most of the short season and the treat that it is! Make pie, make crumble, make cake, make jam, make cupcakes, make tart, make everything Mulberry!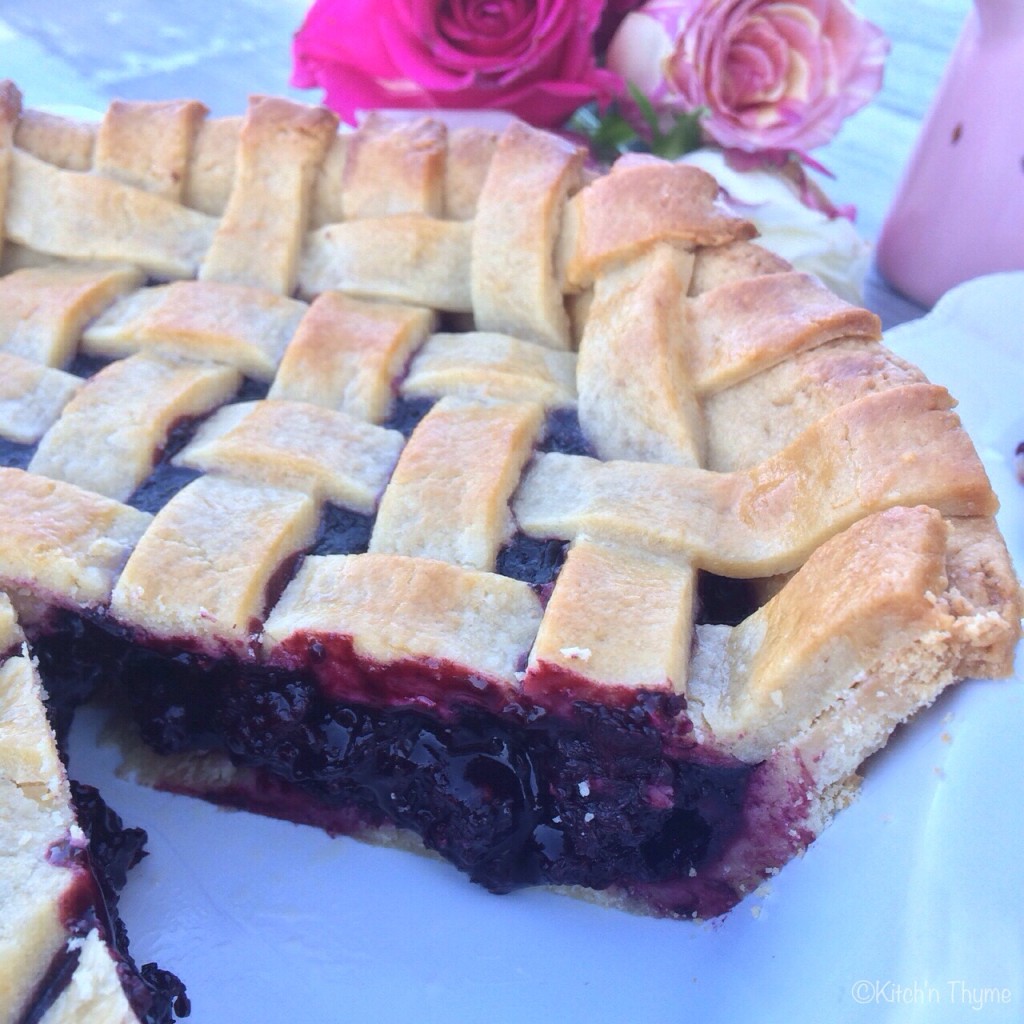 Just look above at that oozy juicy yummy jammy filling! If you can't be bothered doing the lattice crust on top, just roll out the leftover pastry to 5mm thick to fit the top of your pie and continue as per the recipe. If you are Gluten Intolerant you could substitute with a gluten free crust and lattice (perhaps like the one from my Lemon Tart).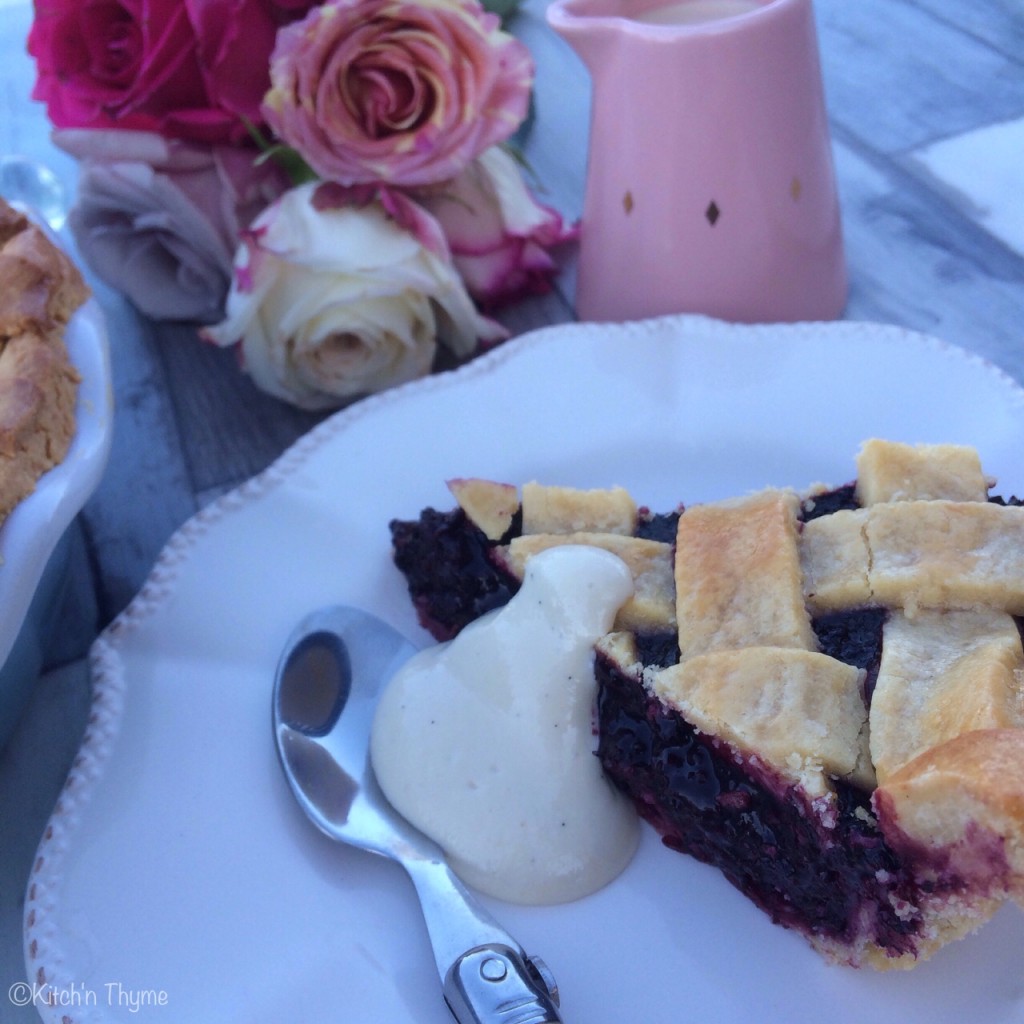 So go on and get into the kitchen and make this beautiful treat! It is an absolute winner with my husband so it might just be for yours too!! The Cashew Macadamia Cream will be up on the blog soon! xx
Mulberry Pie
2015-09-24 20:50:39
Serves 8
Delectable plate licking Mulberry pie that brings back many a childhood memory for me!
Pastry
100g Organic Raw Sugar
400g Unbleached White Spelt Flour
200g Organic Butter, cubed & frozen
1 Organic Egg
1 tsp Vanilla Essence
1/2 Lemon, zested
Filling
750g Mulberries, washed & stems removed
2 Tbsp (30g) Cornflour
4 Tbsp Maple Syrup
1 Tbsp (20ml) Lemon Juice
2 tsp Vanilla Essence
Extra egg for brushing
Instructions
Place the raw sugar into the Thermomix and mill 10 Sec/Speed 9.
Add the flour and butter and process 10 Sec/Speed 6 or until it resembles very fine breadcrumbs.
Add the egg, vanilla and lemon zest and knead 20-30 Sec until the mixture is combined. Take out of the Thermomix and place onto a Thermomat or lightly floured surface and bring the dough together with your hands. You need to bring it together enough to form a disc, but being careful not to overwork the dough and strengthen the glutens. The key to a good shortcrust is to not overwork it. Wrap in plastic wrap and flatten, then chill in the fridge for 1 hour.
Reserve 1/3 of the pastry in the fridge for the top, rolling out the remaining 2/3 on a Thermomat or lightly floured surface until 5mm thick, then use to line a large deep sided pie dish.
Preheat the oven to 180°C.
Prick the base with a fork, then freeze for 15 minutes until firm.
Line with baking paper and pastry weights, then bake for 15-20 minutes until pale golden.
To make the filling, place all the ingredients into the Thermomix and cook 20-25 Mins/100°/Speed 1 or until the mixture is becoming thick and jammy.
Remove weights and baking paper and bake for a further 3-5 minutes or until the base is cooked and turning pale golden.
Pour in the mulberry filling. Roll out the reserved pastry into a large rectangle and cut 14 (approx.) 1.5cm x 24cm strips. Brush the edges of the pastry case with water and arrange the strips into a lattice pattern over filling, then press to seal, trimming the excess. (To make a lattice pattern, lay all the horizontal strips first, then fold half of them back on themselves. Working from the middle of the pie out to the edge, you lay a vertical strip down then swap the horizontal strips that are folded and which are flat. Continue until you complete the whole pie.)
Brush pastry with eggwash, then bake for 20-25 minutes until pastry is golden. Cool pie slightly, then slice and serve warm or cold with whipped cream, yoghurt, icecream or Cashew Macadamia Cream! Yummo!!!
Notes
I've used White Spelt Flour and Raw sugar in this because I just felt like making the real mcCoy, with a white looking pastry!! You can sub with Wholemeal Spelt and Rapadura/Coconut Sugar if you would prefer. The thing is Mulberry season only comes around once a year, so I figure lets just make the most of it and enjoy this gorgeous treat!!
Kitch'n Thyme http://kitchnthyme.com.au/