Make the most of summer mangoes with this guilt free creamy decadent chocolate fruit tart!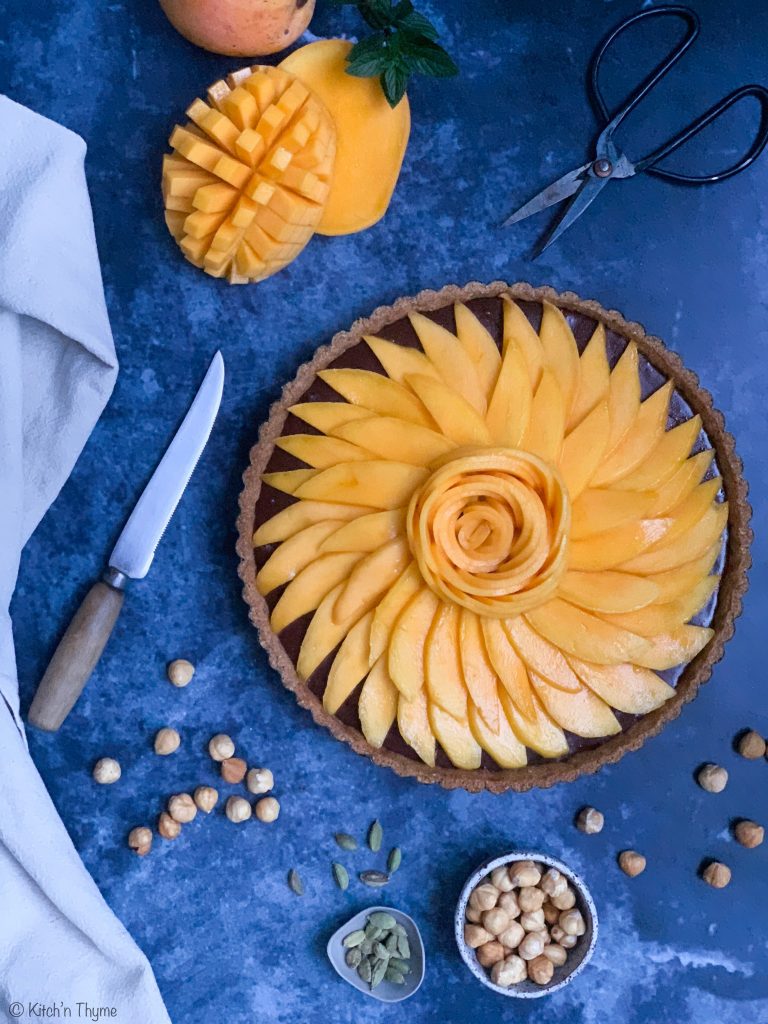 **January 2019 update!** This recipe was originally posted in February 2015. I really felt that the photos needed updating, so i've rephotographed the recipe. All the ingredients remain the same, but I've slightly increased the filling ingredients. The story below is as it was from 4 years ago!**
This delightful chocolate tart came about a few weeks ago when I realised I was about to walk out the door empty handed to a meeting where all involved were meant to be bringing a bite to eat!
I had an abundance of ripe mangoes in my fruit bowl fresh from the property of the health retreat we work on!…..Bowen mangoes and all! Massive, juicy, sweet, full of flavour! My husband knows how much I love mangoes, so he picked me a couple of huge bags of them! I was stoked!
I had to make something delicious to honour these beautiful possessions! I immediately dreamed up this gorgeous tart and got busily to work in my kitchen! After an amazingly successful quick stint in the kitchen, this emerged! I did a little happy dance!
The subtly aromatic cardamon crust pairs so beautifully with the mango!
The chocolate filling is very rich, but the mango just lightens it up beautifully! I absolutely love fruit focussed desserts so this is definitely my kind of indulgence! The natural beauty of fruit is Superb!
This tart is so everything free that perhaps I'm even happy for my kiddies to have a little slice for breakfast! 🙈🙊
Play around with the fruit…it's delicious with raspberries!…here's the recipe for those! Paleo Chocolate Raspberry Tarts. And it would be equally delightful with any other berries!
Enjoy! Gabrielle 👩‍🍳
Print
Paleo Chocolate Mango Tart
Make the most of summer mangoes with this guilt free creamy decadent chocolate fruit tart!
Author:
Prep Time:

00:10

Cook Time:

00:22

Total Time:

32 minutes

Yield:

8

Category:

Dessert
Ingredients
BASE:
240g Almonds
160g Brazil Nuts
1 Egg
2 Tbsp Coconut Oil
1 Tbsp Maple Syrup
3/4 – 1 tsp Ground Cardamon
1 tsp Vanilla Bean Paste or Essence
pinch salt
FILLING:
160g Hazelnuts, roasted
120g Coconut Oil
120g Coconut Milk
180g Maple Syrup (approx. 5 Tbsp)
75g Raw Cacao Powder
1 tsp Vanilla Bean Paste or Essence
pinch salt
TOPPING:
3-4 Large Mangoes, sliced thinly
Instructions
CRUST
Preheat the oven to 180°C. Lightly spray a 26cm round tart shell with oil spray.
Place the almonds and the brazils into the Thermomix and mill 10 Sec/Speed 9.
Add the remaining ingredients and process 5-10 Sec/Speed 5 or until the mixture comes together.
Turn the mixture out onto a sheet of baking paper and roughly bring together to form a ball. Place another sheet of baking paper on top and flatten. Using a rolling pin, roll the mixture out to approximately 3mm thickness. Roll in different directions, to ensure even thickness.
Gently peel off the top sheet of baking paper. Lift up the crust, by the bottom sheet of baking paper and gently flip the crust side over a rolling pin. Place it over the tart shell evenly and gradually roll the rolling pin away, easing the crust into the shell.
Peel off the baking paper and if you have any broken spots you can easily patch it with your hands, and a little left over crust if necessary. If you find this difficult to do without breaking the crust, you can press the mixture into your tart case.
Trim the edges neatly, then place a round of baking paper over the base followed by baking beads or chickpeas. Blind bake for 10 minutes. Remove the baking weights and bake for a further 10 mins. Remove from the oven and cool completely.
FILLING
To make the filling, place 120g of the hazelnuts into the Thermomix and mill 10 Sec/Speed 9.
Add all the remaining ingredients and cook 2 Mins/50°/Speed 3.
Using a knife, chop the remaining 40g hazelnuts in halves. (You can do this in the Thermomix, however I prefer to have this quite precise, as it's really nice biting into the whole chunks of hazelnuts.) Add to the Thermomix and mix 5 Sec/Speed 2/Reverse.
Pour the filling into the cooled tart shell and set in the fridge for 1 hr or so until firm.
Top decoratively with the sliced mango and serve straight away.
Notes
You can make the tart shell and fill with the filling a day ahead but top with the mango just before serving so it is nice and fresh!
Refrigeration Time: 1 Hour