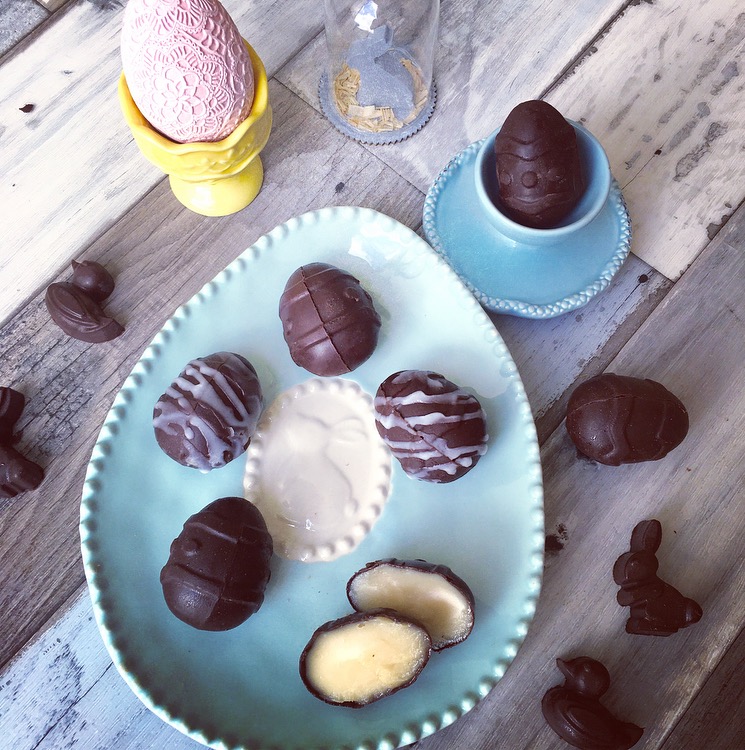 I know that you will have all been hoping and waiting for these delectable little Easter treats, but I'm sure that many of you have seen the story about little Mavi that I have shared through our Go Fund Me page. If you haven't, my dearest friends, who I hold very close to my heart and are like family to me along with all their extended families, very suddenly lost their precious 2 1/2 year old son in a tragic farm accident last Tuesday 15th March in rural NSW. It has been such an incomprehensibly sad time for my dear friends, for their extended family and for us as friends. The pain that we are feeling is nothing compared to their grief…we are just with them in spirit through tears and many many prayers.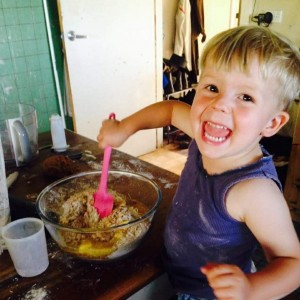 Here is a picture of our beautiful most treasured and loved beyond measure Mavi.
Setting up the Go Fund Me page has taken up a large amount of my time and I apologise for getting this to you a little later than usual. But losing a child would have to be one of the worst possible things to go through in life, and as a friend you just want to be there to help, in some kind of small way. We have been thoroughly amazed to see the support network that have rallied behind them to ease their burdens slightly by generously donating to their fund. Between it being aired on the local TV station later this week and their local bank running a fundraiser too, it's been truly wonderful to see that Aussie spirit of lending a helping hand so evident! If you feel compelled to donate or share please please do so. You can donate easily on the site or scroll to the bottom to copy and paste the link to share. Thankyou thankyou thankyou!
I truly hope that you will take the opportunity to create these beautiful little treats with your children over the coming Easter holidays. Make these together, cuddle your children extra tight, and nourish their hearts, minds and bellies.
I pray you have a safe, healthy & happy Easter and I send much love from my family to yours. Gabrielle xx
*****************A little about the Chocolates*****************************
With chocolate made from scratch from real ingredients these Easter eggs are the perfect treat to pull out and enjoy with your families this Easter.
I have this long time dream of one day being able to visit one of the amazing chocolate making establishments around the world. Perhaps the Callebaut factory in Belgium (right now I send so much love to all those that have suffered enormously over there….just such a sad world!!!) or some of the amazing places where chocolate is made in Switzerland or over Europe.
But for now having a go at making my own will have to suffice. Of course some of the steps like refining the chocolate to improve the taste and texture (called 'Conching') are quite tricky to do at home.
But hey this chocolate is real, without being loaded with unneccesary chemicals, preservatives and loads of sugar. This chocolate is good for your body, and is completely guilt-free.
When you buy a block of chocolate from the shops you've probably noticed that it has 3 big ingredients. Cacao paste (aka cocoa paste, cocoa mass, cocoa liquor), Cacao butter or cocoa butter, and sugar. So here I'm using cacao paste from Maretai Organics and Cacao Butter to make a great homemade version without all the added nasties. Cacao paste already has cacao butter in it, which is the fat, so unlike other raw chocolate recipes I use less cacao butter in a recipe that uses cacao paste to begin with.
My chosen sweetener that I use here is Coconut Nectar. You can substitute with coconut palm sugar however the mouth feel of the coconut nectar is just that much smoother and the overall texture of the chocolate is just sensational!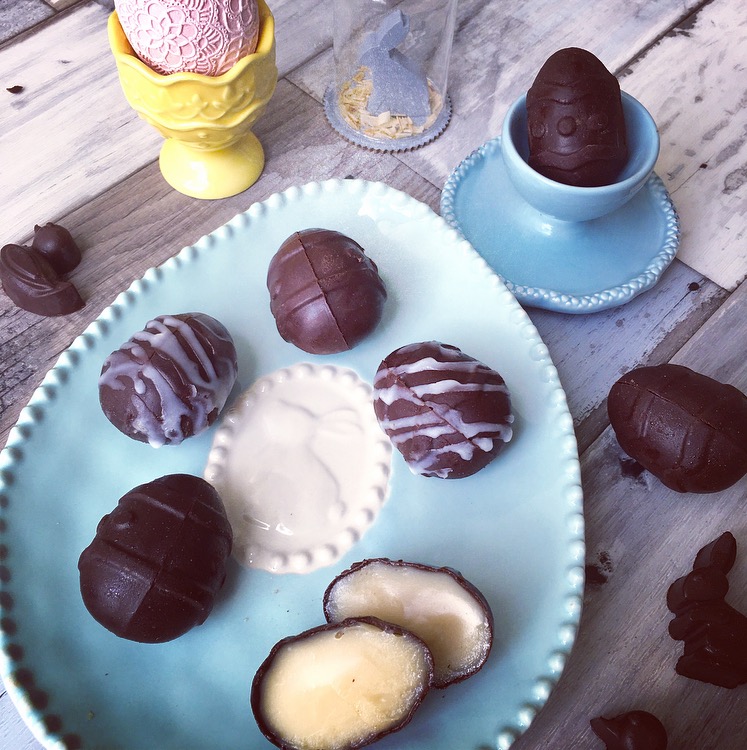 For the filling of these eggs, I've used a product called Coconut Paste. It's not coconut butter, it's finer and runnier, yet super duper creamy, smooth and just incredible. I buy the Loving Earth , I think it's the best out there! The filling is dairy free, almost like a light caramel or a condensed milk in texture and then once set in the eggs in the fridge it turns fudgey and delightful.
If you don't want to join these eggs together, you can just place some filling in the prepared chocolate shells and then once set in the fridge cover with chocolate to set. Up to you.
As much as I think making the chocolate from scratch is a whole lot of fun, if you can't source the products in time for easter just do them at a later point over the holidays or use a good quality dark or organic chocolate. Enjoy!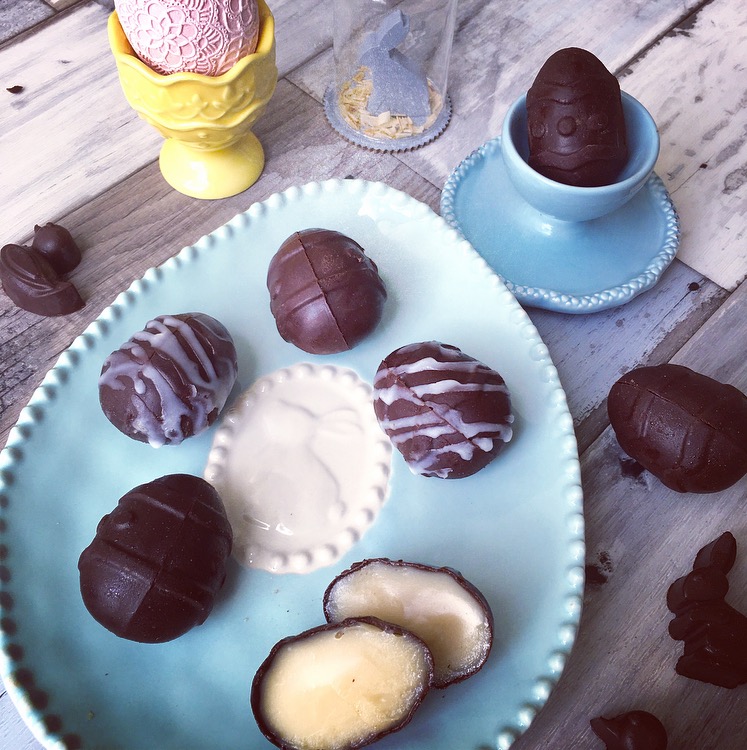 Real Dark Chocolate Easter Creme Eggs
2016-03-23 08:23:05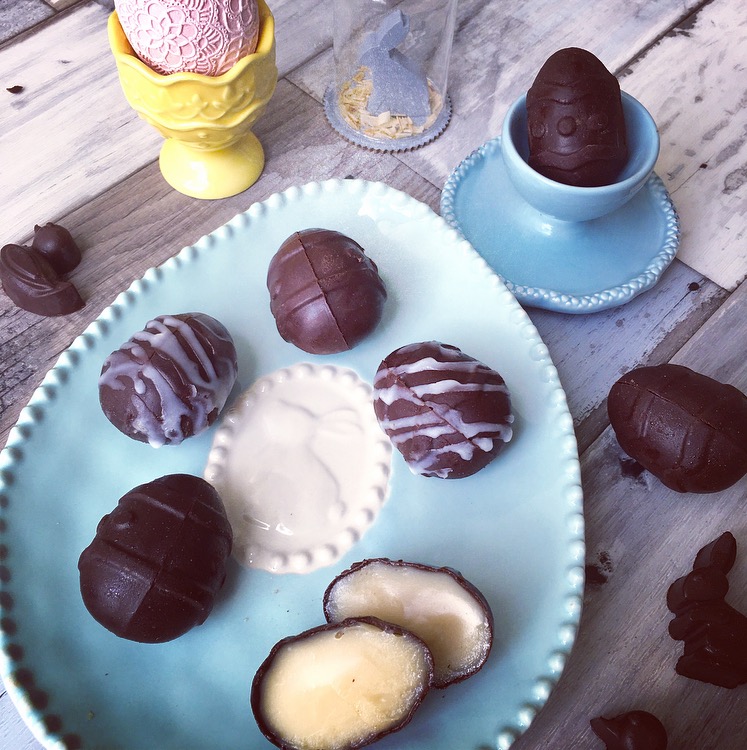 Deliciously creamy guilt free healthy Creme Easter eggs.
Ingredients
Chocolate
150g Cacao Paste (I use Maretai Organics)
50g Cacao Butter
60g Coconut Flower Nectar or Coconut Palm Sugar
1/2 tsp Vanilla Powder
Creme Egg Filling
200g Coconut Paste (I use Loving Earth brand)
100g Coconut Nectar
100g Coconut Milk
2 tsp Vanilla Extract
Extra Coconut Paste for drizzling
Instructions
To make the chocolate place the cacao paste & cacao butter into the Thermomix bowl and mill 10 Sec/Speed 9.
Add the coconut nectar and vanilla and melt and mix 5 Mins/37°/Speed 2.
Pour the chocolate into a bowl and set aside for about 5-10 minutes to thicken slightly.
Dampen a small piece of paper towel and wipe out the easter egg moulds with a little macadamia or rice bran oil. This will help the chocolates to release easily and also to give them a nice gloss.
Pour the chocolate into medium easter egg moulds and swirl around until coated. Place in the fridge to set for about 5-10 minutes before repeating this step 2-3 times to get a good layer of chocolate in each mould. You may like to do this with a small paint brush to make sure you are getting a really even thick coating. Using a pastry scraper or a ruler drag across the chocolate to ensure a clean edge everytime you add a layer.
You will need a total of 32 chocolate egg halves, so you may need to do this several times depending on how many moulds you have.
Whilst your chocolate is setting, make the creme filling. Place the coconut paste, the nectar, coconut milk & vanilla into the Thermomix and mix 10-15 Sec/Speed 3. Set aside until ready to use.
Gently un-mould the egg halves, being careful not to over handle as the heat from your hands will melt the chocolate. Place a small spoonful of the filling into each of the halves, levelling them off at the top. Sit the halves on a tray and carefully place them into the fridge to set for about 20 minutes or until the filling has hardened.
To stick the two edges together, heat a baking tray slightly then place the halves briefly onto the tray to heat, then gently push the edges together, running your finger around the entire edges to seal properly.
Place back into the fridge to set firm. You can serve them at this point or you can drizzle with a little extra coconut paste for a decorative finish.
Kitch'n Thyme http://kitchnthyme.com.au/