I came up with these little beauties a few weeks ago! I'd had some silicone easter egg moulds in the cupboard for a long time and I suddenly looked at them and just knew I needed to create some beautiful thing with them!!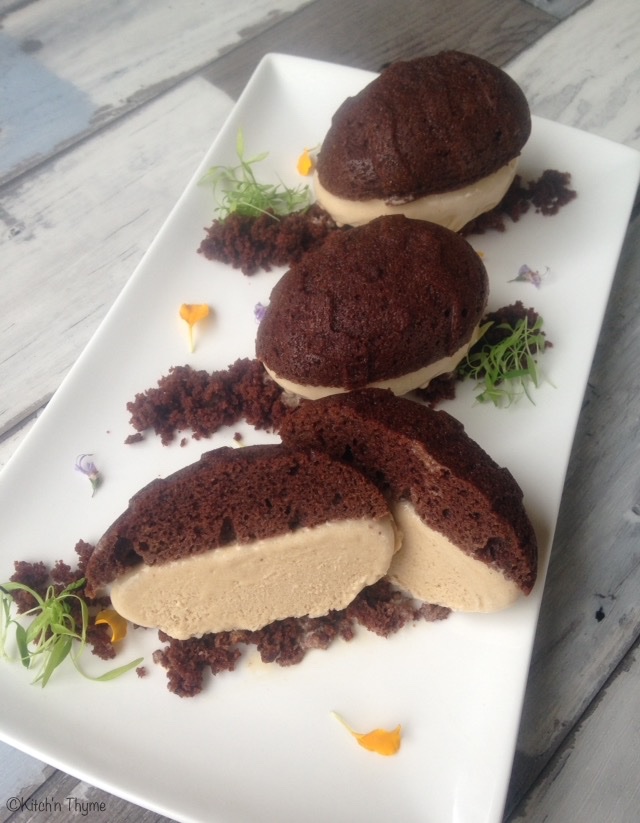 My mind started wandering and I went through many different options! Suddenly my mind flicked to icecream and I had a massive lightbulb moment of something Icecream Cake!! I got busy in my kitchen creating and what I came up with was delicious! I was/am thrilled!
I wanted to make them grain free, paleo, dairy free, refined sugar free, yet full of love and Easter cheer! Of course the obvious flavour at Easter is chocolate so I wanted to have a hint of that, but also something to lighten it up a little! So that's why I've gone with the coconut icecream, and those warm flavours of ginger and chocolate to compliment!
You can drizzle them with some raw chocolate or organic dark chocolate for a little extra decadence!
I hope you enjoy them as much as we will be this weekend! Happy Easter
Easter Egg Icecream Cakes
2015-04-01 01:33:32
Serves 12
Dairy-free, grain-free, sugar-free Easter Egg shaped Icecream Cakes! Something a little different for your easter spread!
Coconut & Ginger Icecream
400ml Coconut Cream
400ml Coconut Milk
80g Coconut Sugar
4 Organic Egg Yolks
1 tsp Vanilla Essence
20g Glace Ginger
Chocolate Date & Ginger Cakes
100g Dates
2 tsp Baking Soda
80g Almond Meal
60g Arrowroot
20g Coconut Flour
20g Cacao Powder
2 Tbsp Coconut Sugar
4 Large Organic Eggs
100g Coconut Oil
60ml Coconut Milk
40g Glace Ginger
Icecream
Place the coconut cream and milk, along with coconut sugar, eggs and vanilla into the Thermomix and cook 8 Mins/90°/Speed 4.
The mixture should be thickened slightly (enough to coat the back of a spoon). Pour into a bowl and place over an icebath to coo,l before placing the mixture into a a shallow container. Cover and place into the freezer for 3-4 hours or until firm but not completely frozen.
Place the ginger into the bowl and chop 5 Sec/Speed 5. Set aside.
Remove from the freezer and cut into small cubes. Place into the mixing bowl and blend for about 20 Sec/Speed 9. Scrape down the sides add the reserved ginger and whip a further 10 Sec/Speed 4.
Spray out 2 x 6 hole (1/3 cup capacity) silicone Easter Egg moulds with coconut or olive oil then pour the icecream into the moulds and freeze for a further 1-2 hours or until firm. Remove from the moulds once frozen and place into a suitable container and place back in the freezer until ready to serve.
Wash out the moulds to bake the cakes in.
Cakes
Preheat the oven to 160°C.
Place the ginger into the mixing bowl and chop 5 Sec/Speed 5. Set aside.
To make the cakes, place the dates into a small bowl covered with boiling water and add 1 tsp of the baking soda. Leave to soften for 5 minutes.
Place the flours, 1 tsp baking soda, cacao powder, sugar, eggs, coconut oil and coconut milk into the mixing bowl. Mix 10 Sec/Speed 6. Scrape down the sides of the bowl.
Drain the dates of the excess water and place into the mixing bowl. Process a further 10 Sec/Speed 6.
Add the ginger and process 5 Sec/Speed 6/Reverse.
Place 2 x 6 hole silicone easter eggs moulds onto a large baking tray. Spray the moulds with coconut or olive oil spray. Pour the batter evenly into the 12 easter eggs moulds (1/3 cup capacity each).
Bake the cakes at 160°C for 20-25 minutes or until cooked through.
Once cooked, leave to cool in the moulds for 10 minutes before transferring to a wire rack to cool completely.
Once the cakes are cooled, slice off the uneven edge so you end up with a flat surface and a 1/2 egg shape from the mould. Reserve those pieces for crumbling onto the plates.
To assemble the cakes, crumble the reserved bits of cake onto plates and top with 1/2 icecream egg, flat side up. Then place 1/2 a cake egg on top of the icecream. You can serve as is or pour over a little organic melted chocolate (if not strictly Paleo) or homemade chocolate.
I like both options! You really see the pretty pattern on the cakes without the melted chocolate, but having the melted chocolate also is very yummy!! So up to you!
Kitch'n Thyme http://kitchnthyme.com.au/