Coming into the New Year, mums will be beginning to think about school lunches all too soon! But it needn't be stressful! With these delicious bars, children should feel happily surprised when they open their lunchboxes!
They are gluten free, dairy free, egg free, refined sugar free and super easy to make!
Sweetened with just a little honey and the dried fruit they are a great little snack! I made these a few years ago and now that I have a family they are the perfect thing to have ready made in the cupboard! My little boy really enjoys them!
You can cut them into long muesli bar type shapes, but I've gone for something a little different! You can also double the mixture if you want them a bit thicker. They are quite chewy when made the way pictured, and a little more 'cakey' if made thicker.
Play around with the flavours. you could add cranberry and pistachios or chocolate chips (naturally sweetened) etc.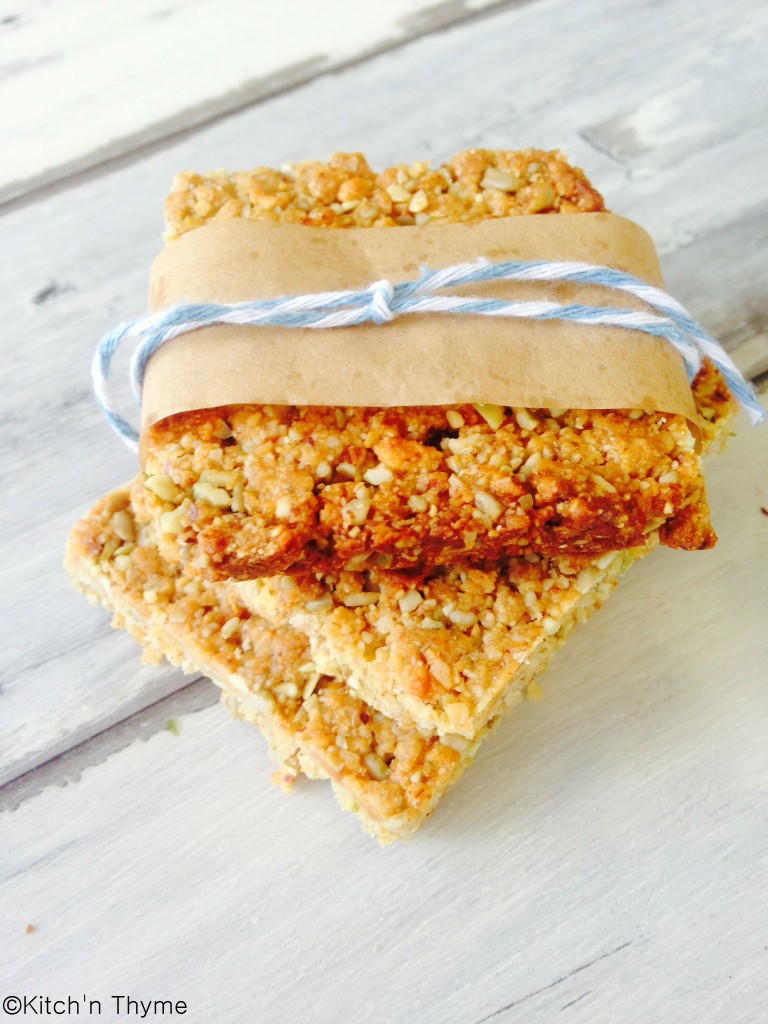 Paleo Lunchbox Squares
2015-01-04 02:41:12
Golden, crunchy, guilt-free lunchbox squares.
Ingredients
30g Dried Apple
30g Dried Pear
80g Almonds
20g Shredded Coconut
20g Pepitas
40g Sunflower Seeds
1 tsp Vanilla Essence
40g Coconut Oil
40g Honey
Instructions
Preheat the oven to 170°C. Line a small rectangular slice tin with baking paper and set aside.
Place the apple & pear into the Thermomix and chop 2 Sec/Speed 9. Set aside.
Place the almonds into the Thermomix and mill 10 Sec/Speed 9.
Add the remaining ingredients, including the reserved apple and pear and process 10 Sec/Speed 6/Reverse.
Once mixture has come together place into the baking tray and pat down evenly with a spatula.
Bake for 20 minutes or until golden brown. Cool in the tray for 5 minutes, then completely on a wire rack before cutting into squares.
Kitch'n Thyme http://kitchnthyme.com.au/