A few weeks back I finally got to making these sweet little galettes I've had brewing in my head for a while! I was recently reading an article from the Gottman Institute (if you haven't checked them out, you must do so! They share such fabulous stuff!) talking of how cooking for some can be a productive form of self expression and communication! It was like this total lightbulb moment for me as creative expression through food is absolutely my outlet and way to express myself! In fact, what some may view as slaving away in the kitchen is my kind of stress relief and almost a way to express all my feelings!! Isn't it amazing how we're all so different!
So anyhow, finally getting these pretty galettes out of my system was super fulfilling! They were initially inspired by some gorgeous black blood plums at the local farmers markets! You could replace with any type of plum or any stone fruit for that matter. All stone fruits go so so beautifully with ginger! It's definitely a favourite combo of mine! Peach & Ginger Crumble is a firm favourite in my home, especially as my 6 yer old son just loves anything ginger!
With the pastry, if you're in a hurry, you can skip the 30 minute chilling of the pastry. It's not ideal as the pastry is better off having some time for the glutens to relax which helps it not to shrink in the oven, (and also gives a better texture on the pastry) but with a rustic tart like these, they're pretty forgiving, unlike in a tart case where if it shrinks and there's no sides on your tart, you're in trouble! 🤪
You'll also notice I use spelt flour again in this pastry! In my kitchen, the only flour you'll find is spelt. I replace all plain flour for spelt. It's a more ancient variety of wheat and has been less tampered with making it easier to digest. Some folks that have intolerance's to wheat can often eat spelt and feel ok. So it's my go to!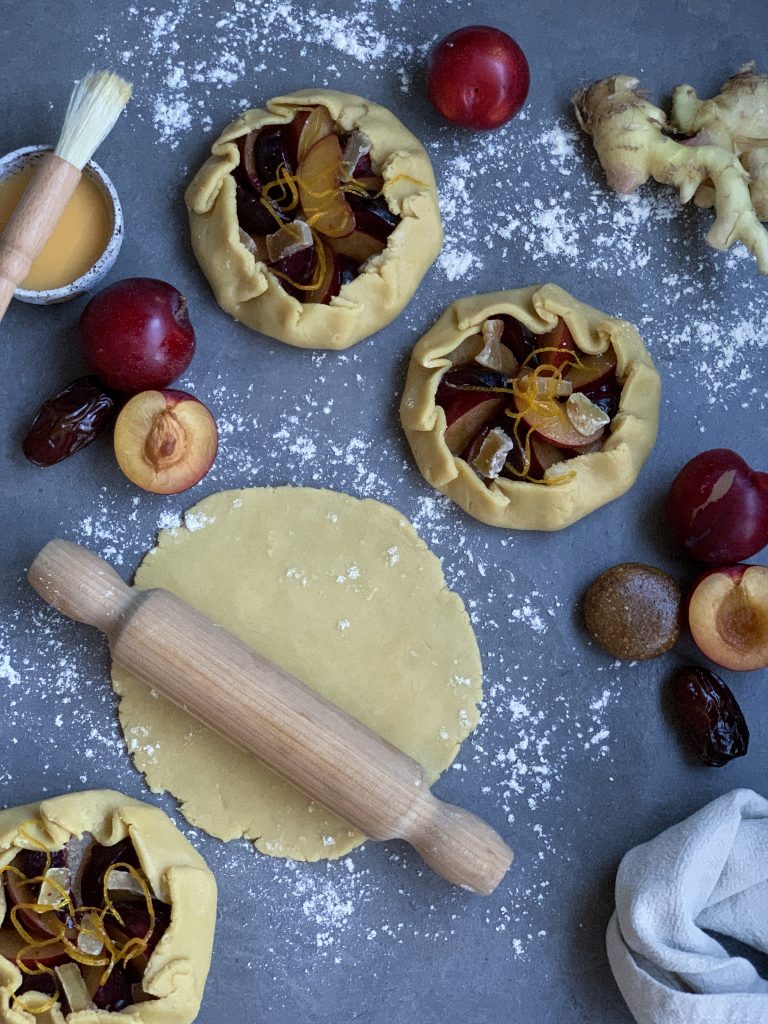 The date & walnut paste is SO SO good! It's a fairly firm paste, so rolling into a ball and then flattening in your hand is the easiest way to use it. When I tasted it, I immediately envisioned a delicious bliss ball right there! You could use all almonds or all walnuts in the paste but the combo of the two I think is just delicious, and the roasted almonds really make it! Yum!
I couldn't decide whether to call these Galettes or Crostata's! Basically one is French and the other Italian – meaning a free-form or rustic tart! I opted for French Galette's but both sound really as delicious as each other in my head so go ahead and call them whatever your heart desires! 😅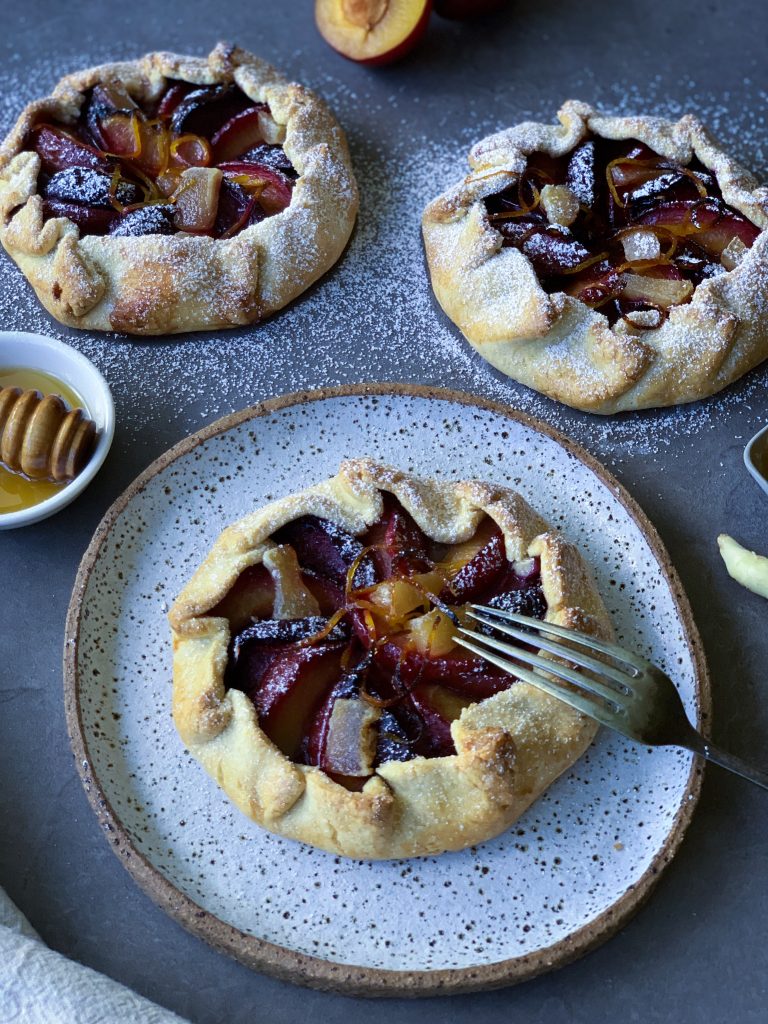 But whatever you do, make sure to jump into your kitchen and get some of these little beauties in the oven before the end of the summer stone fruit season! YUM YUM YUM!
Gabrielle xx
Print
Blood Plum & Ginger Galettes with Date & Walnut Paste, Candied Orange Zest and Honey Orange Drizzle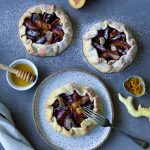 Fruity, zesty galettes enveloped in delicous buttery golden pastry!
Author:
Prep Time:

20 Minutes

Cook Time:

30 Minutes

Total Time:

50 minutes

Yield:

4
Ingredients
8-10 Blood or Yellow Plums, seeds removed, cut into eighths
20g Crystallised Ginger, sliced, extra for topping
Raw Sugar, for scattering
Vanilla Icecream, to serve
Spelt Shortcrust Pastry:
60g Organic Raw Sugar
250g Organic White Spelt Flour
100g Organic Butter
2 Organic Egg Yolks, plus 1 beaten Egg for eggwash
2 Tbsp Iced Water
Date & Walnut Paste:
40g Walnuts
20g Roasted Almonds
60g Dried Dates
40g Crystallised Ginger
Candied Orange Zest:
1/4 Orange, zested
2 Tbsp Honey
1 Tbsp Water
Instructions
To make the pastry, place the sugar into the Thermomix and mill 10 Seconds/Speed 9. Add the flour & butter and process for 10 Seconds/Speed 6 or until the mixture resembles breadcrumbs. Add the egg yolks, and water and knead 10-20 seconds or until the dough just comes together.
Using the Thermomat or a lightly floured surface bring the dough together to form a ball. Flatten and wrap the dough in cling film and place in the fridge for 30 minutes to rest.
Take a rack out of the oven and place an oven Thermomat on it. (If you don't have a Thermomat, line a large baking tray with baking paper). Preheat the oven to 180ºC.
Portion the chilled dough into 4 equal picese and roll the dough out on a lightly floured surface to be 2-3mm thick or about 15cm in diameter. Place into an oven Thermomat or line a baking tray with baking paper and place on the tray.
To make the paste, place the nuts, dates & ginger into the Thermomix and process together 10 Seconds. Speed 8. Divide the paste into 4, roll each piece into a rough ball shape and flatten out with the palm of your hand and place in the middle of the pastry round, leaving a 3cm border of pastry. (Use your fingers to further flatten and neaten if necessary).
Arrange the plums nicely on top of the paste and top with a few pieces of the ginger to finish.
Gently lift the pastry up over the plums, pleating as you go. Brush pastry edges with beaten egg and scatter raw sugar all over the galettes & bake until golden (20-25 minutes).
To make the candied orange zest, remove zest from the orange with a vegetable peeler, keeping pieces long. If there's any white pith, remove it using a paring knife, then cut into a fine julienne using a very sharp knife.
Place the honey, water and orange peel into the Thermomix and cook 5 Mins/100°/Speed 2.
Take the candied orange zest out of the syrup and set aside. Pour the syrup into a little serving bowl or jug.
Top the galettes with the candied orange zest, a drizzle of orange syrup and serve warm with vanilla icecream.
Notes
You can substitute the plums for nectarines, peaches or apricots!
The paste can be made with all almonds or all walnuts, but the mix of the 2 nuts is very delicious especially as the almonds are roasted!