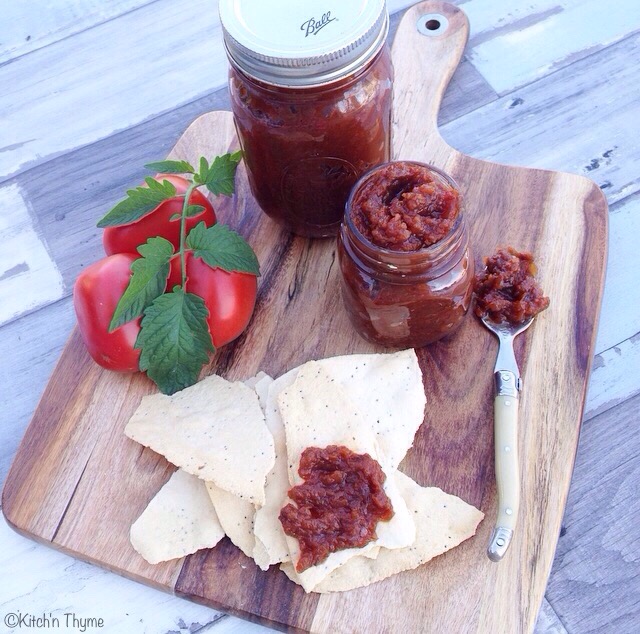 I don't really remember when I started making this gorgeous sauce. All I know is that it's stuck with me and been a real hit in my house, and is one of my secret recipes! So I'm sharing it with you all here….so I guess it's not a secret anymore! Shhhh, don't tell anyone!
Back when I was studying, I made it for one of our big functions and it was a real hit! Back then, before I had a Thermomix it used to cook down on the stove for about 3-4 hours! In the Thermomix it takes 2 hours, which is a real time saver for me! Plus I don't have to watch it as much with the timer set!

There is some chilli in it, however you can increase this to your tastebuds! The spices are subtle and add a really beautiful depth of flavour to the relish.
I've significantly reduced the sugar content from my original recipe, as that has become really important to me as the children are eating more of these foods, (and I don't want to train their tastebuds for food that's too sweet), but it still has sweetener, so keep it in moderation for the little ones…and the adults too of course! You can make it completely Paleo if you use Coconut Palm Sugar.
I do de-skin the tomatoes, however I have made it before without and its ok, but the texture is that much nicer without the skins, and it really is a very quick step!
You can serve it with turkey ham on wraps, with tacos, arancini balls, on eggs for breakfast, with crackers and cheese! So many options, the list goes on and on!
Pure spicy love, Gabrielle xx
Spicy Tomato Relish
2015-08-11 04:11:26
Delectable spicy relish to serve with meats, rissoles, sandwiches, cheese platters and more!
Ingredients
1.5 kg Mixed Tomatoes, peeled & quartered
250g Red onions, peeled & halved
2 Cloves Garlic, peeled
2cm knob Ginger, peeled
1-2 Red Cayenne Chillies, deseeded
125ml Red wine vinegar
180g Rapadura Sugar
1 1/2 tsp Celtic Sea Salt
1/4 tsp Pimentos (Allspice), ground
1/4 tsp Cloves, ground
Few grinds of Black Pepper
Pinch Cayenne Pepper
Instructions
Boil the kettle. Cut a small cross into the base of the tomatoes and place them into a large mixing bowl and cover with boiling water. Leave for 1-2 minutes to soak, before peeling the skins off.
Place the onions, garlic, ginger & chilli into the Thermomix & chop 3 Sec/Speed 7.
Add the peeled tomatoes and chop for another 3 Sec/Speed 5.
Add the red wine vinegar, rapadura, salt, spices, pepper & cayenne and cook 90 Mins/100°/Speed 1.5-2 with the simmering basket on top. Cook for a further 30-60 Mins/100°/Speed 1.5-2. (The timer on the Thermomix goes to 99 mins on the TM5, so you could set it to that and then for set it for a further 50 mins or so.)
Kitch'n Thyme http://kitchnthyme.com.au/