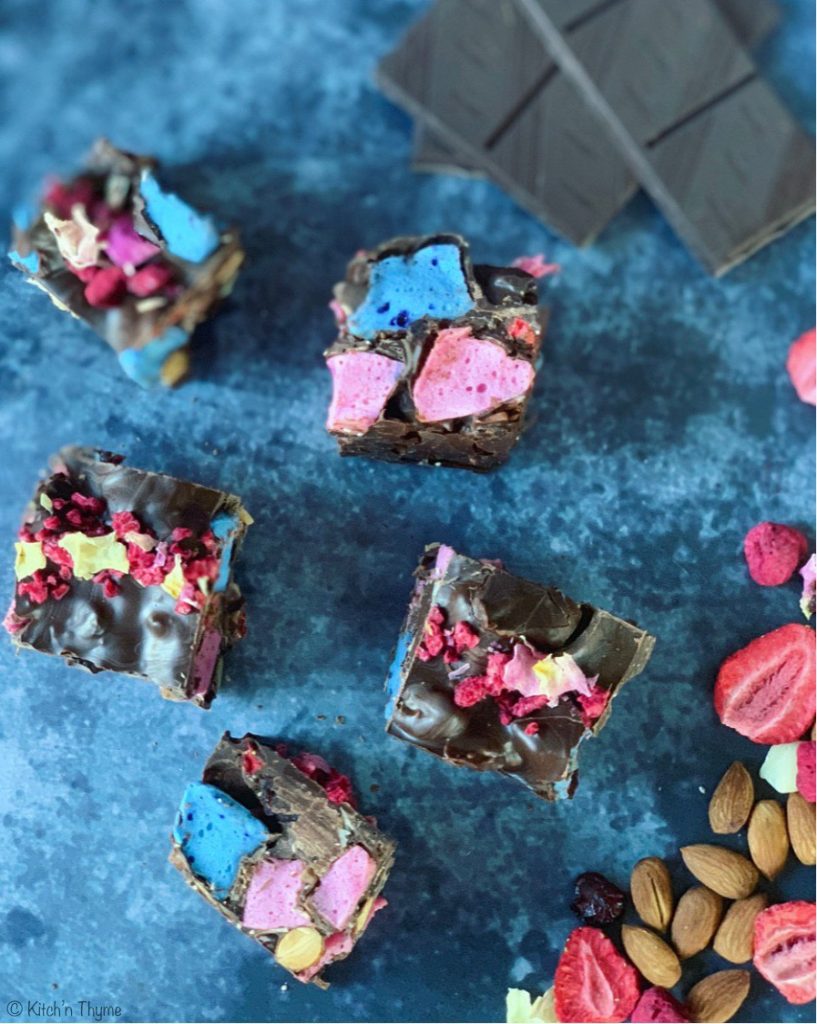 Super delicious, fluffy, nutty, chocolatey mess!
Well how about that with a healthy spin on it? One of the things this Rocky Road is enriched with is Maca powder that has vitamins, energy boosting properties, benefits for the skin, helps to increase energy, and helps with womens & mens health & reproductive health.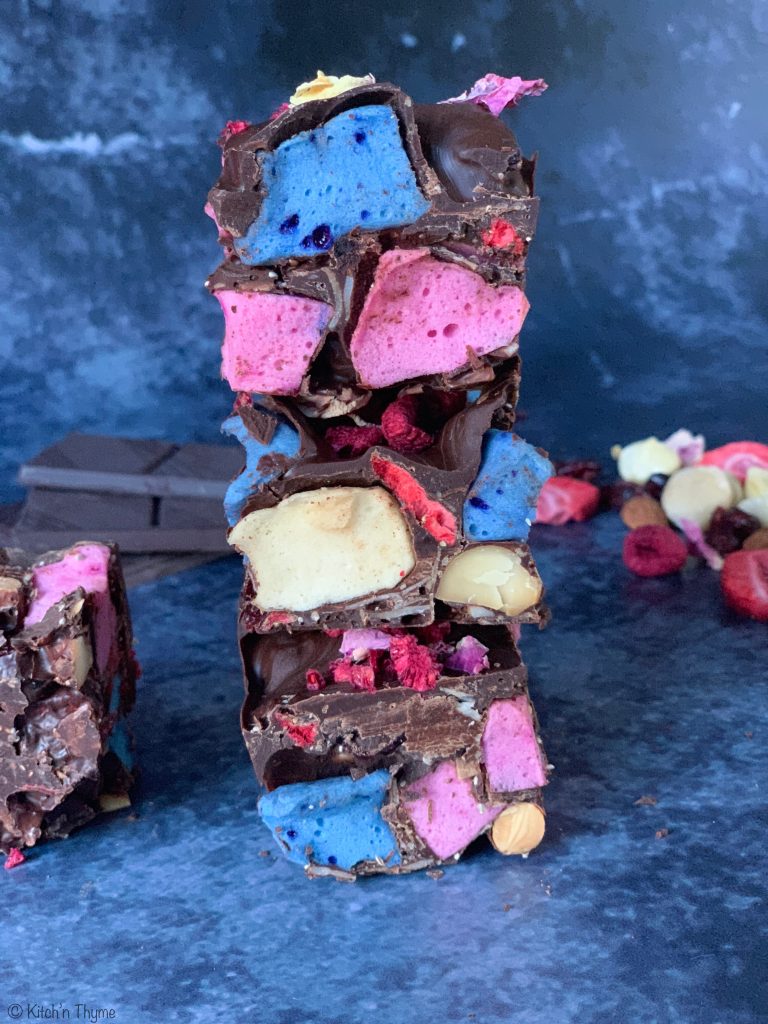 Another great superfood is chia seeds. Being high in nutrients, antioxidants, protein and Omega 3 fatty acids, I love to throw them into treats when I can!
Then my Healthy Honey Marshmallows are filled with Blue Spirulina & Pink Dragonfruit Powder! How wonderful! Natural colouring at it's best! No numbers needed! More on the colours in my marshmallows post!
I often use 70% Organic Dark Chocolate for Rocky Road but in this one I use Callebaut Dark Chocolate Callets. It's partly tempered already so it makes it easier to get a good smooth, shiny crack on the chocolate! I temper the chocolate by using the seeding method where you fully melt 75% of the desired amount of tempered chocolate to 50ºC and then you add the last 25% in to bring the temperature back down to 31-32ºC, without having to get messy and spread it out over marble to bring the temp down!
Alternatively, you can make your own raw chocolate with Cacao Butter, but it will have a low melt temperature, so just keep it in the fridge or freezer.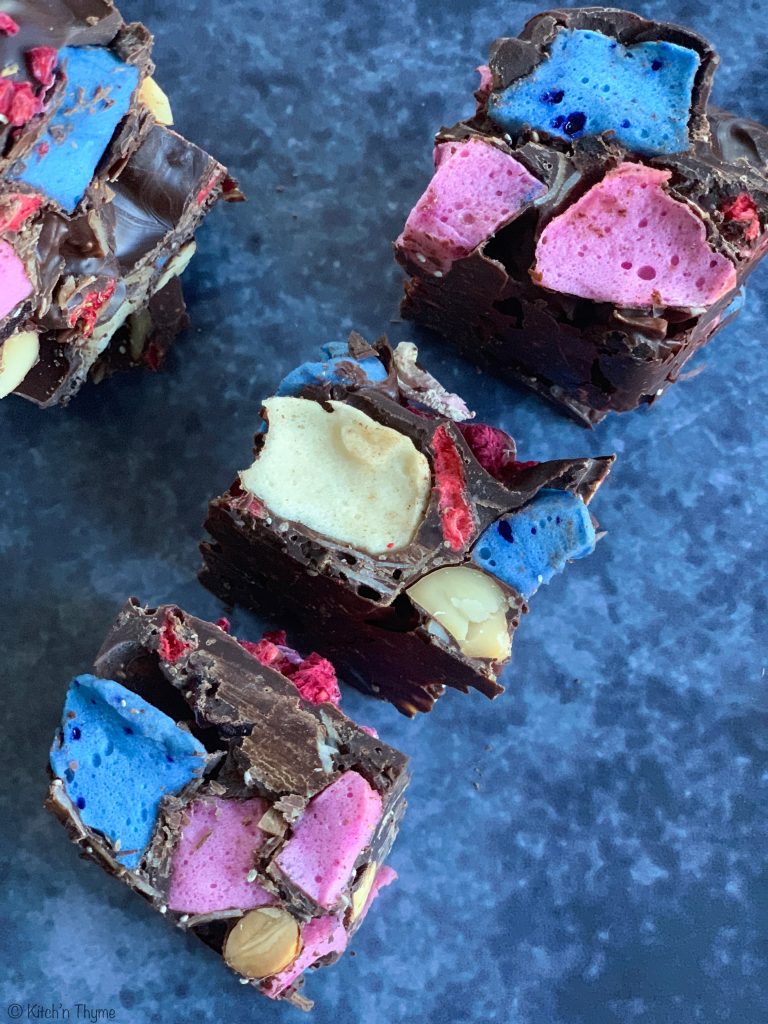 I love freeze-dried berries! In this one I've used freeze-dried strawberries in the rocky road and freeze-dried raspberries on the top with a sprinkling of rose petals for some added beauty!
The raspberries and strawberries help to cut through the sweet of the chocolate and give a nice tart effect!
YUM!!!!….But I must go now and wrap some Christmas presents! Enjoy guys! Gabrielle x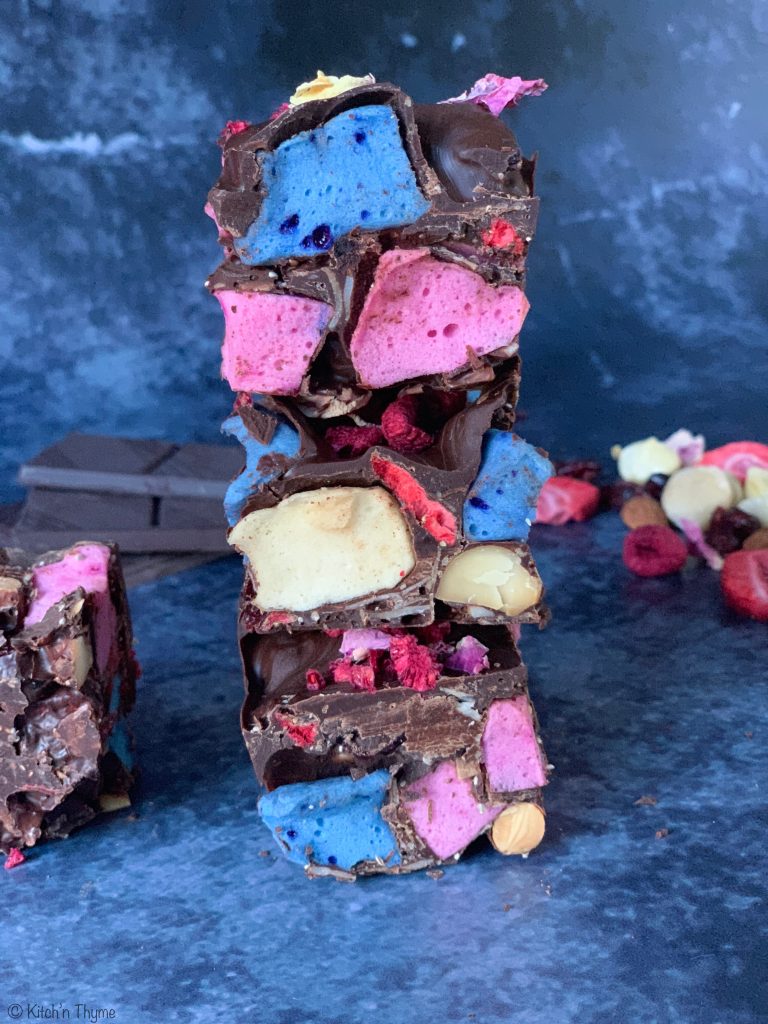 Superfood Rocky Road
2018-12-20 23:49:03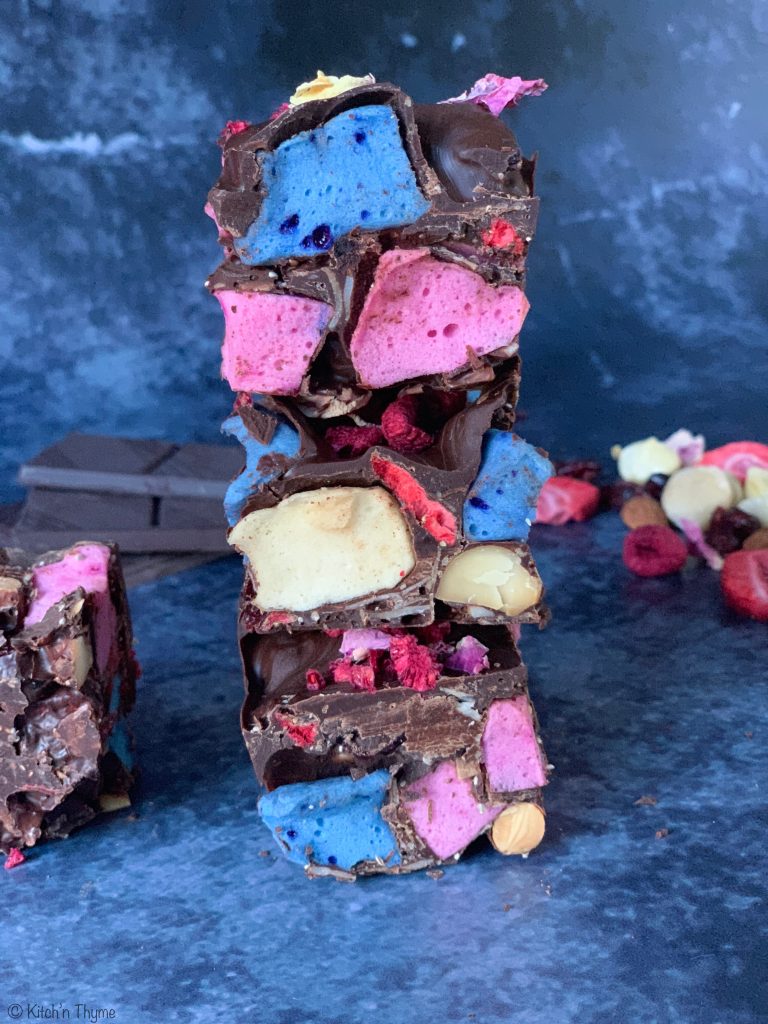 Delicious Rocky Road that will have you running back for seconds!!
Ingredients
400g Callebaut Dark Chocolate Callets (or other brand of dark chocolate)
100g Mixed Nuts (I used roasted Almonds & Macadamias)
20g Cranberries (unsweetend)
2 tsp Maca Powder
10g Chia Seeds
35g Toasted Coconut Chips
10g Freeze-dried Strawberries
10g Freeze-dried Raspberries, for sprinkling on top
Dried Rose Petals, for sprinkling on top
Instructions
Place 300g of the chocolate into the Thermomix and melt 7 Minutes/50º/Speed 2/MC off.
Scrape down the sides and add the remaining 100g of chocolate and mix 5 Mins/no temp/Speed 2/MC off.
Scrape down the sides and stir a further 3 Mins/no temp/Speed 1. Your chocolate should now be tempered and around 31º-32ºC. (You can test with a thermometer to check, however if you are going to store in the fridge or freezer you don't need to worry too much as melting won't be a big problem anyway!)
Add all the remaining ingredients and mix gently 1-3 Sec/Speed 2/Reverse.
Place into a baking paper lined square cake tin, sprinkle with some freeze-dried raspberries and rose petals and place into the fridge to set. Cut into 12 squares or smaller squares and serve.
Kitch'n Thyme http://kitchnthyme.com.au/