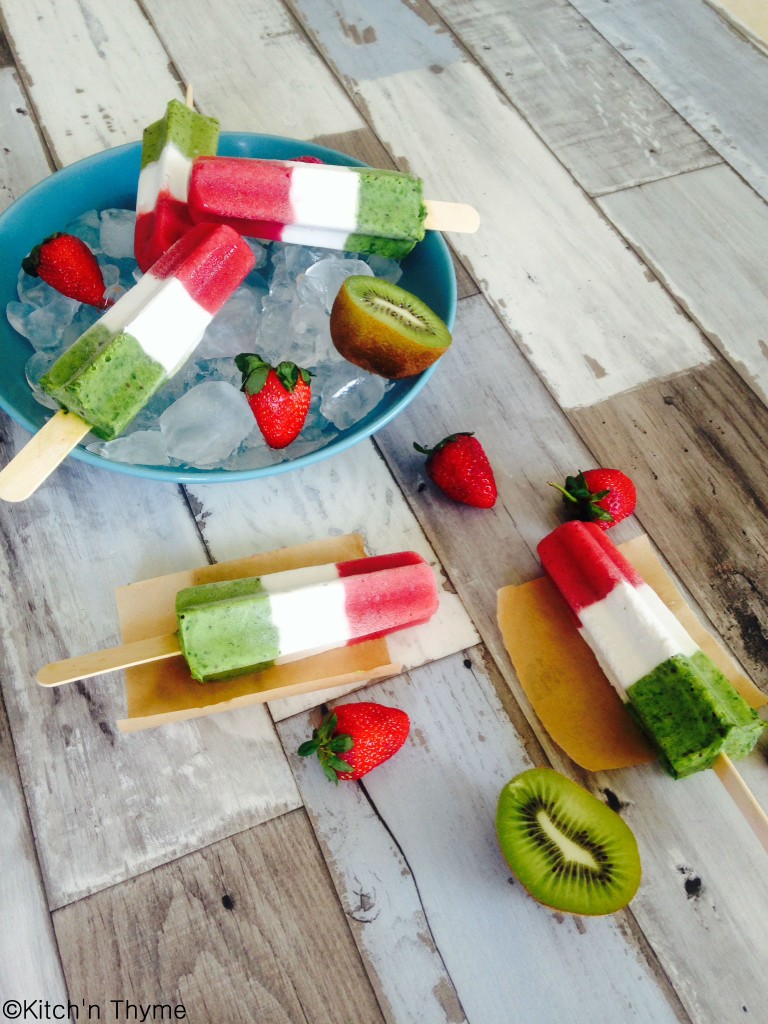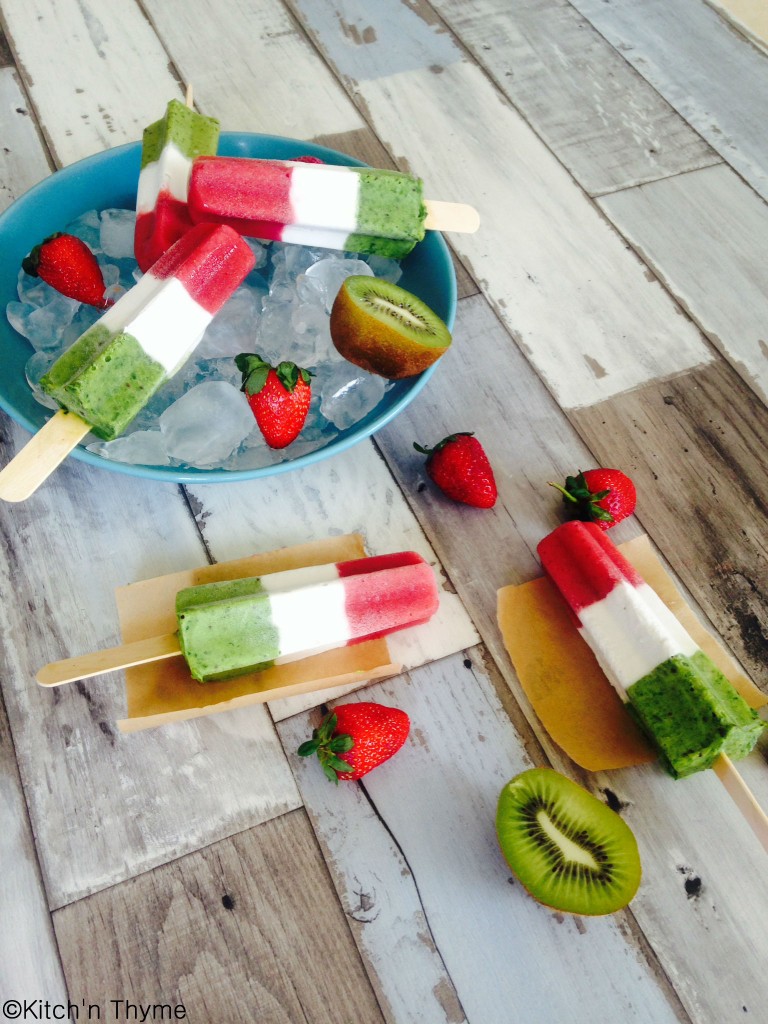 These delightful iceblocks are so easy to make! And fancy hiding some Kale in there that the kids will never spot!
I use the thick set coconut cream from very high fat tinned coconut cream. The Nakula Organic brand has about 62% fat ratio so I can get 250g from 1 tin. Depending on the brand you use, you may need to use 2 tins of coconut cream to get the amount needed.
For a hot summery Christmas afternoon, these pretty blocks are set to delight! Saying Christmas all over, they will surely lighten the palette and refresh everyone after a big Christmas lunch!
You can use whatever sweetener you prefer. There is very little sweetener in each block, i love that! Enjoy!….And Merry Christmas!!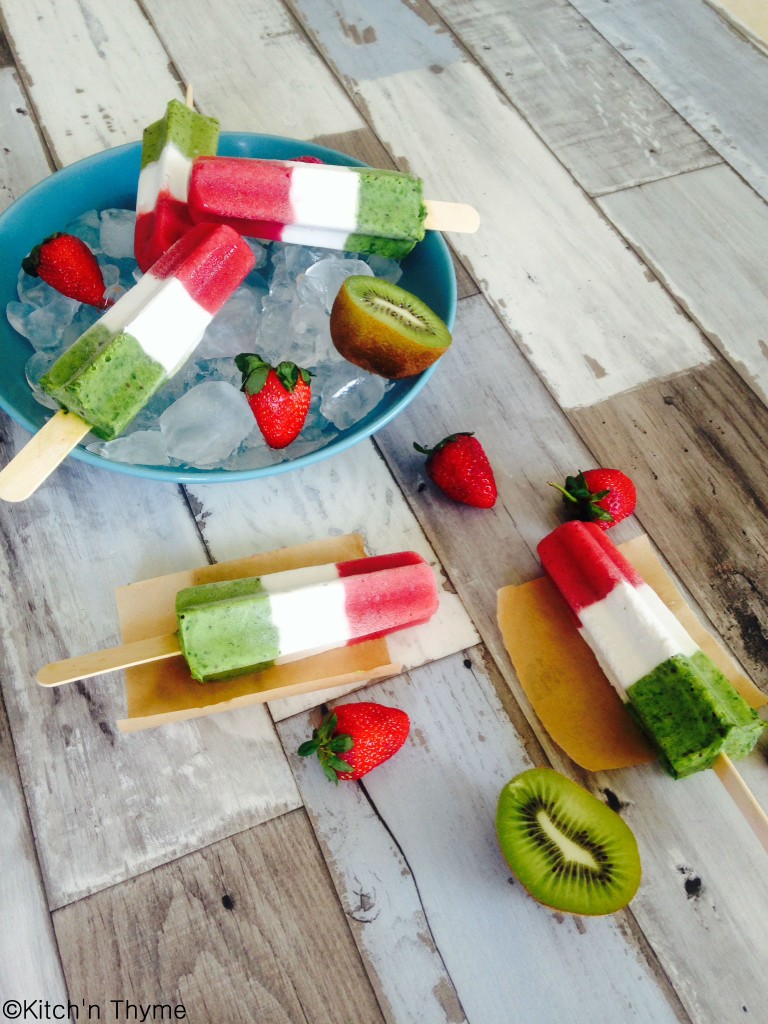 Christmas Iceblocks
2014-12-23 23:49:28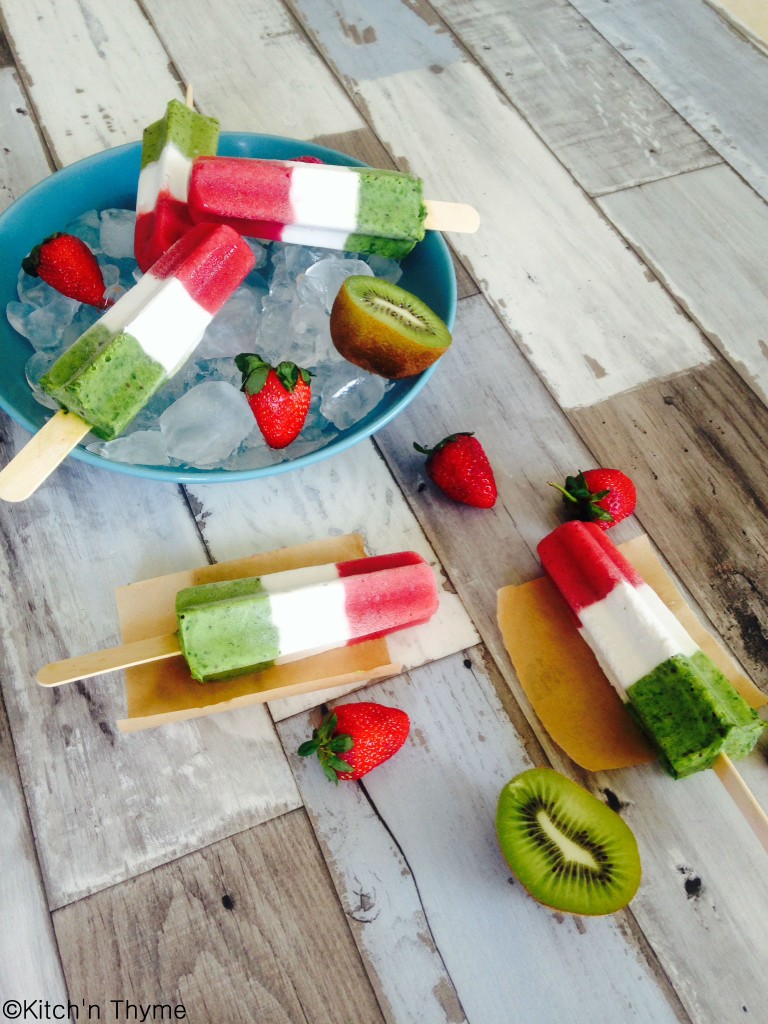 Perfectly 'Christmas' iceblocks with hidden kale!
Strawberry Layer
250g Strawberry's
25g Raw Honey
1 tsp Lemon Juice
Coconut Layer
1 Can Coconut Cream (set in fridge for at least 6 hours)
20g Honey
Green Kiwi Kale Layer
40g Kale (trimmed & de-veined)
1/2 Avocado
2 Kiwi Fruits
20g Honey
20g Coconut Cream
8 Iceblock Moulds (I used a 6 Star Mould for these and refilled them to make the last 2)
Strawberry Layer
For the strawberry layer, place the strawberries, honey and lemon juice into the Thermomix and blend 10-20 Sec/Speed 7.
Pour into moulds and place into the freezer to set for an hour. Once almost set, insert a popsicle stick into the ice block, leaving enough sticking out the top for people to hold onto once finished.
Coconut Layer
Once the coconut cream has set, open the tin and scoop out all the thick cream off the top and place into the Thermomix. You will eventually reach a more liquid watery fluid. Save this for smoothies. You should end up with 250g thick coconut cream. Insert the butterfly and whip 1 Min/Speed 4. Add the honey and mix just a few seconds to combine on Speed 4.
Pour evenly into the moulds and then place back into the freezer to set for at least 1-2 hours.
Green Kiwi Kale Layer
Place the kale into the Thermomix and blend 5 Sec/Speed 8.
Add the avocado, kiwis, honey & coconut cream and blend 10 Sec/Speed 5.
Pour into the moulds as the final layer and leave in the freezer to completely set.
Once set, take out of the moulds and serve as a refreshing treat for a hot Australian Christmas!
Kitch'n Thyme http://kitchnthyme.com.au/