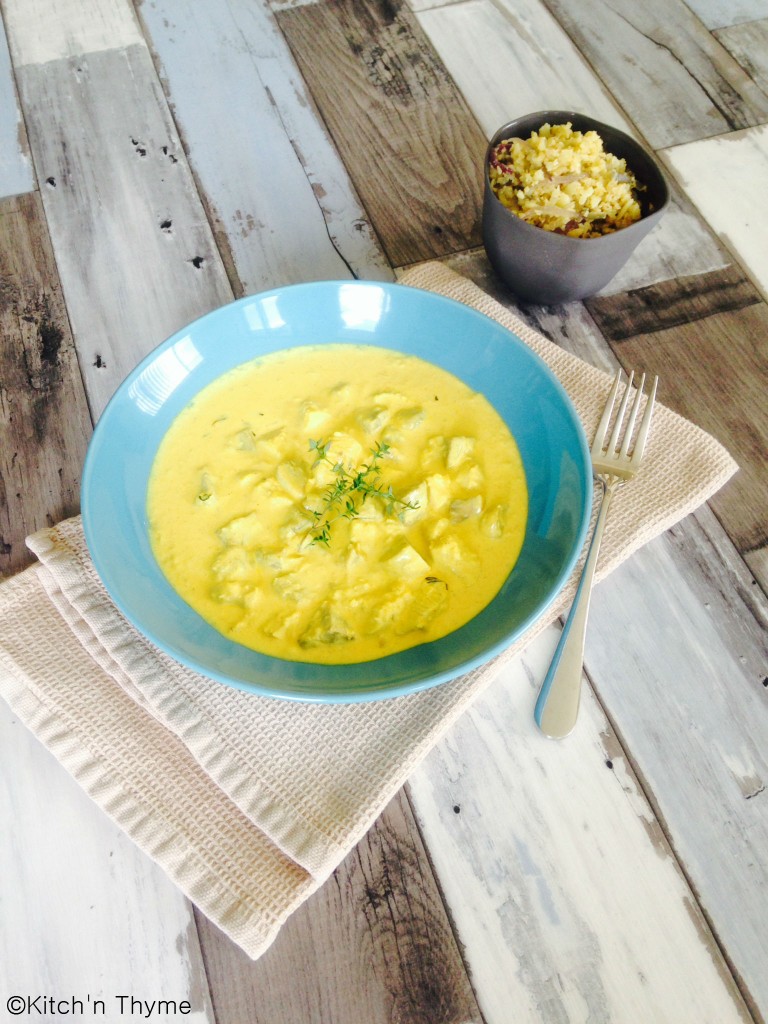 This fabulous dish is such a classic! I remember learning this at college when I studied to become a chef….it was something I always remembered, however was never really into. Why? Because I grew up never eating dairy! Weird I know! But my mum was a hippy type person or so I always labelled her! Instead we were eating cashew creams and sunflower cheeses and sprouts and kefir! Those things I will leave to another post!…..However, sour cream has grown on me majorly, and since I tend to advocate a lower carbohydrate, higher fat diet, this dish makes for a wonderful Ketogenic dinner.
I can see why my mum did limit my dairy intake for many reasons, one being that my tolerance to dairy is quite low. My husband can handle dairy quite well, however we still like to balance our dairy consumption. Since this is one of his favourite dishes, I do tend to make it as a treat rather than a staple on the weekly menu. I could make it completely Paleo by using coconut cream in place of cream, however it would be more of a curry! Not quite the same, but go ahead if you are completely Paleo!
I leave the traditional wine out. I know its flavour and all, and I'm not adverse to using wine in cooking when it cooks off, however to keep the carbs low, I don't use it, and seriously it really doesn't need it! It's just delicious and super flavoursome without!
My spin uses Turmeric. I know its completely untraditional but I love that I can get turmeric into my family here! Besides being a wonderful flavour booster, turmeric is proven to reduce the risk of dementia, combats inflammatory diseases, helps fight colds and flus, and helps indigestion and weightloss as well as many other things! I know it's only what – a teaspoon? But every little bit is better than nothing, and I will always make use of an opportunity to increase the nutritional content of the food I feed my family!
I use fresh Thyme as I really love it….it's one of my favourite herbs! Just so delicate and aromatic – I just have a special little thing for it! But you could use some Italian parsley to finish it off perhaps.
We eat it with my Cauliflower Rice. Just make the rice plain without the capsicum and coriander. The cauliflower rice works a treat with this dish and you feel so good after eating it, especially if at night.
Enjoy!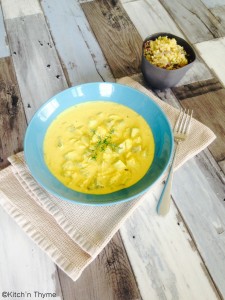 Chicken Stroganoff
2015-01-22 02:36:26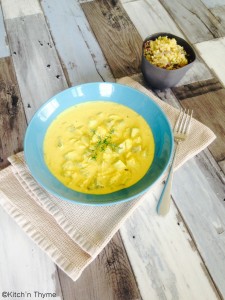 My take on this delicious staple! Served with
Cauliflower Rice
. Reader Naomi says: "Flavour was bang on! Having for dinner again tonight, our 8 year old loves it!" - July 2016, The 4 Blades Magazine
Ingredients
1 Large Brown Onion
2 Cloves Garlic
30g Olive Oil
1 tsp Turmeric
1 tsp Smoked Paprika
1 Tbsp Vegetable Stock Paste
1/2 tsp Celtic Sea Salt
1 Chicken Breast, cut into 3cm cubes
250g Button Mushrooms, chopped into 1/4's
300ml Organic Pure Cream or Coconut Cream
4 Sprigs Fresh Thyme Leaves
Instructions
Place the onion and the garlic into the Thermomix and chop roughly 3 Sec/Speed 7.
Scrape down the sides of the bowl and add the oil and spices and sauté 10 Mins/100°/Speed 1.
Insert the butterfly. Add the salt, stock paste, chicken & mushrooms and cook 2 Mins/100°/Speed 2/Reverse.
Add the cream and the fresh thyme and cook 15 Mins/100°/Speed 1/Reverse/MC Removed.
Serve warm with Cauliflower Rice.
Kitch'n Thyme http://kitchnthyme.com.au/