---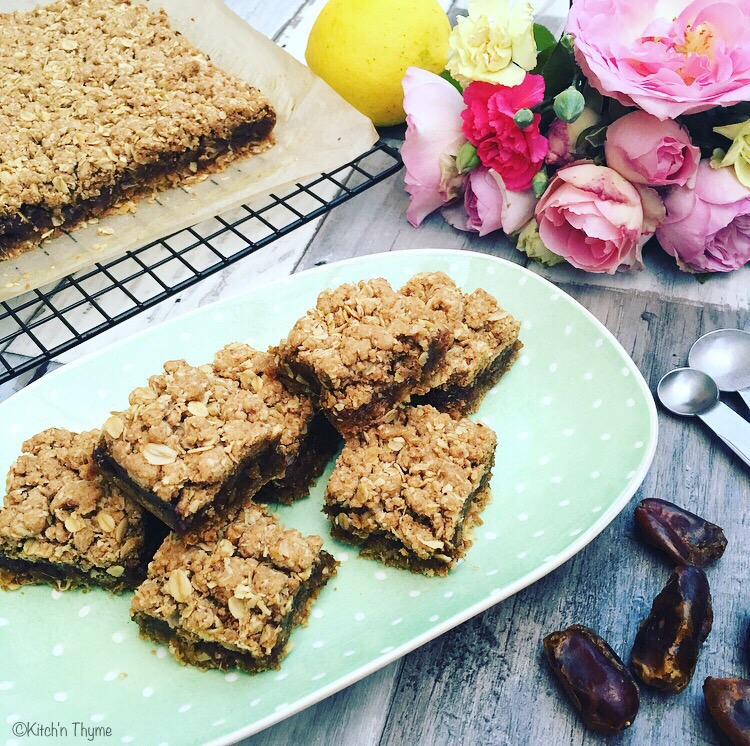 This delicious slice is so moreish you will be reaching for a second piece!
Another one from my childhood, I remember making this one many times! I've had a little play with mum's original, but essentially its still pretty similar! It is really really simple and easy to make!
The date filling is so yummy with the little hint of lemon and vanilla. It adds such a nice dimension to this slice. I think it really makes it! I cook it in the Thermomix but if you don't have one just cook the dates on the stove until all the water is absorbed.
The slice is egg free and nut free so a good one for school lunchboxes! Feel free to add nuts if its for home, however I don't think it needs any! Its just delicious as is!
Date Slice
2015-07-02 00:29:19
This deliciously moreish slice will have you reaching for a second piece!
Ingredients
300g Pitted Dates
250ml Water
1 tsp Vanilla Essence
1/2 Lemon, zested
100g Coconut Sugar
185g Organic Butter
230g Wholemeal Spelt Flour
1/2 tsp Bicarb Soda
150g Rolled Oats
Instructions
Preheat the oven to 160°C (fan-forced). Line a small rectangular slice tray with oil spray and baking paper. Set aside.
Place the dates, water, vanilla and lemon zest into the Thermomix bowl and cook for 5 Mins/90°/Speed 1/Reverse. Set aside. Rinse & dry mixing bowl.
Place the sugar, butter, flour and bicarb into the Thermomix bowl and bring together 20 Sec/Speed 6.
Add the rolled oats and mix 5-10 Sec/Speed 5.
Spread half the mixture onto the base of the prepared tin, then smooth over the reserved date mixture.
Crumble the remaining slice mixture over the top, making it as even as possible. Once completely covered give it a little press down all over with your fingers.
Bake for 30-35 minutes or until golden brown.
Cut into slices or squares.
Serve warm or cold with greek yoghurt! Yum!
Notes
This slice keeps really well for up to a week in an airtight container.
Kitch'n Thyme http://kitchnthyme.com.au/