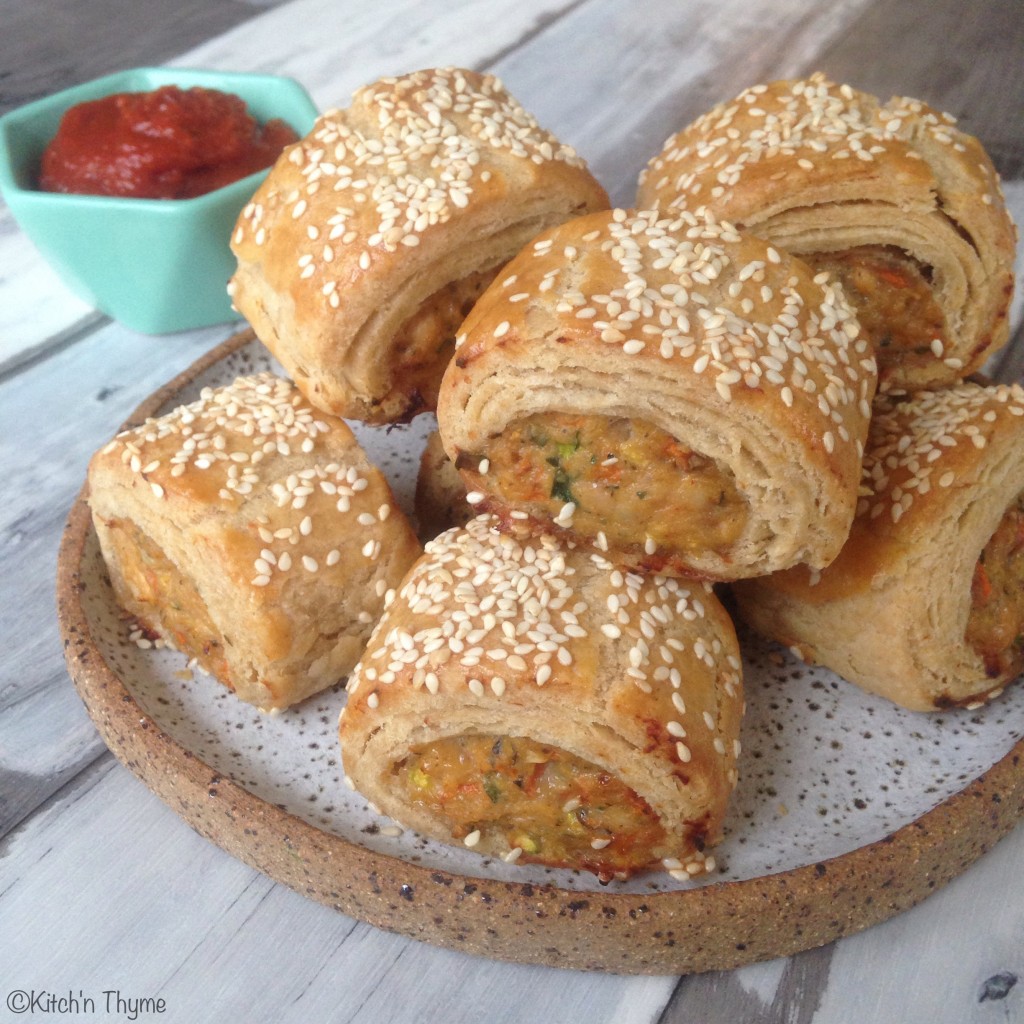 I used to make these from time to time before I had the children and take them to work with a big salad! A number of work colleagues really wanted the recipe!!…..I could never get around to giving the recipe to them, so the joke became 'before christmas'…do you think I even got to it for Christmas!!!…No!!!….So here it is about 4 years later!
Nevermind, a good recipe is certainly worth waiting for!…And I can assure you that these are good….yummy, delicious in fact!
The filling is really pretty straightforward! Just a whole lot of veggies, herbs and chicken mixed together that packs a punch!
If you don't have the time to make your own rough puff pastry, just please make sure you buy an All Butter Puff. You definitely don't want any nasty margarine pastry!
Here's a couple of images to show you what I mean with placing the filling on the pastry sheets.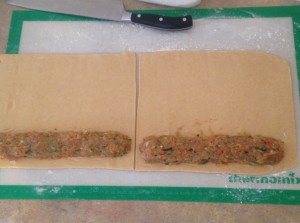 These are quite a treat in our house as I try to keep gluten fairly low in our diet. Spelt is a better option, as its higher in protein and lower in gluten, however still quite carby, so a once in a while thing for us!
Fabulous in a lunchbox or for parties or large gatherings! Yummo!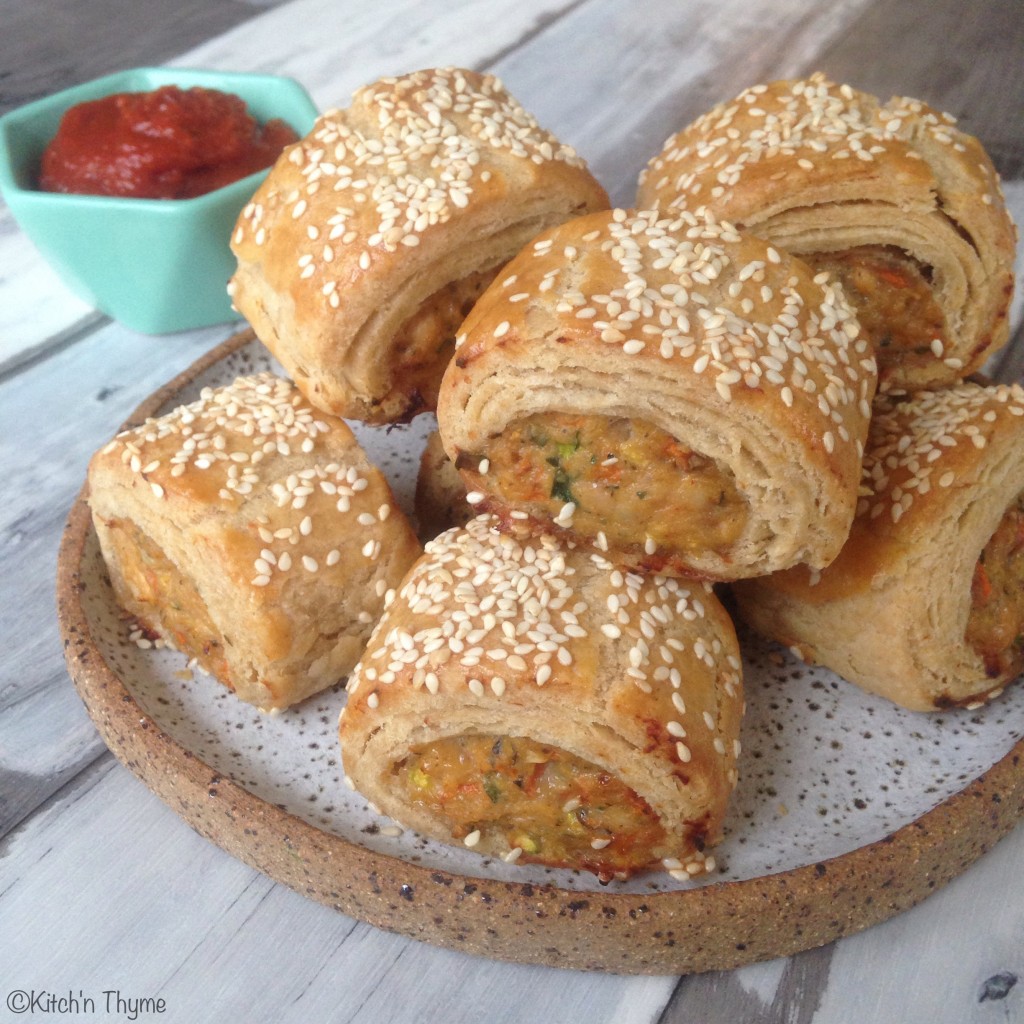 Chicken, Thyme & Vegetable Sausage Rolls
2015-06-16 03:53:50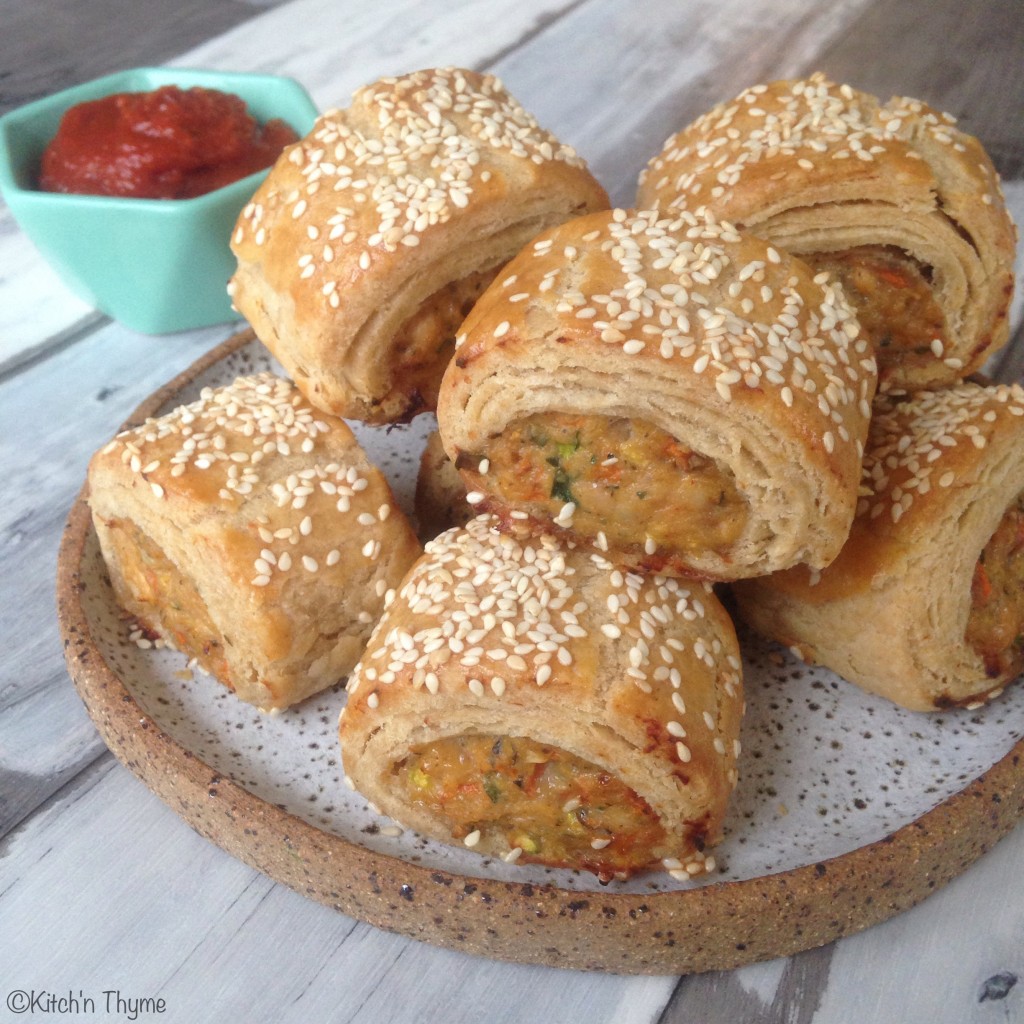 Ideal for lunches, picnics, parties or large gatherings! Also great for freezing!
Spelt Rough Puff Pastry
400g Organic Butter, 1-2cm dice & frozen
400g White Spelt Flour
1 tsp Celtic Salt
180g Water, chilled
Filling
1 Medium Brown Onion, peeled & halved
1 Clove Garlic, peeled
4 Sprigs Fresh Thyme
4 Sprigs Fresh Parsley
1/4 Bunch Fresh Coriander
1 Large Carrot, cut into 3-4 cm lengths
1 Large Zucchini, cut into 3-4cm lengths
500g Organic Chicken Breast, cut into 3-4cm pieces
1 Tbsp Italian Herbs
2 tsp Celtic Salt
1/2 tsp Cumin
1/2 tsp Smoked Paprika
50g Almond Meal or Breadcrumbs
1 Organic Egg
Extra egg for brushing
Sesame Seed for sprinkling
Instructions
For the pastry, place all the ingredients into the Thermomix and mix 20 Sec/Speed 6.
Transfer the dough onto a lightly floured surface and work into a ball. Halve the dough so you have 2 even portions, then flatten and wrap each portion of pastry in plastic wrap and refrigerate for 20 minutes.
Unwrap 1 portion of pastry and place onto the Thermomat. Using a rolling pin, roll out dough into a long rectangle 3 times as long as it is wide. (approx. 60cm x 20cm) Fold dough into thirds and give folded dough a quarter turn to the left. Repeat rolling and folding process twice, then return to the fridge for 20 minutes. Repeat with the other portion of pastry.
Preheat the oven to 200°C and line 2 large baking trays with baking paper. Set aside.
For the filling, place the onion, garlic and herbs into the Thermomix and chop 3 Sec/Speed 7, then place into a large mixing bowl.
Add the carrot and zucchini and chop 10 Sec/Speed 4. Add to the mixing bowl.
Add the chicken breast to the Thermomix bowl and chop 5 Sec/Speed 5. Add to the mixing bowl.
Add all the remaining ingredients and mix well to combine.
Roll the 2 portions of pastry into 2 large rectangles. Cut the rectangles in half to get 4 sheets approx. 20cmx30cm. (You might want to give them a little trim to neaten the edges.)
Divide the filling evenly between the 4 pastry sheets, placing onto one long edge of the pastry. Roll pastry tightly, enclosing the filling. Cut each roll evenly into 6 sausage rolls. Brush with extra lightly beaten egg and sprinkle with sesame seeds.
Place onto the ready prepared baking tray and bake for 25-30 minutes or until golden brown and nicely puffed.
Serve warm with homemade tomato sauce or freeze for later.
Notes
These are great frozen and tossed straight into a lunchbox!
If you don't have time to make the pastry yourself, make sure you buy an All Butter Puff Pastry. you don't want any nasty margarine in your pastry!
Kitch'n Thyme http://kitchnthyme.com.au/