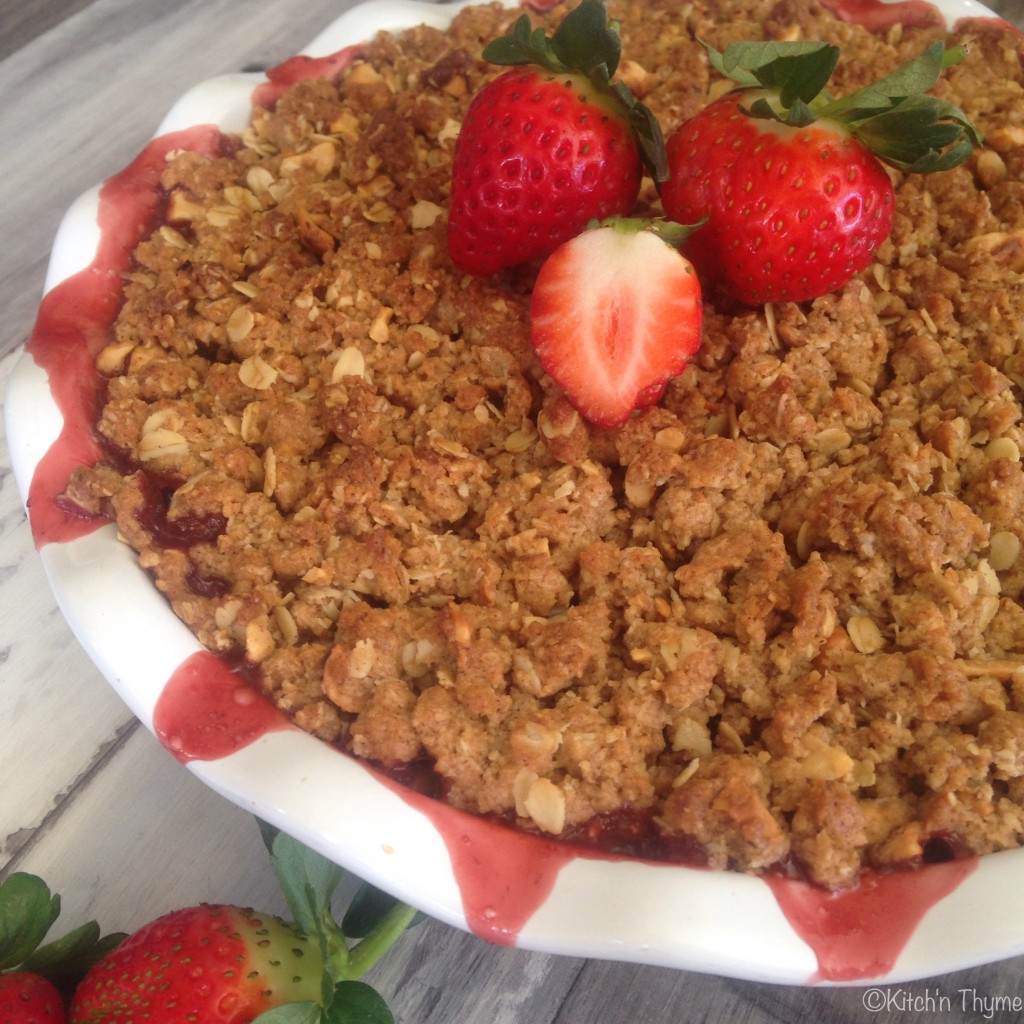 This is an absolute old family favourite! With similarities to the way mum used to make it growing up, I think this crumble is everything you want a crumble to be! Fruit that is perfectly cooked, not completely mushy, and a crumble topping that is biscuity and crunchy, with no sogginess!! Yum!
The Blueberry crumble tarts which were one of the first recipes I put up on the blog are pretty much an extension from this recipe! So if you enjoy/have enjoyed those tarts then I'm sure you will love this crumble.
I use a little coconut sugar in the filling (about 2 Tbsp) just to take the edge of the tartness of the apples. You could replace with a little honey if desired.
The hazelnuts are so delicious in the crumble topping. If you don't have them, you can use almonds, which are just as delicious. Quite often I'll do this crumble with pear and apple and the hazelnuts are such a good combination with the pear.
This crumble is best served with Frangelico Crème Anglaise! Naughty I know, but oh so yummy!! I'll share the recipe for that at some stage. I don't make it very often these days, as I've significantly reduced my dairy intake for a number of different reasons.
You can serve hot or cold with dairy or coconut yoghurt and fresh fruit for breakfast or as a sumptuous dessert with your choice of icecream….healthy homemade I mean!!! Enjoy!!!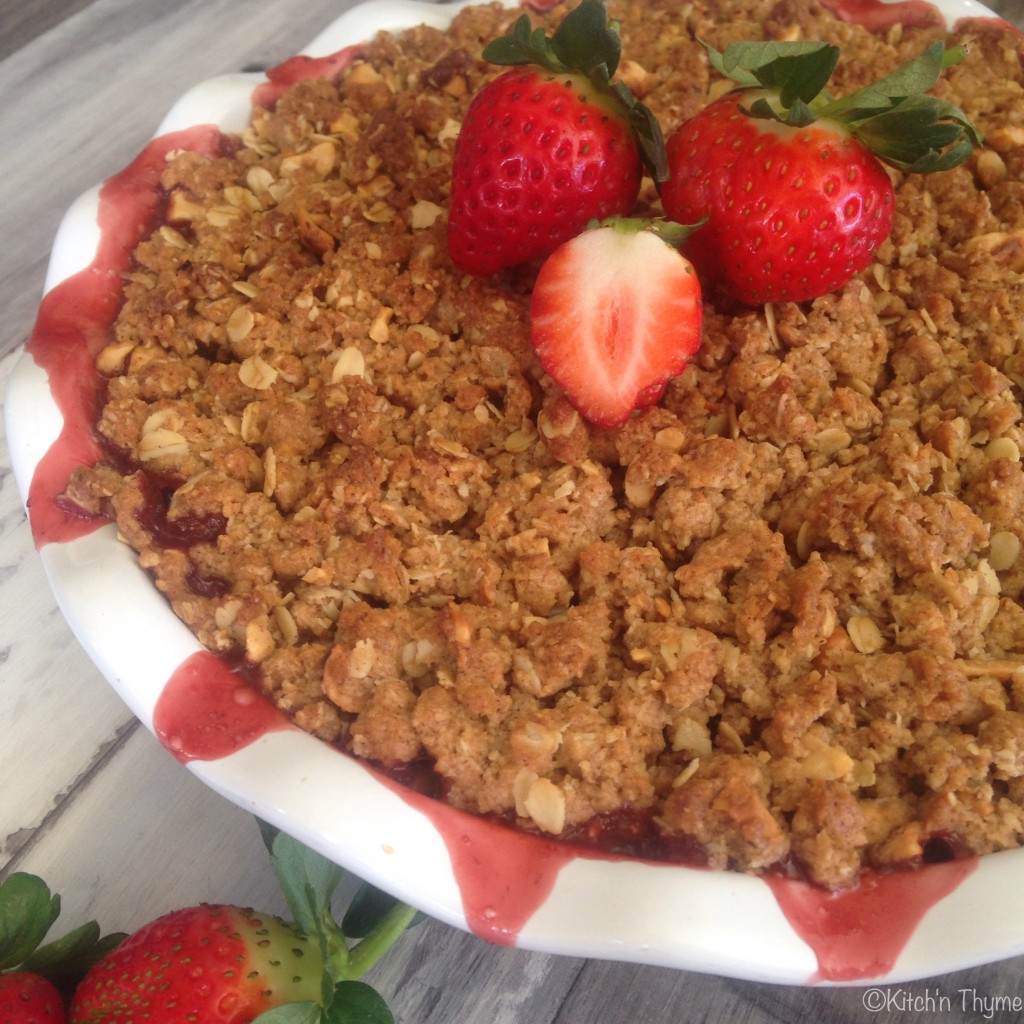 Apple & Mixed Berry Crumble
2015-06-07 10:45:43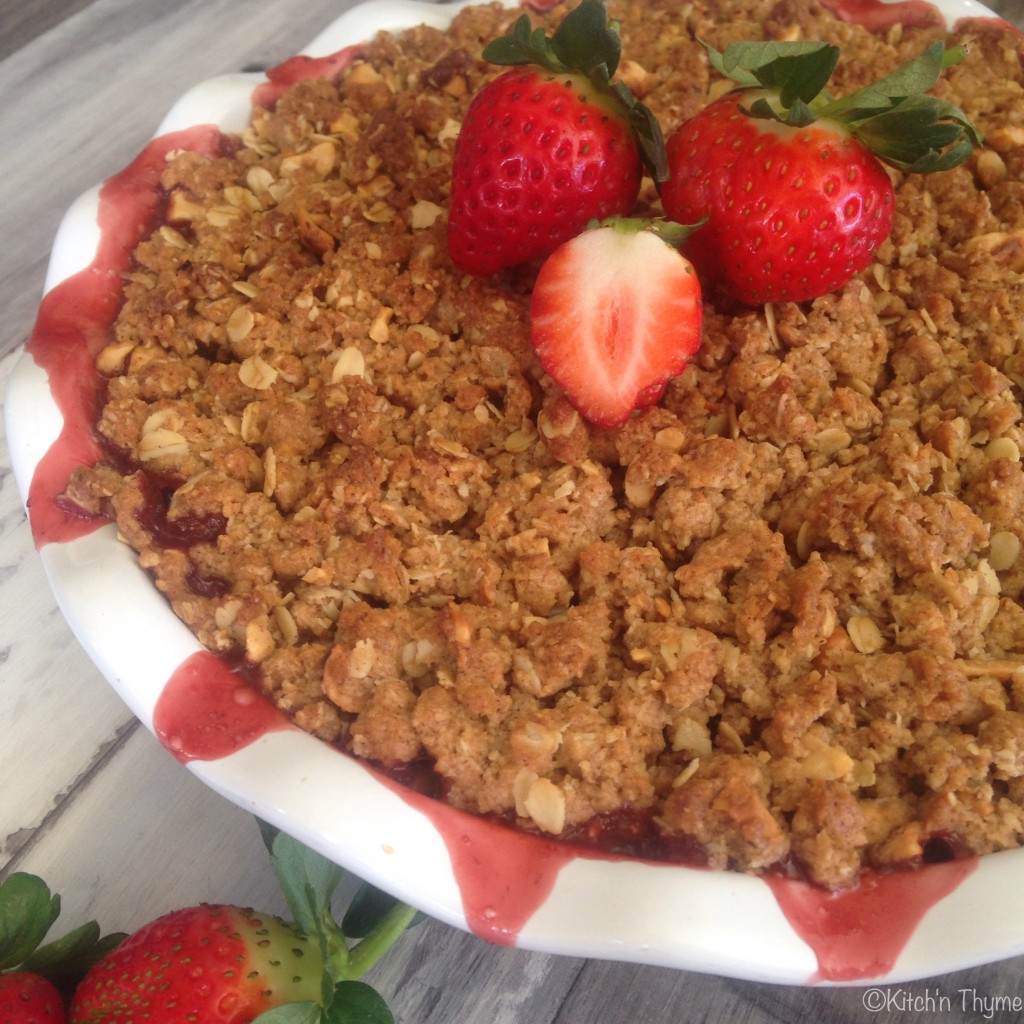 Serves 6
A very old family favourite that makes the perfect breakfast treat or dinner dessert!
Filling
6-8 Large Granny Smith Apples, peeled & sliced thinly
300g Organic Frozen Mixed Berries
40g Coconut Sugar
1 Lime, juiced
1 tsp Vanilla Essence
100ml Water
2 Tbsp Cornflour (diluted in 2 Tbsp extra water)
Crumble Topping
40g Roasted Hazelnuts, roughly chopped
100g Wholemeal Spelt Flour
50g Rapadura Sugar
1/2 tsp Baking Powder (Aluminium Free)
100g Butter
60g Oats
40g Desiccated Coconut
1 tsp ground Cinnamon
Instructions
Preheat oven to 180°C.
Place all the filling ingredients, except the cornflour into a large pot. Place onto a medium heat, cover with a paper *cartouche and simmer for 10 minutes or until the fruit is tender, stirring a couple of times during cooking. (**You can do this step in the Thermomix too, however you may wish to dice the fruit if so as the slices won't remain completely in tact in the Thermomix.)
Pour over the cornflour mixture and stir through quickly and gently with a silicon spatula. Pour into a large pie dish or baking dish.
To make the crumble, place the hazelnuts into the Thermomix and chop 5-10 Sec/Speed 4. Set aside.
Place the flour, sugar, baking powder and butter into the Thermomix and process 10 sec/speed 6 or until the mixture just resembles breadcrumbs. Add the remaining ingredients and the chopped nuts and process 10 sec/speed 4/Reverse or until it just comes together.
Crumble over the apple & berry mixture evenly. Bake for 25-30 minutes or until golden brown.
Notes
*A paper cartouche is just a little round piece of baking paper, used instead of a lid. It keeps the contents submerged and reduces evaporation. You can either use a pen to trace the size you need or fold a square of baking paper in half and half again, then into a triangle and cut at the desired length to get the right sized circle.
** To make the filling in the Thermomix, place quartered apples into the Thermomix bowl. Chop for 3-4 sec/speed 4. Add all remaining ingredients and cook for 5 min/80C/speed 1/Reverse. Add the cornflour and cook for a further 2 min/80C/speed 1/Reverse.
Kitch'n Thyme http://kitchnthyme.com.au/