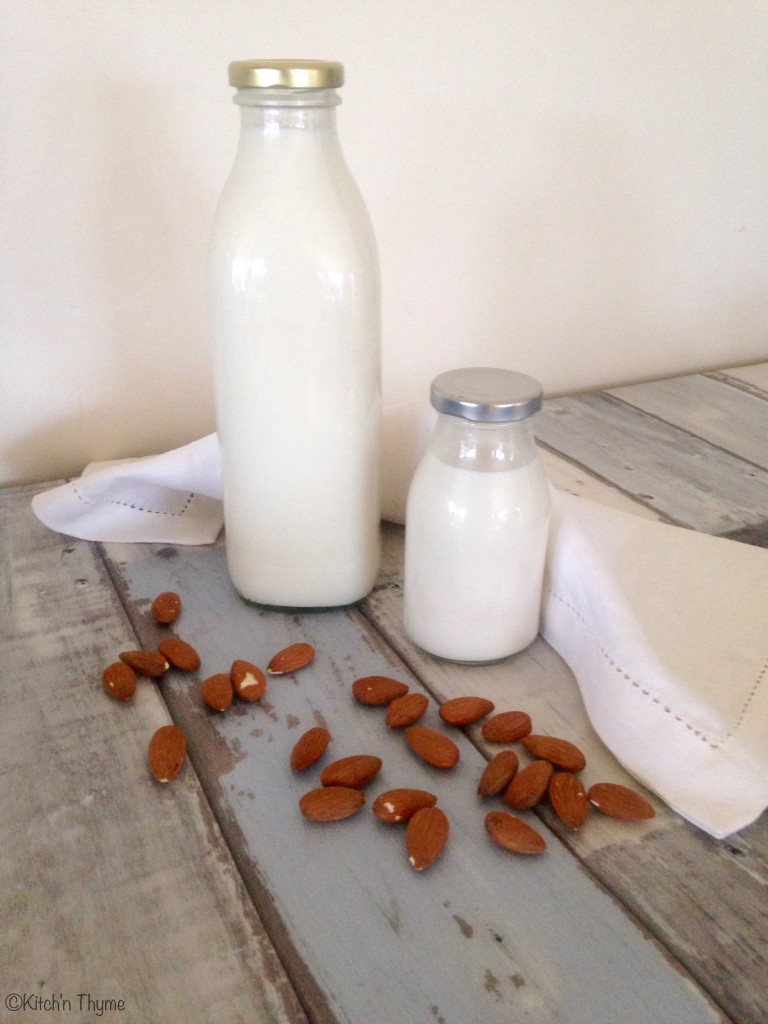 What a wonderful alternative to cow's milk. This almond milk is really easy to make! It is completely raw, the almonds have been activated and with the addition of celtic sea salt which contains many vital trace minerals and the good fat of coconut oil, this is a winner for health benefits.
Activating the almonds is really important. It deactivates the enzyme inhibitors, helping us to be able to digest them much more easily and it brings the nuts to life!
You will notice that I add a small amount of maple syrup. I do this whether I am making it for sweet or savoury use. It brings out the flavour of the almonds and doesn't taste sweet as it's such a small amount. You could use honey or rice malt syrup if you preferred.
The addition of sunflower lecithin is optional. The milk will separate after a few hours in the fridge due to the fat from the nuts not emulsifying with the water. Lecithin is a fat emulsifier so it is the perfect solution. There is much question over soy lecithin, so when I learnt about sunflower lecithin you can imagine my delight. It will keep the milk homogenised and give it even more of a creamy texture!
Above I'm straining the milk through a muslin cloth or nutmilk bag.
When I weaned my little boy off breastmilk I used this milk to replace his 1-2 daytime feeds. He just loved it. (As almond milk is not a complete meal replacement of breastmilk or formula for an infant or baby please be aware that my little boy was already eating a substantial well balanced diet by this stage. The almond milk was an addition to his diet.)
And perhaps you should go try my Chocolate Almond Milk too! Perfect for parties or as a yummy treat!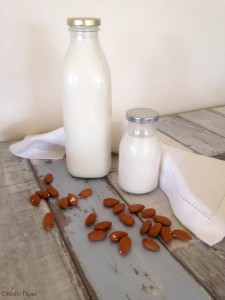 Almond Milk
2015-04-14 21:30:21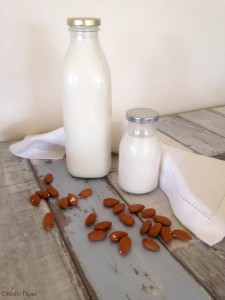 Makes 1 Litre A wonderful super easy to make nut milk! Perfect as a Dairy Free option! You can then use for cakes, cookies, savouries etc! Or turn into Chocolate Milk or Choc Banana Milk or Raspberry or Strawberry Milk etc.
Ingredients
170g (1 Cup) Raw Almonds
1 Tbsp Coconut Oil
1 Tbsp Maple Syrup
1 tsp Vanilla Essence
½ tsp Celtic Sea Salt
1 tsp Sunflower Lecithin (optional)
1 L Filtered Water
Instructions
Place the almonds into a bowl, cover with filtered water and leave to soak overnight (or for at least 12 hours).
Drain the almonds and place into the bowl of the Thermomix and mill 7-10 Sec/Speed 9.
Add all the remaining ingredients & blend 1 minute/Speed 9.
Strain the milk through a nut milk bag or muslin cloth.
Refrigerate and serve.
Notes
You can decrease the amount of nuts used. The amount I use here makes for a really rich & creamy milk, however you can reduce this. I would tend to use a minimum of 100g raw nuts(approx. a heaped 1/2 cup) to 1 Litre of water. Remember also that once the raw nuts have been soaked they will weigh less than unsoaked raw nuts. So make sure you weigh your nuts before soaking!
Nut milk will keep for approximately 3 days. It is suitable for the freezer too.
Kitch'n Thyme http://kitchnthyme.com.au/