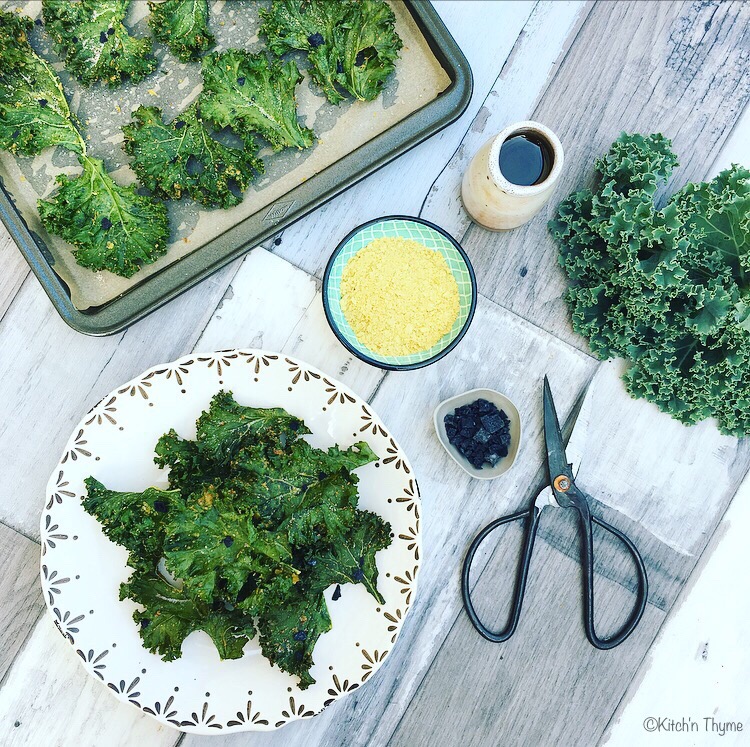 So who's tried these things?? A wonderful craze of the healthy foodie world! What a seriously brilliant snack though! My 22 month old has been munching on them since around 1 (when it's ok to introduce collards), and he just loves them! I find it such a fun way of introducing healthy snacks for kids and there are just so many varieties you can make! You just need to get creative!
I spent quite some time playing around with different oven temperatures until I found what I think is the perfect temp! (You can of course use a dehydrator, but this is how you do it in an oven). Some say 200º, others 180º, but I kept finding it was so tricky to not let them burn. I mean only slightly brown on the edges, but I didn't like the slight bitter flavour that even a brown edge gives. I also love the vibrant green colour of kale and want to preserve that as much as possible! So 150º degrees does it for me! They always come out vibrant green, with no brown edges and are beautiful light crispy 'chips'.
You will notice that it is such a small amount of oil used. It's really important not to drown the kale in oil as they won't dry out and get that slightly crispy texture if you use too much. It's also important to rub it all in as much as possible so you don't end up with some really drenched leaves and some leaves that completely miss out!
Kale Chips
2015-04-26 11:32:37
Delicious crispy guilt-free clean eating chips!!!...Even the kids will love them!
Ingredients
1 Bunch Kale (Curly Green or Cavalo Nero)
2 tsp Olive Oil
2 tsp Savoury Yeast Flakes
1 tsp Garlic Powder
1 tsp Onion Powder
sprinkle Celtic Sea Salt
Instructions
Preheat the oven to 150ºC. Line some large baking trays with baking paper and set aside.
Take all the kale off the stalks, being careful not to rip the leaves too much. Wash the kale thoroughly and spin dry.
Break the leaves into small 'chip' size pieces.
Place into a large bowl along with all the other ingredients. Gently massage the oil and powders into the leaves of the kale, making sure that all the surface areas of the leaves are covered.
Lay the kale leaves on the baking trays, leaving gaps between the leaves so they have room to crisp up. Too close and they will stay soggy.
Place into the oven and cook for 8-10 minutes (or until crisp), turning them with tongs once during this time.
Remove from the oven and leave to cool.
Store in an airtight container or jar for 3-5 days.
Kitch'n Thyme http://kitchnthyme.com.au/