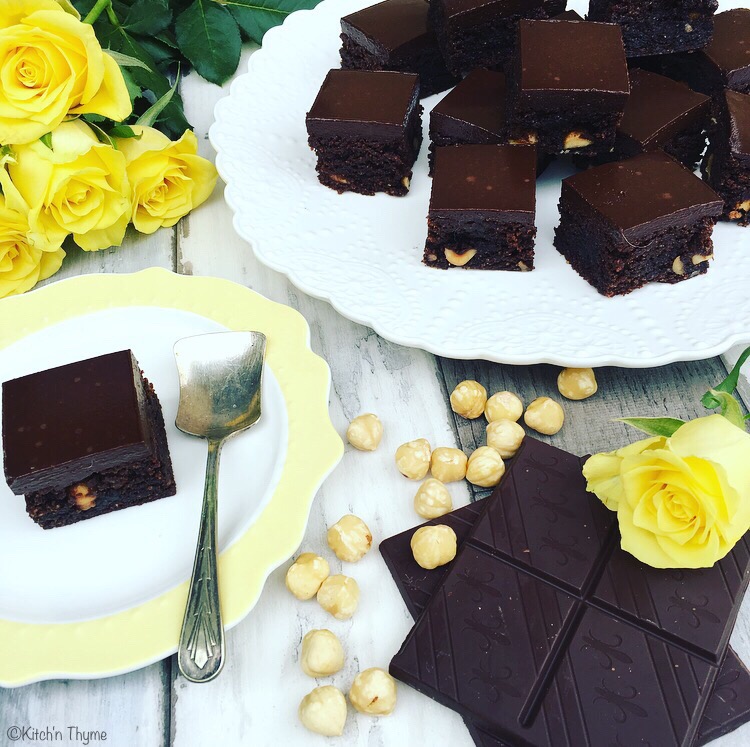 Oh THIS!!!!! Yes this cake will suffice every single naughty nutella craving and every single chocolate craving!
It's rich, decadently fudgy, brownie-like and yet delightfully healthier than a cake made with jarred crap!
The Nutella part is not that yucky stuff off the shelf! (Sorry if I offend any Nutella lovers!!) But I make my own healthier chocolate-hazelnut spread and use that in place! So if you can forget that it's not out of a packaged jar, and delight yourself in the flavours that make you think all things nutella, I can tell you that you won't be disappointed!!…And neither will your body! Shop bought Nutella is full of all sorts of trans-fats, white sugar and who knows what other junk! This is a much better option!!
In the title I've stated that it's Paleo, now in my nutella recipe I do use organic butter as opposed to coconut oil, so more Primal than Paleo, and I do use Organic Dark Chocolate. If you want it to be completely Paleo, then use a dairy free dark chocolate of your choice.
So a bit of history, this gorgeous cake originates from my beautiful sister-in-laws kitchen. Sarah is a wonderful homely cook for her family. Her kitchen always smells of beautiful stocks simmering on the stove, hearty, flavoursome family meals and the sweet aroma of baked cakes or sweet delights! Oh and of course the fermenting crocks of kombucha and marinating feta! And albeit most of it is gluten free and grain free!
We just love to cook together. With families to feed our individual homes centre much around the kitchen, and with our similar cooking styles, we have loads of fun when we get together!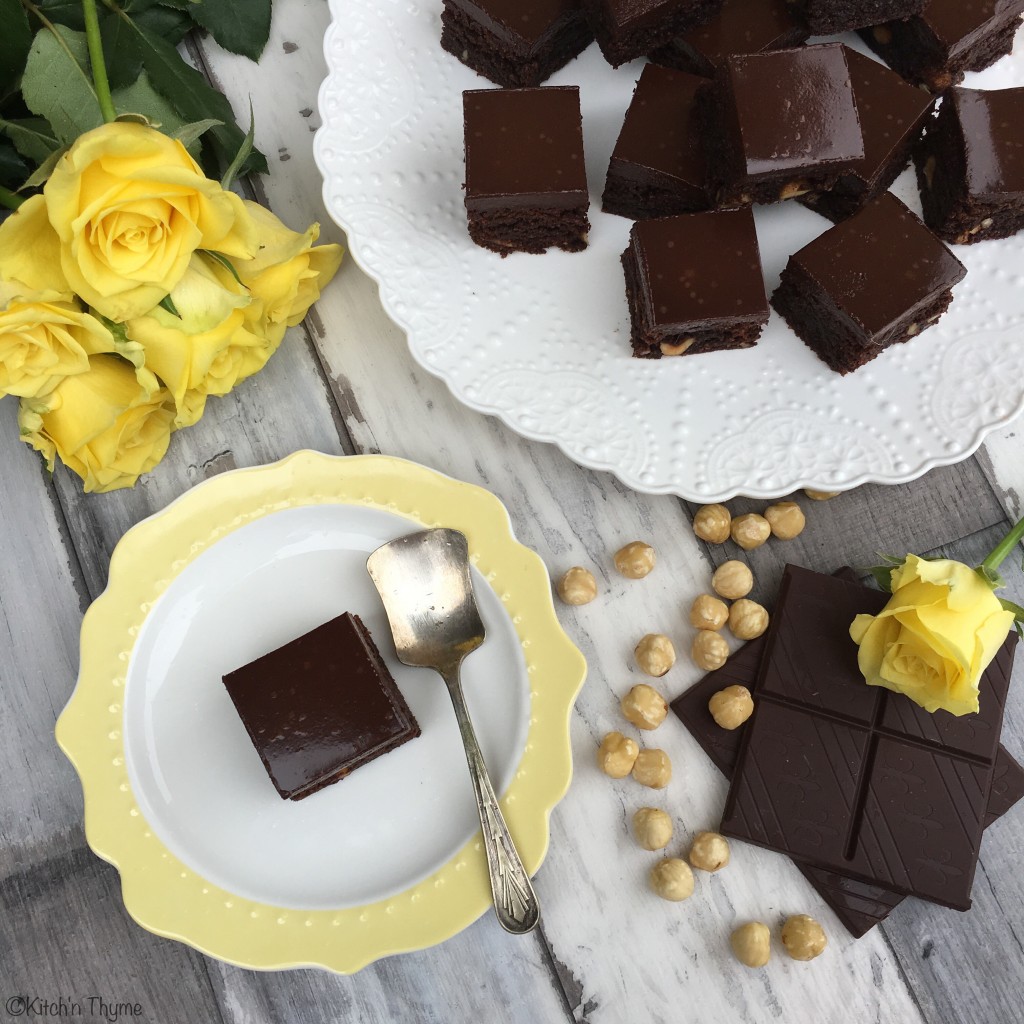 This cake is best served straight from the fridge. You can leave it out, however the nutella softens and the cake texture is more like a cake. I prefer the more set nutella texture and that real fudgy brownie-like crumb!
Print
Sarah's Paleo Nutella Cake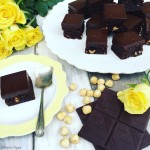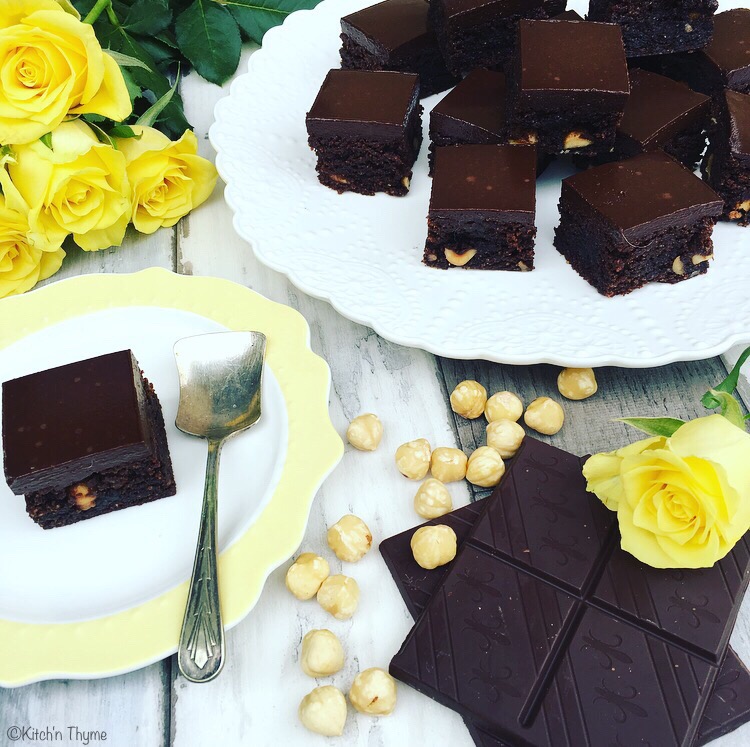 Deliciously fudgy healthy nutella cake perfect for just about any occasion!
Author:
Prep Time:

30

Cook Time:

30

Total Time:

60

Yield:

30
Ingredients
NUTELLA
60g Roasted Hazelnuts
75g Coconut Palm Sugar
100g Organic 70% Dark Chocolate (Use Dairy Free for complete Paleo)
100g Almond Milk
70g Butter or Coconut Oil
30g Raw Cacao Powder
1 tsp Vanilla Essence
CAKE
250g Cashew Butter
160g Rice Malt Syrup
100g Coconut Oil
500g Nutella, plus extra for icing (Double batch of the above recipe)
200g Almond Meal
60g Coconut Flour
2 tsp Baking Soda
2 tsp Vanilla Essence
120g Roasted Hazelnuts, halved
Instructions
NUTELLA
Place the sugar into the mixing bowl and mill 10 Sec/Speed 9.
Add the hazelnuts and mill 8 Sec/Speed 9.
Add the dark chocolate and mill 10 Sec/speed 9.
Add all the remaining ingredients and cook 6 Mins/60°/Speed 3.
Place into jars and store in the fridge or set aside in a large bowl for use in the cake.
CAKE
Begin by making a double batch of nutella. Set aside.
Preheat the oven to 170°C and grease and line a large rectangular baking tray.
If you need to make your own almond meal simply place 200g almonds into the bowl and mill 8 Sec/Speed 9. Set aside.
If you need to make your own cashew butter, add 250g cashews to the mixing bowl. Mill 15 Sec/Speed 9. Scrape down the sides and continue 20 Sec/Speed 5 or until a nice nut butter consistency forms.
Add the rice malt syrup & coconut oil and mix 1 Min/50°/Speed 3.
Add the nutella (500g only) and mix 10 Sec/Speed 5. (Keep the excess nutella aside for icing later.)
Add the almond meal, coconut flour, baking soda and vanilla and mix together 30 Sec/Speed 6. (As the mixture gets very very thick at this point, during this 30 seconds, you may like to get your spatula in through the mixing bowl lid to help stir the mixture through.)
Add the hazelnuts and stir into the thick batter with a spatula. Pour into the prepared baking tray and bake for 30 minutes until golden brown and a skewer inserted comes out just clean. Leave the cake to cool in the baking tray for 1 hour.
Spread the remaining nutella evenly over the cake. Tap the tray down gently on the bench to smooth out the icing and then place into the fridge to set.
Once set, remove and slice into 30 squares (5 x 6) or 24 (4 x 6) larger squares and serve.
Notes
This cake will keep in the fridge well for up to a week or can be frozen. Perfect for lunchboxes.