I've been wanting to get this salad up on the blog for many months! Now before I go any further I just need to enlighten you on the reality of running a blog with 2 small children! Of course the day I do decide to try and photograph the salad is the day one of my babies won't sleep in her bed – only on mum! So she's on my back in the Ergo carrier so she won't attack the photo set and she promptly goes to sleep! I line everything up, ready to snap away! I go to take the photo and my storage is full! Ok, so I spend 5 minutes making some storage space on my iPhone….yes I do take all of my photos on an iPhone!…So now we are all ready to go again!
Then I hear little footsteps walking down the hallway! Oh yes that would be my 2.5 year old!…At this point, I wonder whether there is point in battling through!! He comes over "What's this Mum?" I tell him its a yummy salad! "Mmmm it looks good Mum". He proceeds to sit down and start feeding himself forkful after forkful along with the occasional forkful to mum "Open wide Mum!". By this time I think it's safe to say I'm no longer in photo taking mode, but deciding to relish this wonderful moment with my precious little human! We had a great little picnic! Let's just say that there was about a teaspoon of salad left on the plate after his visit! And alas, I think that must be a very good sign! If a 2 year old will eat it I'm happy….my job is done! haha 😉
My saving grace was the rest of the salad in the kitchen! I could replate and have another go! So by the end of the day I finally had a photo!
Some days it's easy to lose focus on what this is all about! My aim is to share the things I'm doing to nourish my family…and that was today!
This is another recipe from a number of years ago. I used to serve this somewhat regularly at the health retreat as a perfect lunch option. And it makes the perfect option for me and obviously my 2 year old at home too! Good protein, good carbs and good fats from the dressing too!
Over time, I've done a couple of different dressings. I couldn't work out which one to share, so I've gone with the Creamy Coconut Dressing. I'm happy to share the other one which is a more traditional tamari sesame dressing! Both delicious!
I often make this salad and serve it with my yummy Sticky Sesame Chicken for a delicious dinner!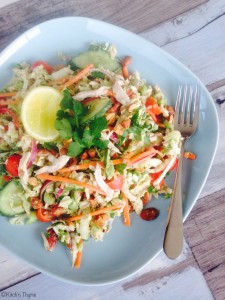 Thai Chicken Salad w. Creamy Coconut Dressing
2015-07-09 02:12:04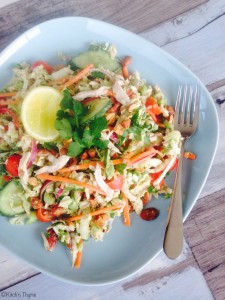 Serves 4
A perfect one bowl meal for a light lunch or dinner.
Ingredients
1.25L Water
*250ml Coconut Cream
2 Organic Chicken Breasts
1 Red Chilli, deseeded
1 Stem Lemongrass
2 Coriander roots & stems
4 Kaffir Lime Leaves
1 tsp Celtic Salt
SALAD
1/4-1/2 Wombok Cabbage, finely sliced
1 Bunch Choy Sum or Bok Choy, finely sliced
1/2 Red Capsicum, thinly sliced
1 Continental Cucumber, cut diagonally
1 Carrot, julienned
4 Spring Onions or 1 Red Onion, sliced thinly
1/4 Bunch Coriander Leaves, roughly chopped
1/4 Bunch Thai Basil Leaves, roughly chopped
100g Roasted Almonds or Cashews
CREAMY COCONUT DRESSING
1/4 Bunch Coriander, inclu roots & stems
2cm knob of Ginger
2 Kaffir Lime Leaves, de-stemmed
1 Tbsp Lime Juice
1 tsp Celtic Sea Salt
1 Tbsp Tamari
2 tsp Sesame Oil
250ml Coconut Cream
Instructions
Place the water and coconut cream into the Thermomix bowl and insert the simmering basket. Place the chicken, chilli, lemongrass, coriander, lime leaves and salt into the basket.
Cook the chicken 20 Mins/100°/Speed 3. Remove the basket with the spatula and set the chicken aside for 5 mins to cool slightly. Discard the aromatics in the basket and the cooking water. Tear the chicken into a few chunks and place back into the Thermomix bowl. Shred the chicken 5 Sec/Reverse/Speed 4. Place into a large mixing bowl.
Place all the salad veges and the nuts into the large mixing bowl with the chicken and toss to combine.
For the dressing, place all the ingredients into the Thermomix bowl and blend 30 Sec/Speed 8.
Drizzle over the salad and toss to combine if serving straight away or serve on the side so the salad doesn't get soggy.
Notes
*You can cook the chicken in all water to save on coconut cream if desired.
Kitch'n Thyme http://kitchnthyme.com.au/