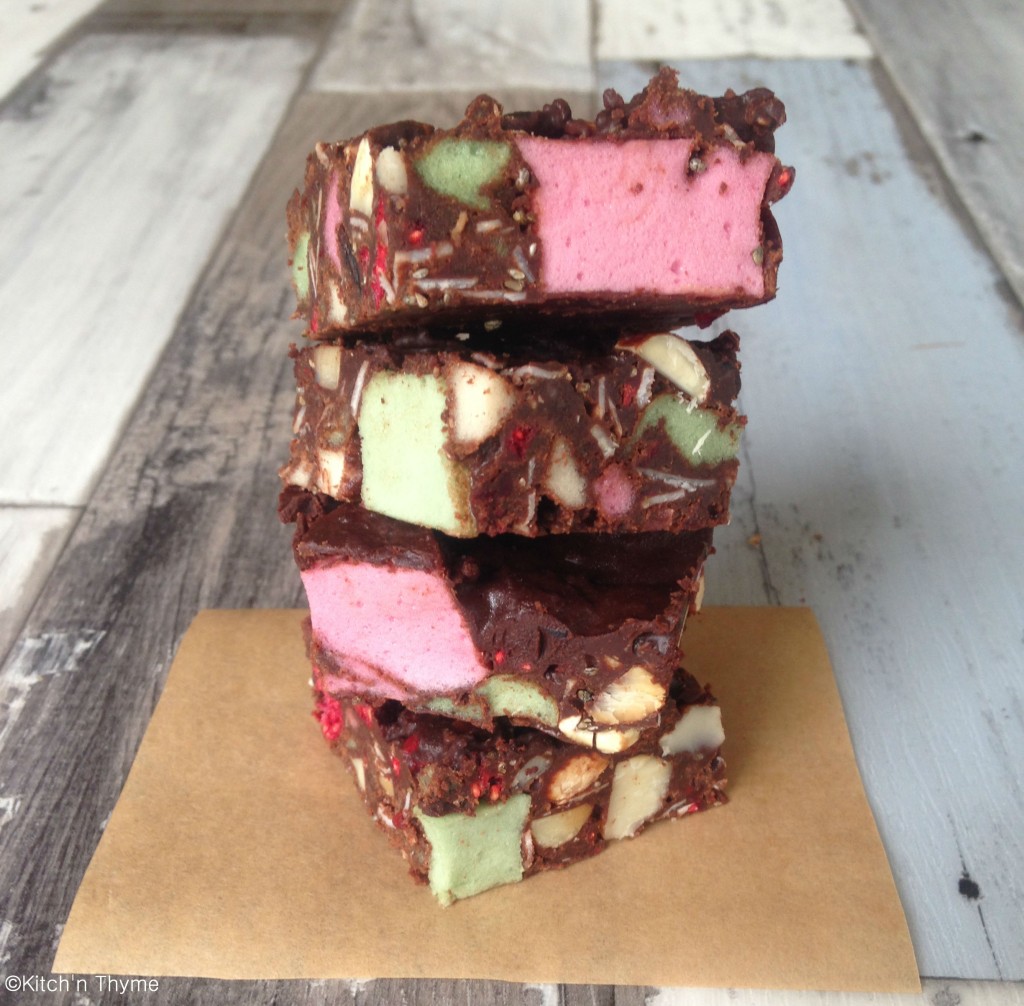 Super delicious, fluffy, nutty, chocolatey mess thats so traditional at Christmas time!
Well how about that with a healthy spin on it? One of the things this Rocky Road is enriched with is Maca powder that has vitamins, energy boosting properties, benefits for the skin, helps to increase energy, and helps with womens & mens health & reproductive health.
Another great superfood is chia seeds. Being high in nutrients, antioxidants, protein and Omega 3 fatty acids, I love to throw them into treats when I can!
Then the Marshmallows are filled with liquid chlorophyll and beetroot! How wonderful! Natural colouring at it's best! No numbers needed!
I use Organic (70%) Dark Chocolate in the Rocky Road. You can do it with Cacao Butter, but it will have a low melt temperature.
I toast the coconut chips just in the oven on a baking tray for a few minutes on 180º. It adds a really rich, nutty flavour.
Once again, my love of freeze-dried berries comes into play! The raspberries help to cut through the sweet of the chocolate and give a nice tart effect!
Perhaps you could enjoy this delicious treat with a glass of your favourite milk!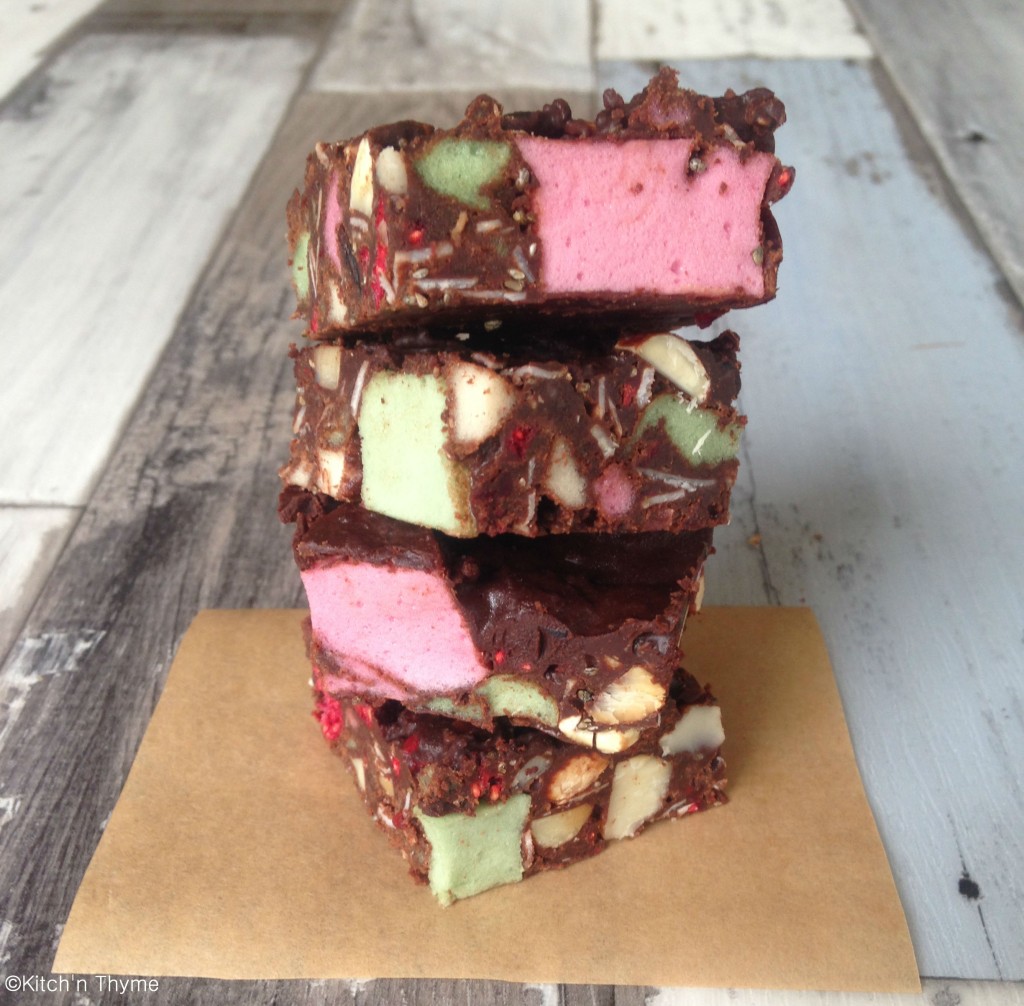 Healthy Christmas Rocky Road
2014-12-19 05:54:36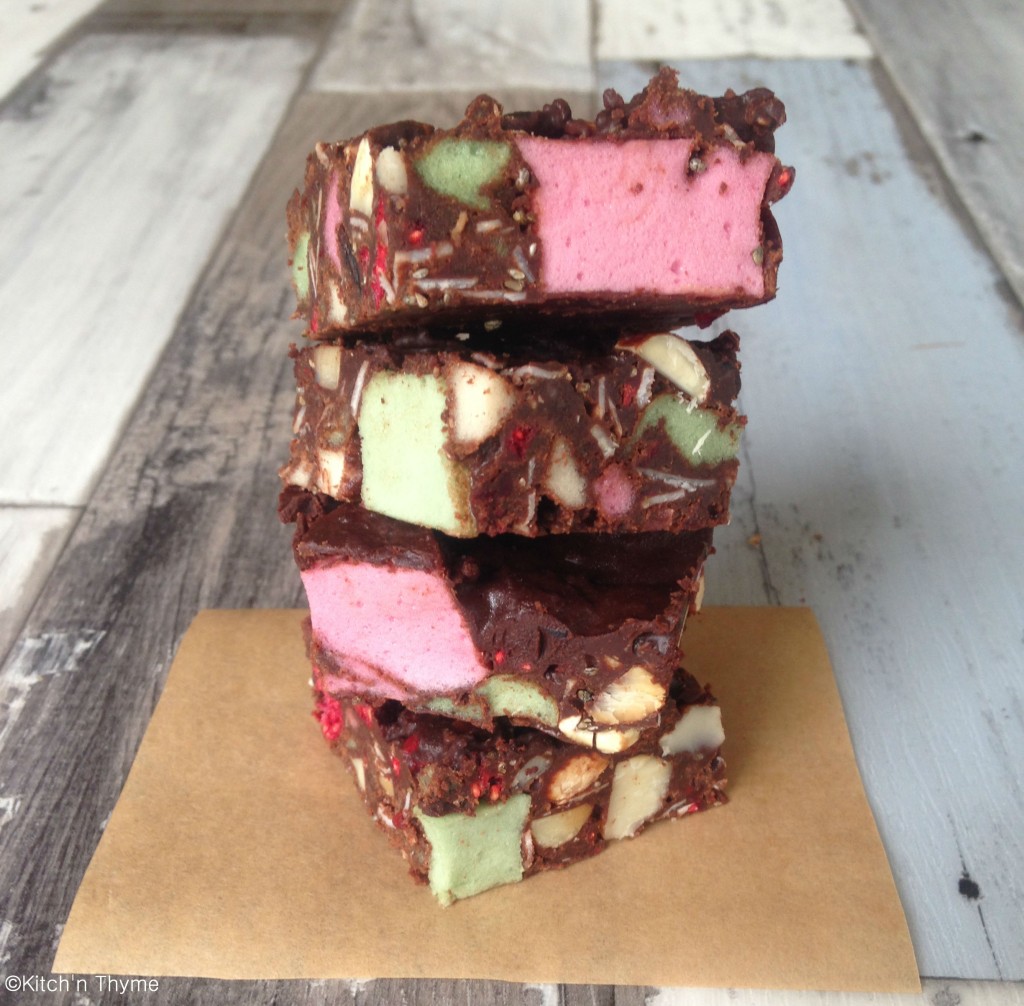 A delicious superfood Rocky Road!
Ingredients
300g Organic Dark Chocolate (70%), broken into 3-4cm pieces.
40g Organic Butter
200g Marshmallows
100g Mixed Nuts (I used roasted Almonds & Macadamias)
20g Cranberries (unsweetend)
1tsp Maca Powder
10g Chia Seeds
35g Toasted Coconut Chips
5g Freeze-dried Raspberries
Instructions
Place the chocolate into the Thermomix and mill 10 Sec/Speed 9.
Add the butter then mix and melt 4 Mins/50º/Speed 3.
Add all the remaining ingredients and mix gently 1-3 Sec/Speed 2/Reverse.
Place into a baking paper lined rectangle slice tray and place into the fridge to set. Cut into squares and serve.
Kitch'n Thyme http://kitchnthyme.com.au/