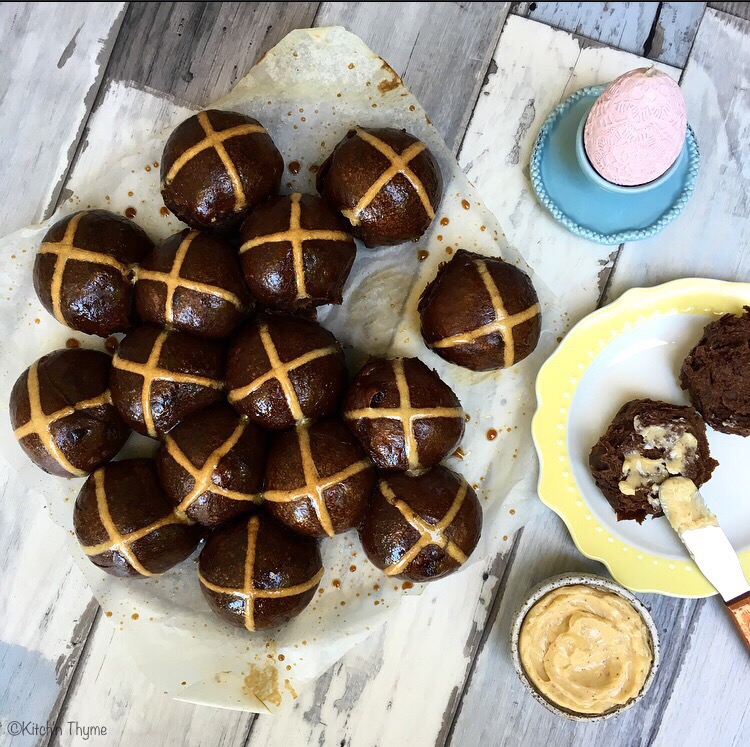 These gorgeous hot cross buns are something you will want to pop on your cooking list this Easter! I shared photos of them with you all last easter but never got to popping the recipe up on my website! So I though I had better do so!! These are just delicious especially with the Maple Cinnamon Butter! That's a must! You must make that and serve it with them! It just makes them!
Sourdough Bread – Something which I grew up on my whole childhood! We never bought bread – or very rarely! And even mum's homemade 'yeast' bread was a treat in our household! These gorgeous hot cross buns still use the same sourdough culture that my mum had as a kid! It's actually over 120 years old! No kidding! This is one seriously old culture! And the bread that results is proof that it really is amazing! You keep feeding the culture, perhaps once a week and it just keeps on living! Amazing stuff!
What I will say is that this is my version of mum's sourdough! I've revamped it! Mum's sourdough often came out quite dense, and largely because she made it with mostly rye flour, however I do quite a different rise process, and I believe it makes a big difference!
Obviously I have a pre-existing culture. Some of you may be lucky to have a culture too. If you don't, there are recipes out there to start your own, (try sourdough.com for a good recipe) or you can sometimes find it in specialty cooking shops or health food stores.
This is the REAL deal sourdough! I mean, most of the sourdough that you buy in the supermarket has yeast added! Well I'm here to tell you that this has none, zilch, zero, zip! Just naturally occurring yeast from the culture! Often those sensitive to regular yeast breads can handle sourdough.
The bacteria in sourdough (Lactobacillus), along with the natural yeast from the fermentation, work hand in hand to predigest the grains. This helps to make the bread much more easily digestible. I love the fact that this is another way I can get good bacteria into my family!
Because the production of sourdough is lengthy, the proteins in the gluten are broken down far more than a typical loaf of bread, also aiding in digestion. We eat a diet low in wheat & gluten, however this sourdough as a treat suits us much better, as it's much more gentle on the gut.
Sourdough has an amazing way of preserving itself. The Acetic acid prevents molds from growing, so there's no need to worry about it spoiling in the fermenting process.
Sourdough is also an incredible powerhouse of naturally occurring vitamins. With excess of 15 vitamins, it really is so much better than what you will find on any supermarket shelf.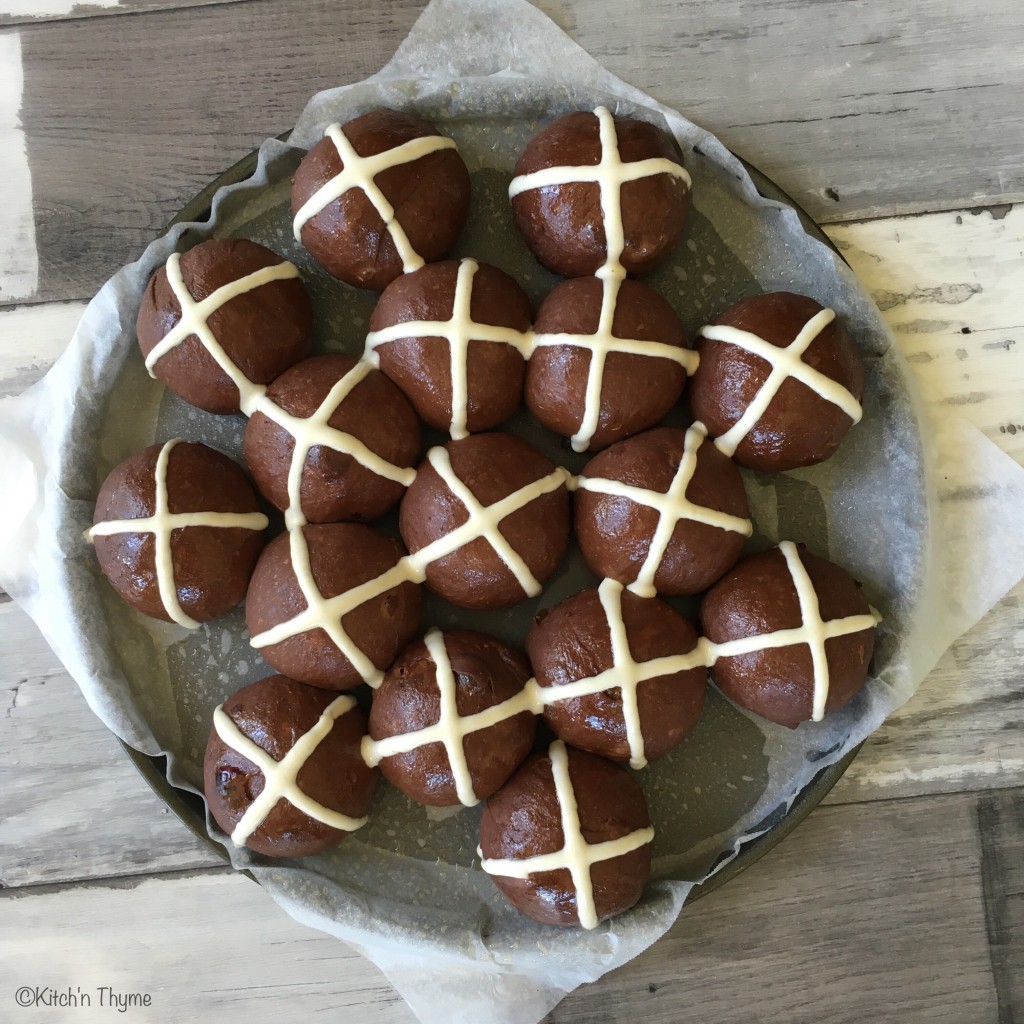 These buns are quite dense compared to what you are probably used to in a hot cross bun, however still farely aerated for a true sourdough baked in standard non-steaming ovens! Not quite a sandwich bread crumb, but perfectly filling and satisfying!
They are best served straight from the oven or toasted with loads of butter lathered on top! Once you store them, it will become more dense, so best eaten within a day or 2 of baking!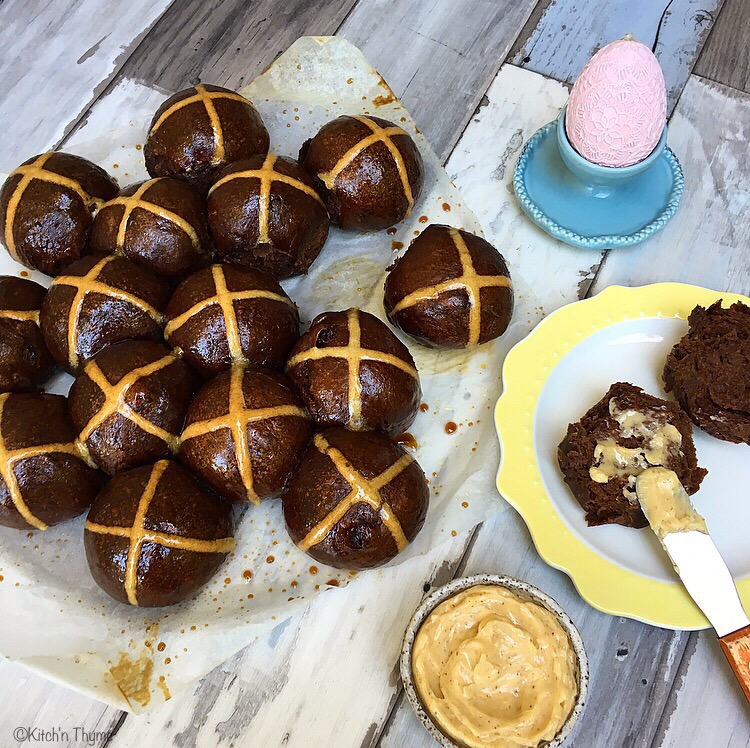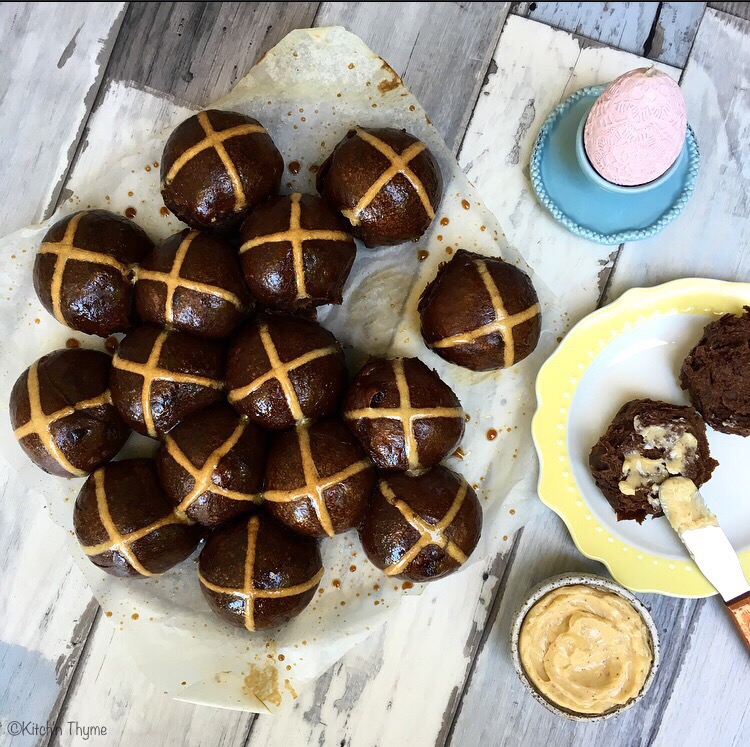 Sourdough Chocolate Hot Cross Buns
2016-03-01 06:50:09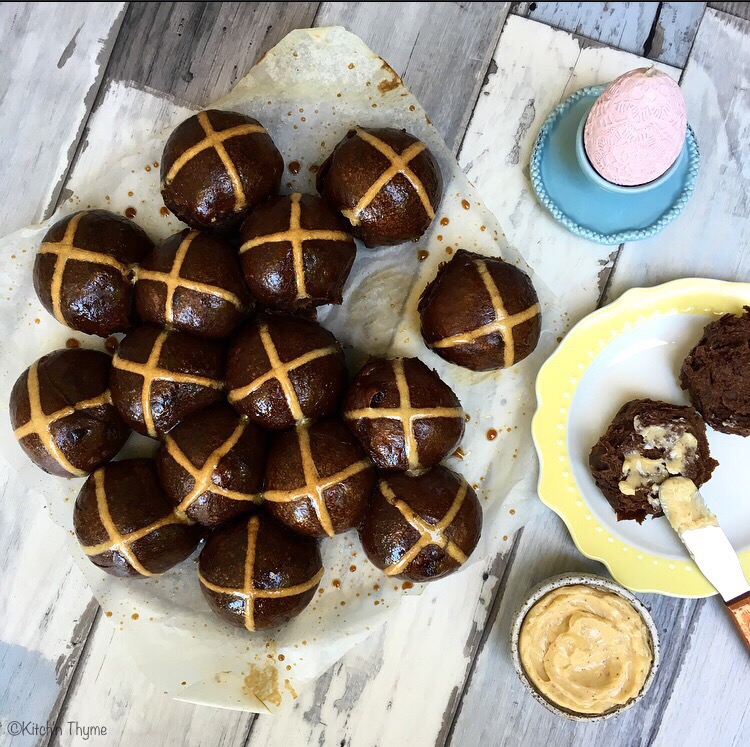 A sourdough take on the traditional hot cross bun! Well worth the extra effort!
Preferment
100g Organic Bakers Flour
100g Filtered Water
60g Sourdough Culture
Bun Dough
30g Cranberries
30g Sultanas
100g Organic Dark Chocolate
Above Preferment
200g Organic Bakers Flour
100g Organic White Spelt Flour
150ml Filtered Water
50g Rapadura Sugar
20g Raw Cacao Powder
1 tsp Cinnamon
1/2 tsp Allspice
1/2 Orange, zested
1/2 tsp Celtic Sea Salt
Crosses
40g White Spelt Flour
50g Water
1/2 tsp olive oil or coconut oil
pinch salt
pinch cinnamon
Bun Glaze
2 Tbsp Rapadura or Coconut Sugar
2 Tbsp Water
Maple Cinnamon Butter
250g Organic Butter
40g Maple Syrup
1/2 tsp Cinnamon
Instructions
Place the preferment ingredients into a small bowl and mix to combine well. Cover tightly with cling wrap and leave to ferment 8-10 hours.
Boil the kettle. Place the dried fruit into a small water, cover with boiling water and soak for 10 minutes to soften slightly. Drain, squeeze out excess water gently and set aside.
Place the chocolate into the Thermomix and mill 10 Sec/Speed 9, then melt 2-3 Mins/50°/Speed 2.
Add the preferment along with all the remaining ingredients and bring together 5 Sec/Speed 6, then Knead 2 Mins.
Add the reserved dried fruit and Knead 1 Min further.
Place the dough into a medium bowl, cover tightly with cling wrap and leave for 2-3 hours to prove. At 50 and 100 minute intervals perform a stretch and fold on the dough. (Basically this process just means to crab the ball of dough in your hand, stretch it right out without breaking it and fold it over. Do this process twice at each interval. This will help to strengthen the dough.)
Divide the dough into 12-16 equal portions and roll into balls. To do this, with no flour on the bench, curve the palm of your hand into a ball and use this shape to roll your ball of dough into a round bun.
Line a baking tray with baking paper and place all the buns onto the tray in a nice circular pattern fairly close together (just allowing a little space for them to grow). Spray the buns with olive oil spray to prevent them drying out, cover the tray with a larger bowl and set aside to prove for 2-3 hours.
At this point you can place them into the refrigerator to slow ferment overnight for buns fresh for breakfast or you can preheat your oven to 220°C, 20 minutes prior to baking.
To make the cross mixture combine all the ingredients in a small bowl with a spoon and place into a piping bag with a small nozzle or a snap lock bag, snipping a small hole in one corner. Pipe crosses neatly onto the buns.
Place the buns into the preheated oven and bake for 10 mintues on 220°C then reduce the temperature to 180°C for a further 15-20 minutes.
Whilst the buns are baking, make the glaze by placing the sugar and water into the Thermomix and cooking 2 Mins/100°/Speed 2.
To make the cinnamon butter, place the ingredients into the Thermomix and mix 10-20 Sec/Speed 3-4. Set aside.
Once the buns are cooked, take out of the oven and immediately brush with the glaze.
Serve warm or toasted with the maple cinnamon butter.
Notes
You can form into 12 buns or 16 more mini ones!
Kitch'n Thyme http://kitchnthyme.com.au/