You won't ever buy a jar of pasta sauce again!!! Delicious lick the spoon type scenario right here!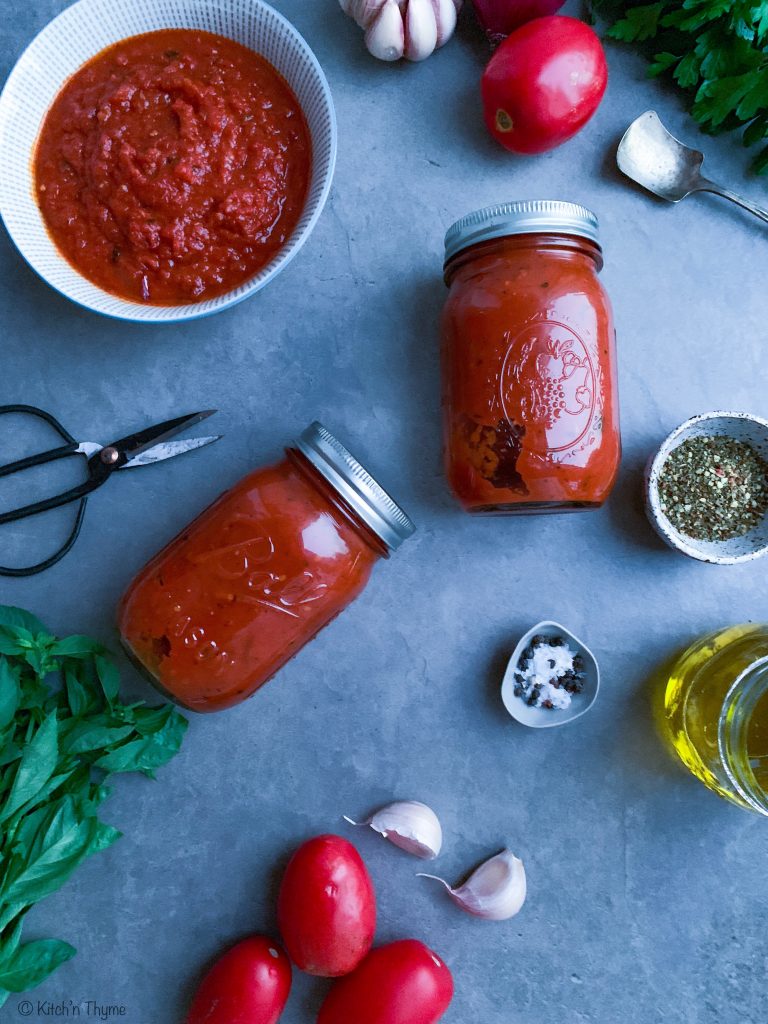 **January 2019 update!** This recipe was originally posted in November 2015. I really felt that the photos needed updating, so i've rephotographed the finished product. All the ingredients remain the same! The story below and one photo of before it's cooked is as it was from 3 years ago (I coudn't delete that pic as it has the heirloom tomatoes from my bumper garden crop that year🙈)!!**
Alrighty! For those of you who haven't stopped buying jars of Dolmio or some Organic pasta sauce, then now's the time to stop!!!
Look no further than THIS post! And make sure you continue scrolling to the bottom – save, pin, print the recipe….just make sure you have it ready for when you're needing to make a batch of sauce!
I do this sauce partly in the oven and partly in the Thermomix. Roasting the tomatoes and aromatics first gives a much better end product. It gets the onions a little caramelised, sweeter, the tomatoes sweeter and the garlic roasts up and gets a beautiful depth of flavour to it!
If you don't have a Thermomix, you can do the second step of cooking them down on the stove, and blending over so lightly at the end.
If you blend a tomato sauce on too high a speed it will turn the sauce orange. So to keep that beautiful rich red colour you mustn't whiz it too much!
I add some Passata in this recipe. You will find that you will get a much better sauce if you use some Passata in addition to fresh tomatoes, rather than using more crushed or fresh cut tomatoes. Passata is made from tomatoes that have been picked at the best time of the year, when they are at their ripest and most full in flavour, it's pureed and is then strained of skin and seeds and bottled to preserve for sauces throughout the year.
This recipe makes 2 Litres. I make a batch and preserve it in 500ml portions in my Mason Ball jars and then store in the pantry like I would bought pasta sauce.
Print
Roast Tomato Pasta Sauce
Beautiful flavoursome pasta sauce to bottle up as pantry stock! Reader Kylie says: "Wow – such intense tomato flavour. This recipe will become a staple in our house. The roast tomatoes and veg make this amazing!"
Author:
Prep Time:

10

Cook Time:

120

Total Time:

130
Ingredients
2kg Tomatoes
2 Medium Red onions, sliced
6 Cloves Garlic
4 Sprigs each Thyme, Basil, & Italian Parsley
4 Tbsp Olive Oil
Salt, pepper
500ml Passata (You can add the whole 700ml bottle if it will fit in the Thermomix)
100g Tomato Paste
50g Honey
20g Olive Oil
2 tsp Celtic Salt
2 tsp Lemon Juice
2 tsp Italian Herbs
1 tsp Garlic Powder
1 tsp Onion Powder
Instructions
Preheat the oven to 180°C and line 2 large baking trays with baking paper.
Boil the kettle. Cut a small cross into the base of the tomatoes and place them into a large mixing bowl and cover with boiling water. Leave for 1-2 minutes to soak, before peeling the skins off and cutting into quarters.
Place the tomatoes, onions, garlic, fresh herbs, olive oil, and a generous sprinkle of salt and pepper onto the prepared baking trays. Give a really good toss then spread out evenly on the baking trays and roast 60 minutes.
Place the roasted mixture into the bowl of the Thermomix and add all the remaining ingredients. Cook for a further 60 Mins/100°/Speed 1.
Then once cooked, blend 10 Sec/Speed 5. (Be careful not to go over with the speed or the sauce will go an orange colour.)
Place into airtight jars (mason jars work fabulously as they seal really well) and cool. If you've preserved them by getting an adequate seal you can store them in the pantry for months, otherwise you can freeze the sauce in portions in the freezer.