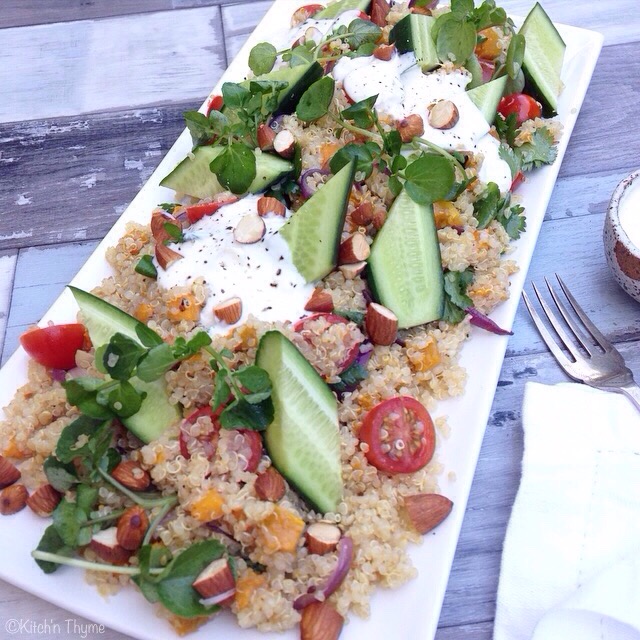 Let me just paint a picture for a moment of life as a mummy blogger!!….
You have a toilet training toddler and a newly walking baby that are both into everything!!!…albeit, cute and as adorable as anything!…Well, after 3 hours of working on the same thing, you finally get to finish it and EAT!….If any of you out there relate, this salad is worth waiting for!
The weather is heating up and this salad makes the perfect addition to a lunchbox with some boiled eggs, to a BBQ, a picnic or to dinner! Beautiful with Roast Lamb or Grilled Chicken, I'm sure you will enjoy it!
I use my delicious Hazelnut & Macadamia Dukkah. I love how easy it is to make in my Thermomix, including dry roasting the spices first in the same machine! So handy!
Quinoa is such a nutritious pseudo-grain! It's high protein content makes it a really healthy option for kids and adults alike. Its yummy nutty flavour, really makes it so suitable for fresh salads, especially this dukkah spiced one!
The salad ingredients are honestly quite flexible. If you don't have cucumber, try snowpeas. If you don't have pumpkin, both carrot or sweet potato will be nice. Radishes would also go beautifully!
To make it completely Dairy Free, use Coconut Yoghurt in the dressing instead of Greek yoghurt.
I'm sure many of you are beginning to pencil ideas for outdoor and festive season entertaining, so add this one to list, it won't disappoint!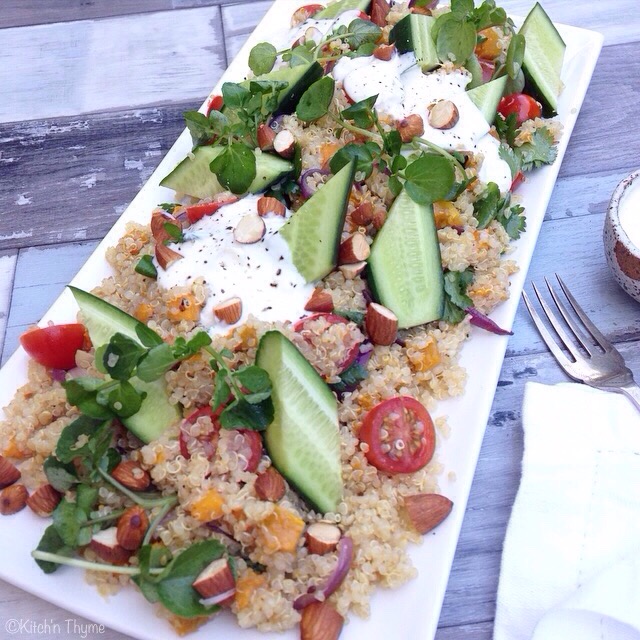 Roast Pumpkin & Dukkah Spiced Quinoa Salad w Garlic Yoghurt Dressing
2015-10-20 11:21:14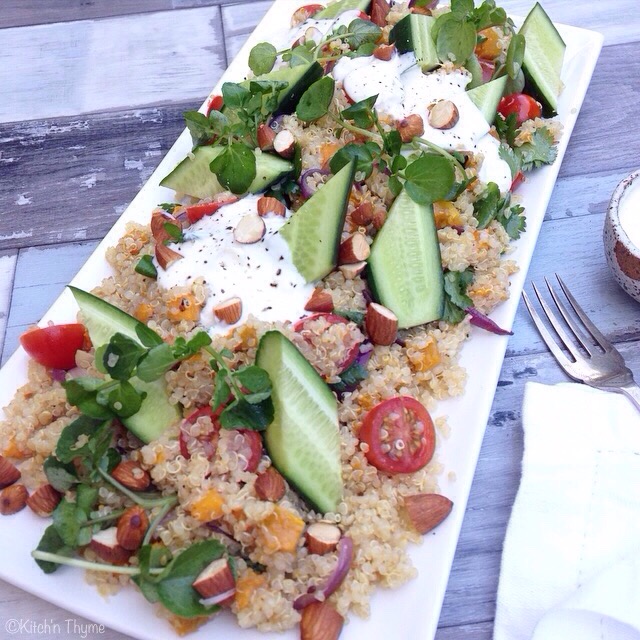 Serves 6
Ingredients
170g White Quinoa (500g cooked)
800g Water
350g Pumpkin, peeled & diced into 1cm cubes
2 Tbsp Hazelnut & Macadamia Dukkah
3 Tbsp Olive Oil
1 Medium Red Onion, cut into thin wedges
2 Cloves Garlic, peeled & crushed
100g Cherry Tomatoes, halved
2 Lebanese Cucumbers, halved lengthways and sliced diagonally
1/2 Bunch Watercress
1/4 Bunch Coriander, leaves
1 Tbsp Olive Oil
1 1/2 tsp Celtic Salt
1 Tbsp Lemon Juice
30g Roasted Almonds, halved
Extra Hazelnut & Macadamia Dukkah for sprinkling
Black Pepper, for grinding
Garlic Yoghurt Dressing
1 Clove Garlic, peeled
150g Greek Yoghurt
1/4 tsp Celtic Salt
Instructions
Soak the quinoa 30 minutes prior to cooking this recipe.
Place the soaked quinoa into the simmering basket. Place the water into the mixing bowl and insert the basket. Cook for 20-25 Mins/Varoma/Speed 2. Remove the simmering basket and set aside to drain. Place the quinoa into a large mixing bowl.
Line a medium baking tray with baking paper. Preheat the oven to 180°C. Place the pumpkin on the tray and add the dukkah and 1 Tbsp of the olive oil. Toss with your hands to coat the pumpkin thoroughly. Place into the oven to roast for 15 minutes or until just tender with a knife. Place into the mixing bowl with the quinoa.
Heat the remaining 2 Tbsp oil in a medium frypan over medium heat. Cook the onion & garlic, stirring for 3 minutes. Add to the large mixing bowl.
Add the tomatoes, cucumbers, watercress & coriander. Add the olive oil, salt and lemon and toss well to combine all the ingredients.
For the yoghurt dressing, place the garlic into the Thermomix and chop 3 Sec/Speed 7. Scrape down the sides, add the yoghurt and salt and mix 5 Sec/Speed 3.
Serve the salad on a large platter, topped with the roasted almonds, the yoghurt dressing, extra dukkah if you desire and a generous grind of black pepper.
Kitch'n Thyme http://kitchnthyme.com.au/