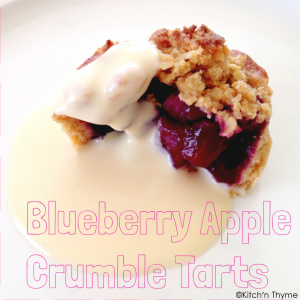 INGREDIENTS:
Shortcrust Pastry
100g Raw Sugar or Rapadura Sugar
1/2 Lemon, rind
150g Wholemeal Spelt Flour
150g Unbleached Spelt Flour
150g Butter
1 Egg
1/2 tsp Vanilla Essence
Filling
6-8 Large Granny Smith Apples
250g Organic Frozen Blueberries
40g Rapapdura Sugar or Coconut Palm Sugar
1 tsp Vanilla Essence
20ml Lime or Lemon Juice
80ml Water
1=2 Tbsp Cornflour (diluted in 2 Tbsp extra water)
Crumble Topping
80g Hazelnuts, roughly chopped
200g Wholemeal Spelt Flour
100g Rapadura Sugar
1 tsp Baking Powder (Aluminium Free)
200g Butter
120g Oats
80g Desiccated Coconut
1 1/2 tsp ground Cinnamon
Method:
For the pastry, place the sugar and the lemon rind into the Thermomix bowl. Mill 10 sec/Speed 9. Add the flour and butter and process for 10 sec/speed 6 or until the mixture resembles breadcrumbs.
Add the egg and vanilla and knead 10-20 sec.
Using the Thermomat or a lightly floured surface bring the dough together to form a ball. Flatten & wrap the dough in cling film and place in the fridge for 30 mins to rest.
To make the filling peel & quarter the apples and place into the Thermomix bowl. Chop for 3-4 sec/speed 4. Add all remaining ingredients and cook for 5 min/80C/speed 1/Reverse.
Add the cornflour and cook for a further 2 min/80C/speed 1/Reverse. Set aside.
Roll pastry, using a rolling pin, on a lightly floured surface, to be 3mm thick. Use pastry cutters to cut lining for individual tart cases. A 12 hole muffin tin is the ideal size for these tarts. Once all the muffin holes are lined, refrigerate to rest for 30 mins. Preheat the oven to 200 degrees.
To make the crumble topping, place the nuts into mixing bowl and press briefly 2 times/1 sec/turbo. Set aside. Place the flour, sugar & butter into the bowl and process 10 sec/speed 6 or until the mixture just resembles breadcrumbs. Add the remaining ingredients  and the chopped nuts and process 10 sec/speed 4/Reverse or until it just comes together. Set aside.
Blind bake pastry until golden (about 20-25 minutes) then once cool enough to touch take out and place on a baking tray lined with baking paper.
Reduce the oven to 180 degrees. To assemble the tarts, place spoonfuls of the apple mix into the pastry cases, top with the crumble and place back into the oven on a baking tray for another 10-15 minutes or until the crumble topping is nice and golden brown.
Cool on a wire rack and serve with Crème Anglaise (optional).