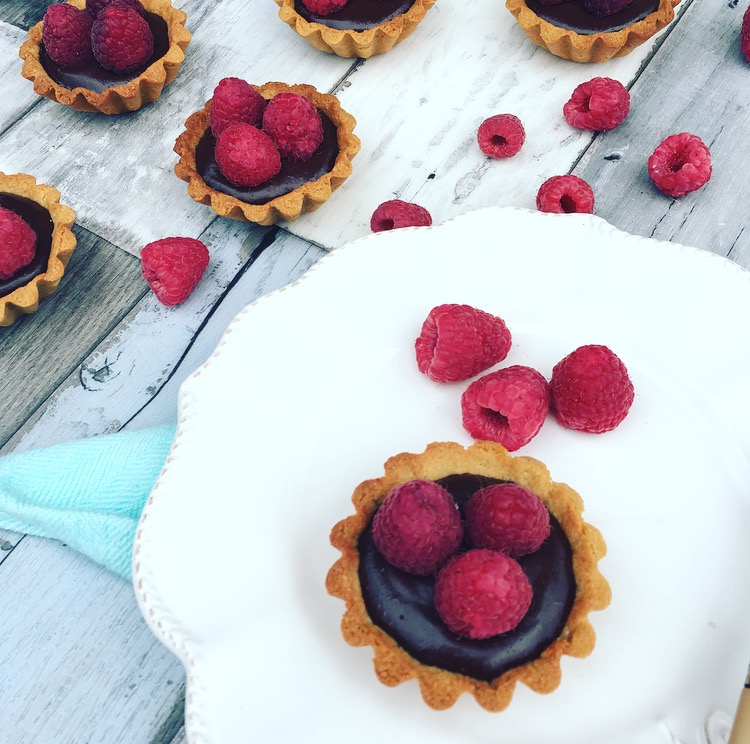 So I can't really remember the first time I made these delightful tarts, however I do remember one of the most recent times when I made them! It was for my sons 3rd birthday last year! To set the scene a little, I decided to buy year passes to our local zoo, and take along a picnic lunch, a perfect simple birthday cake and these pretty little things!
Well that particular day turned out to be a scorching 30°C day! I got up early before it was that hot, baked a delicious flourless 2 tier chocolate cake, my old recipe that I used to do every week at the health retreat. I topped it with a beautiful dairy free chocolate ganache. Not realising how hot the day would be I poured it on, decorated it with all manner of adorable edible flowers, chocolate shards, raspberries, strawberries and blueberries! It looked a real picture!!….But if only I had one! In it went into the container…we packed up and off we went to the zoo. Off we went into the zoo to catch the croc show and low and behold what did I leave in the car, but the cake!!!!!!
Back to the car after only what seemed like 1/2 an hour and I grabbed that little darling, opened it's lid….and what did I find??? A great big puddle of slidden, sloppy, melted, ganache drenched decadent deliciousness!!! And with that we sang Happy Birthday Z!! It almost seemed unbelievable, but I assure you there was no fixing that leaning tower of cake puddle! My dearest friends who know how perfectionistic I am, gave me an extra tight squeeze, helped me realise it wasn't the end of the world…almost…and we just slapped it onto our plates…not it wasn't even sliceable! What we ate was something delicious, despite its unfavourable looks!
That night I brought the remainder home, chucked it into the Thermomix and chopped it all up, then rolled it into balls and froze them. Oh my word, how a seemingly total disaster can be turned into pure delight. This was one of them! Fudgy, rich, and ultra delicious!


What did end up as pretty as a picture and a total hit were these awesome Choc Raspberry Tarts!!
It's acutally the filling of the Paleo Chocolate Mango Tart with the base of the Lemon Tart combined with seasonal raspberries on top! Blueberries on top would be just as delish!
So here you are! Enjoy!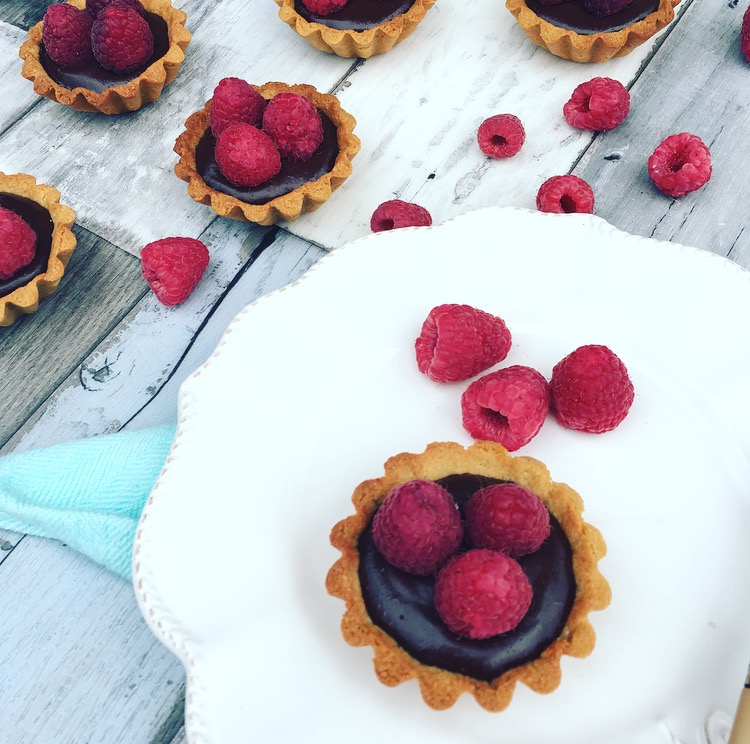 Paleo Chocolate Raspberry Tarts
2016-02-09 04:46:18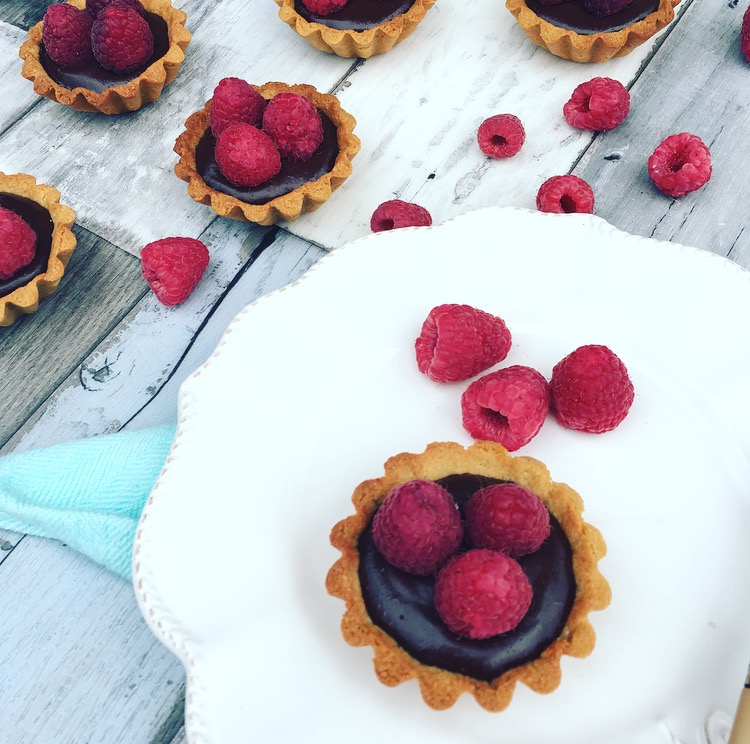 Delicious healthy nutella-like filling topped with juicy sweet raspberries!
Sweet Shortcrust Pastry
50g Coconut Palm Sugar
150g Almond Meal
50g Coconut Flour
30g Arrowroot
100g Organic Butter
1/2 Lemon, zested
1 Organic Egg, lightly beaten
Filling
60g Hazelnuts, roasted
80g Coconut Oil
80g Coconut Milk
120g Maple Syrup (approx. 5 Tbsp)
50g Raw Cacao Powder
1 tsp Vanilla Essence
pinch salt
250g Fresh Raspberries
Pastry
Place the sugar into the Thermomix bowl and mill 10 Sec/Speed 9.
Add the almond meal, coconut flour, arrowroot, butter and lemon zest to the bowl and blend 10 Sec/Speed 6.
Add the egg and Knead 15 Sec.
Wrap in plastic wrap, flatten, and place in the refrigerator for 30 minutes to chill.
Preheat the oven to 160°C.
Once the dough is chilled, roll out to 2-3mm thickness between 2 sheets of baking paper.
Peel off the top sheet of baking paper, and using an 8cm round pastry cutter, cut 18 circles from the pastry. You may need to re-roll to get the 18 circles.
Place the cut circles back into the fridge for 5 mins to firm slightly before pressing into 7cm fluted tart shells. Neatly trim the tops and if there are any tares, just use a little of the excess dough to carefully patch it, being careful to maintain an even thickness.
Bake in the preheated oven for 15 minutes or until golden brown.
Remove from the oven, let sit in the moulds for 5-10 minutes before removing to a wire rack to cool completely.* (They will feel very soft as soon as you take them out of the oven but as they cool, the base will harden. If the underside of the bases still feels a little damp once cool, you can turn them upside down and return to the oven for 5 or so minutes to dry out a little further.)
Filling
If you need to roast the nuts, place onto a baking tray and roast for 10-15 minutes on 180°C. Let cool before using your hands to rub the nuts together to get rid of the skins.
Place the hazelnuts into the Thermomix and mill 10 Sec/Speed 9.
Add all the remaining ingredients and cook 2 Mins/50°/Speed 3.
Pour the filling into the cooled tart shells and set in the fridge for 30 mins before topping each tart with 3 raspberries and returning to the fridge to set firm.
Notes
*They will feel very soft as soon as you take them out of the oven but as they cool, the base will harden. If the underside of the bases still feels a little damp once cool, you can turn them upside down and return to the oven for 5 or so minutes to dry out a little further.
*This is the same filling as I use in my Paleo Chocolate Mango Tart
*This is the same base as I use in my Lemon Tart
Kitch'n Thyme http://kitchnthyme.com.au/