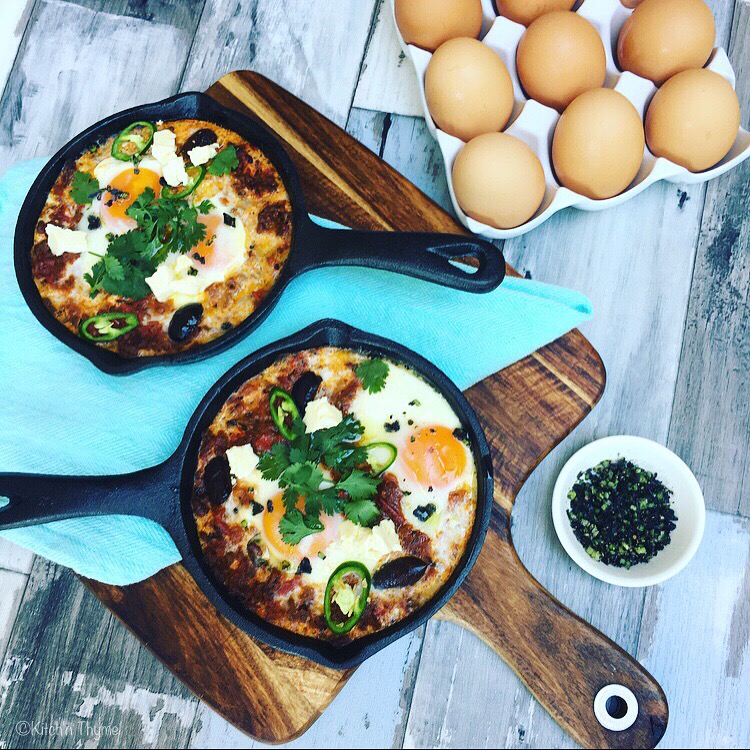 Ever wondered what to do with that leftover bolognaise sauce? Turn it into these gorgeous baked eggs! I love baked eggs! It's such a lovely way to eat eggs when you're bored of fried, poached and scrambled! With all the other wonderful flavours combining with runny yoked eggs there's not much not to love! and packed with veggies, herbs, olives and topped with feta etc they make the perfect start to any day! My kids even love this and that's a winning start to the day being packed with great nutrition for growing minds!
I've made many versions of baked eggs over the years! When I worked at the health retreat fulltime I used to make a delicious creamy spinach baked eggs, or sometimes a beautiful Moroccan capsicum & lamb sausage shakshuka! I'm salivating right now thinking about the options!
I was dreaming this morning of serving this with a fresh zesty avocado, finger lime and green chilli salsa! Yum!…But then I realised I had left my bag of finger limes in the fridge at work and the avocados aren't quite ripe enough! So there…a more simple yet delicious coriander, pepper & black salt had to suffice!
Obviously I did this with leftovers, however I'm going to give you the recipe for my Bolognaise Sauce. It's totally delicious and well worth making whether for bolognaise sauce or baked eggs!
And no, I don't cook it in the Thermomix. You see, I ain't no Chef if I don't have a pan in ma hand! I seriously love my Thermomix, but there are just some things that must be done on the stove! And for me this is one of them! My Thermomix is my apprentice here, so it does the chopping! I prefer getting a nice caramelisation on the onions and garlic with loads of olive oil for a bolognaise sauce. It's really important to do this otherwise the onions will be bitter and not reduce their sweetness. I could do it in the Thermo but it will take longer than a frypan where there is more surface area! You can of course leave the Thermomix to cook for longer and eventually you will get a better caramelisation but there's just something about stirring a pot that I love at times too! Its theraputic! And you know what??? That is AOK! If you like to roast a chook or beef in the oven, then do so, make your gorgeous gravy or a salad in the Thermomix and call it a night. You don't have to use your Thermomix for everything! If it is helping you in some small way to find more time to do the things you love, save you money, keep you healthier, etc etc then my job is done!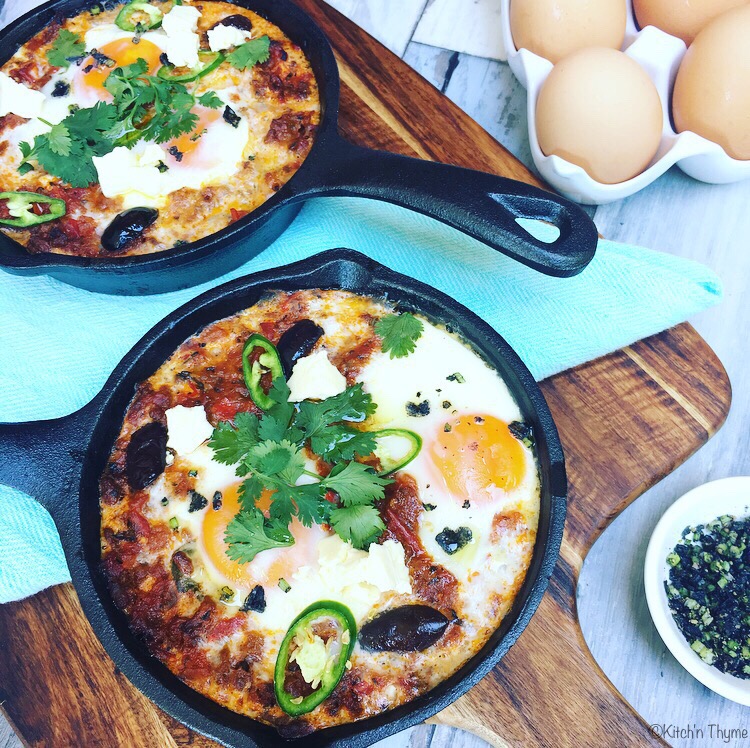 For making my organic lasagne, I don't mind doing the meat sauce in the thermomix. I don't mind if that is a bit runnier in consistency. It will continue to cook down and reduce in the oven to get the correct balance of sweetness and flavour.
Ok, so lets get on with it! I must go and remove my toddler from standing on my bench where he is walking softened butter everywhere!….Look he's only trying to reach the sourdough bread dough! He loves to cook with me!…Yes all day long!….I'll strive to embrace the chaos today, for oneday they will wake and move mountains! Enjoy!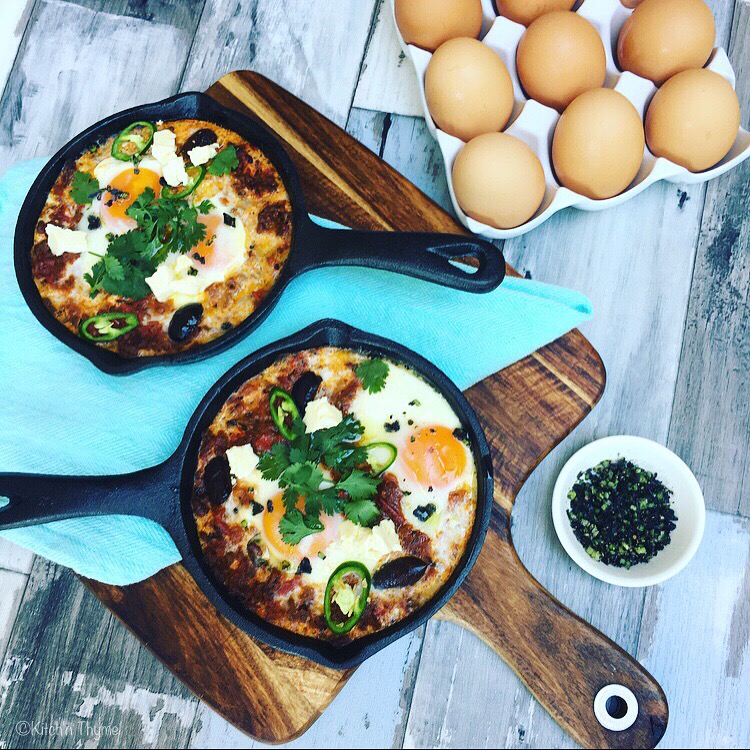 Organic Italian Shakshuka
2016-02-16 14:08:53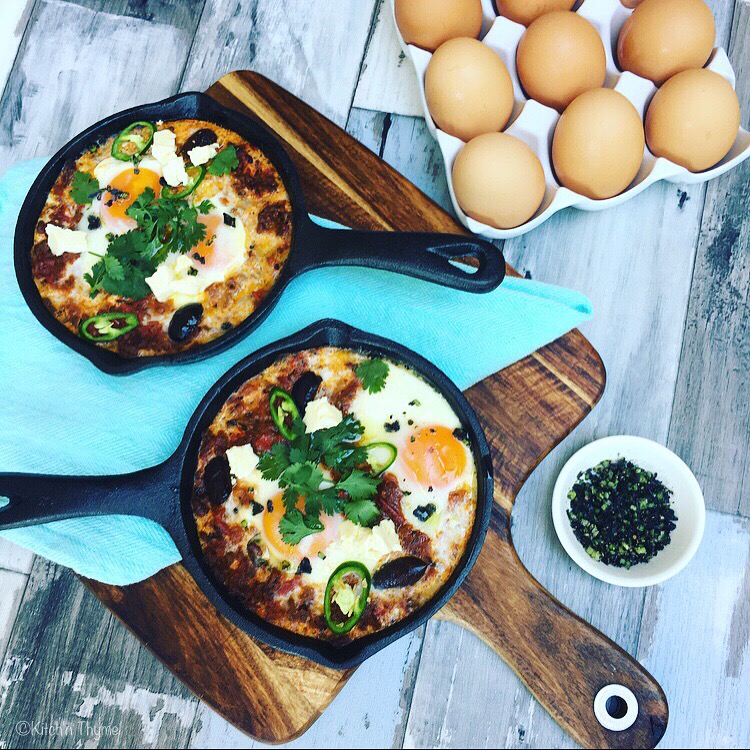 Serves 8
My beautiful Bolognaise Sauce leftovers turned into perfect Baked Eggs! Reader Kylie says: "We loved this recipe - the kids devoured it with toast for dipping. A delicious twist to the traditional Bolognese that the whole family will love. Can be made in one big pot for convenience and don't leave off the garnishes as they are essential." The 4 Blades Magazine, July 2016
Bolognaise Sauce
4 Tbsp Extra Virgin Organic Olive Oil
2 Brown Onions, halved
6 Cloves Garlic, peeled
1 Zucchini, chopped into 3-4cm pieces
2 Medium Carrots, chopped into 3-4cm pieces
2 tsp Dried Basil
2 tsp Dried Oregano
1 tsp Dried Italian Herbs
500g Organic Beef Mince
60ml Organic Red Wine (optional)
2 Tbsp Vegetable or Beef Stock Paste
2 Tbsp Tomato Paste
500ml Roast Tomato Pasta Sauce
10 Kalamata Olives, pitted and halved
8 Sundried Tomatoes, roughly cut with scissors
4 Large Tomatoes, halved
2 Sprigs Fresh Rosemary
2 Sprigs Fresh Thyme
4 Sprigs Fresh Basil or Italian Parsley
Shakshukas
16 Organic Eggs
Extra Olive Oil for drizzling
100g Feta Cheese
1 Green Chilli, sliced on a diagonal
1/2 Bunch Coriander leaves, for serving
Organic Crusty Sourdough, for serving
Coriander, Pepper Black Salt
1/2 Bunch Coriander Stalks, sliced very finely
1 tsp Freshly Ground Black Pepper
1 Tbsp Black Salt Flakes
Bolognaise Sauce
In a large frypan, heat the olive oil over medium heat. Place the onions into the Thermomix bowl and chop 3 Sec/Speed 7. Add the onion to the pan, cooking for 4-6 minutes or until the onions are translucent and caramelised nicely. Add the garlic and cook for a further minute or two. Just be careful not to burn the garlic as it will become bitter.
Place the zucchini and carrots into the Thermomix and chop 5 Sec/Speed 4-5 (or until fairly finely chopped). Add to the pan and sweat off until translucent.
Add the dried herbs before adding the mince to the pan and stirring, cook for a further 2 minutes or until browned.
Add the wine (if using) and sauté for another 2-3 minutes or until the liquid is reduced.
Reduce the heat to low, add the stock paste, tomato paste, pasta sauce, olives and sundried toms.
Place the fresh tomatoes into the Thermomix and chop 5 Sec/Speed 5 before adding to the frypan and reducing the sauce for 20 minutes.
Towards the end, place the herbs into the Thermomix and chop 3 Sec/Speed 7 or finely chop with a knife. Stir through the sauce to finish.
Shakshuka
Preheat the oven to 200°C and place an even amount of sauce into 8 mini cast iron frypans.
Using a spoon, make indents in the mince, then crack 2 eggs into each mini frypan.
Place into the hot oven and cook for 15-17 minutes or until the whites have just set.
Remove from the oven, drizzle with oil, top with crumbled feta, chilli, fresh coriander and the black salt and serve with crusty bread.
Notes
*This is my full bolognaise sauce recipe which is why it serves 8. I can usually make 3-4 shakshukas with our leftover bolognaise sauce.
* Make my Roast Tomato Pasta Sauce here!
Kitch'n Thyme http://kitchnthyme.com.au/