Here are the much anticipated Christmas 'chocolates'!! So simple and easy to make, yet so pretty and good for you!
Healthy White Chocolates
You will need my Coconut Butter recipe to make these. Using part coconut butter and part cacao butter gives them a little more texture and a delicious nutty flavour. Cacao butter is also very strong in flavour, so the coconut butter tames it down a little too.
I found these really cheap silicon chocolate moulds at IKEA. They were about $1 or $2 and work a treat!
You can use rice malt syrup in this recipe, however I try to balance my use of this sweetener due to it being so highly processed. In this instance I go for honey. If you choose raw honey, which I always recommend, it is that one step closer to nature and where it came from! It has been through minimal processing and is still full of antioxidants and cleansing properties for our bodies. Honey has been used for thousands of years for medicinal purposes. However, if you are after a more subtle flavour you could use maple syrup which also gives a lovely flavour. Keep an eye out for my more in depth blog post on sweeteners which I'll put up in the new year!
Play around with whatever nuts and flavour combos you like. I've done them before with freeze-dried Raspberries & Blueberries (as pictured above). It is just delightful and the red & blue colours also look very Christmassy! I love the texture of freeze-dried berries. They are super light, yet the sweetness and vibrant colours are still preserved! Yum! I order my freeze-dried berries (you'll notice I use them in a few other things too) online at iHerb and they are fairly cheap. My lovely client who came for a cooking lesson the other day loved the berry one just as much, if not more!
I really hope you enjoy them!!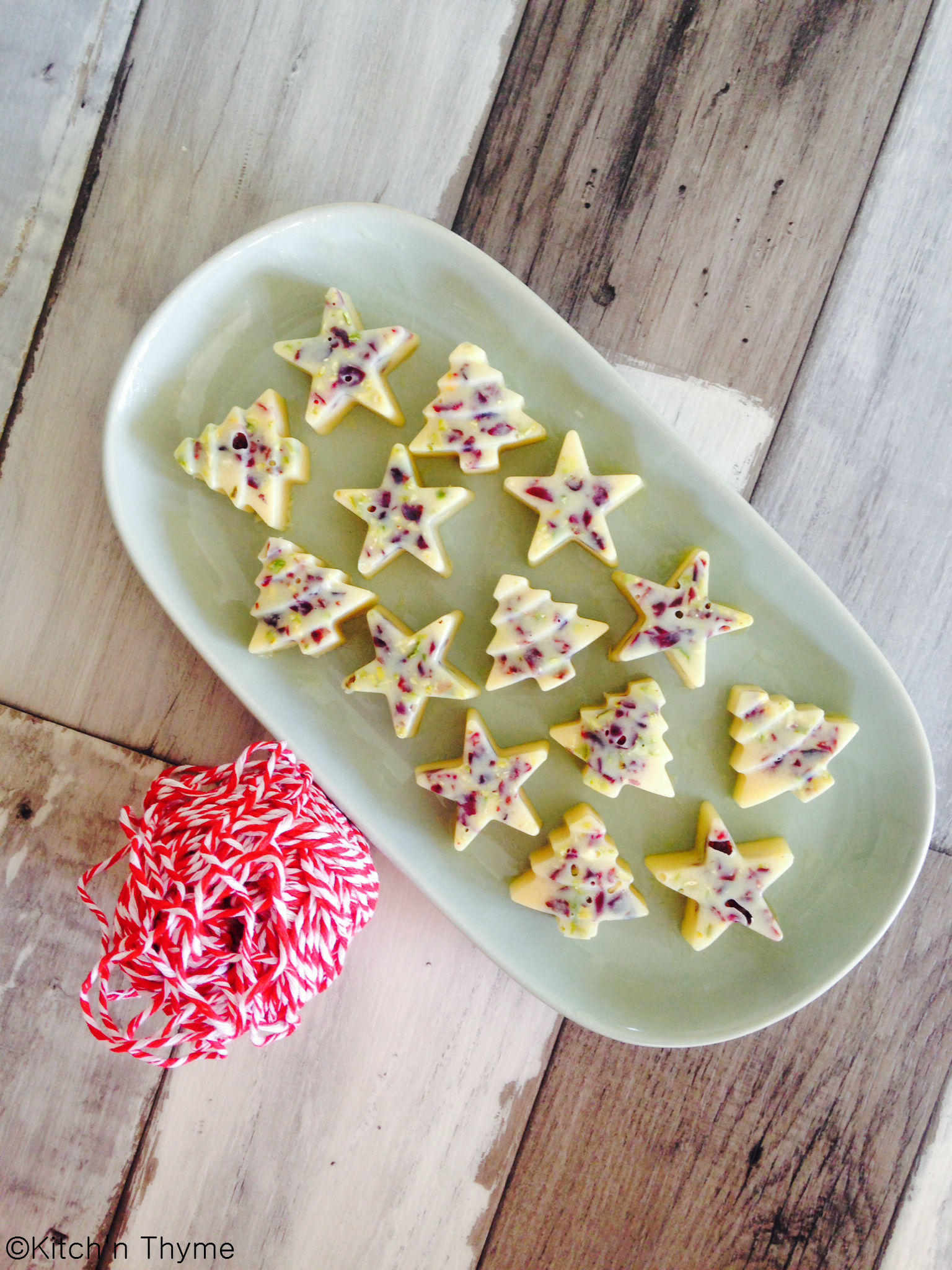 Healthy White 'Chocolates'
2014-12-08 05:15:54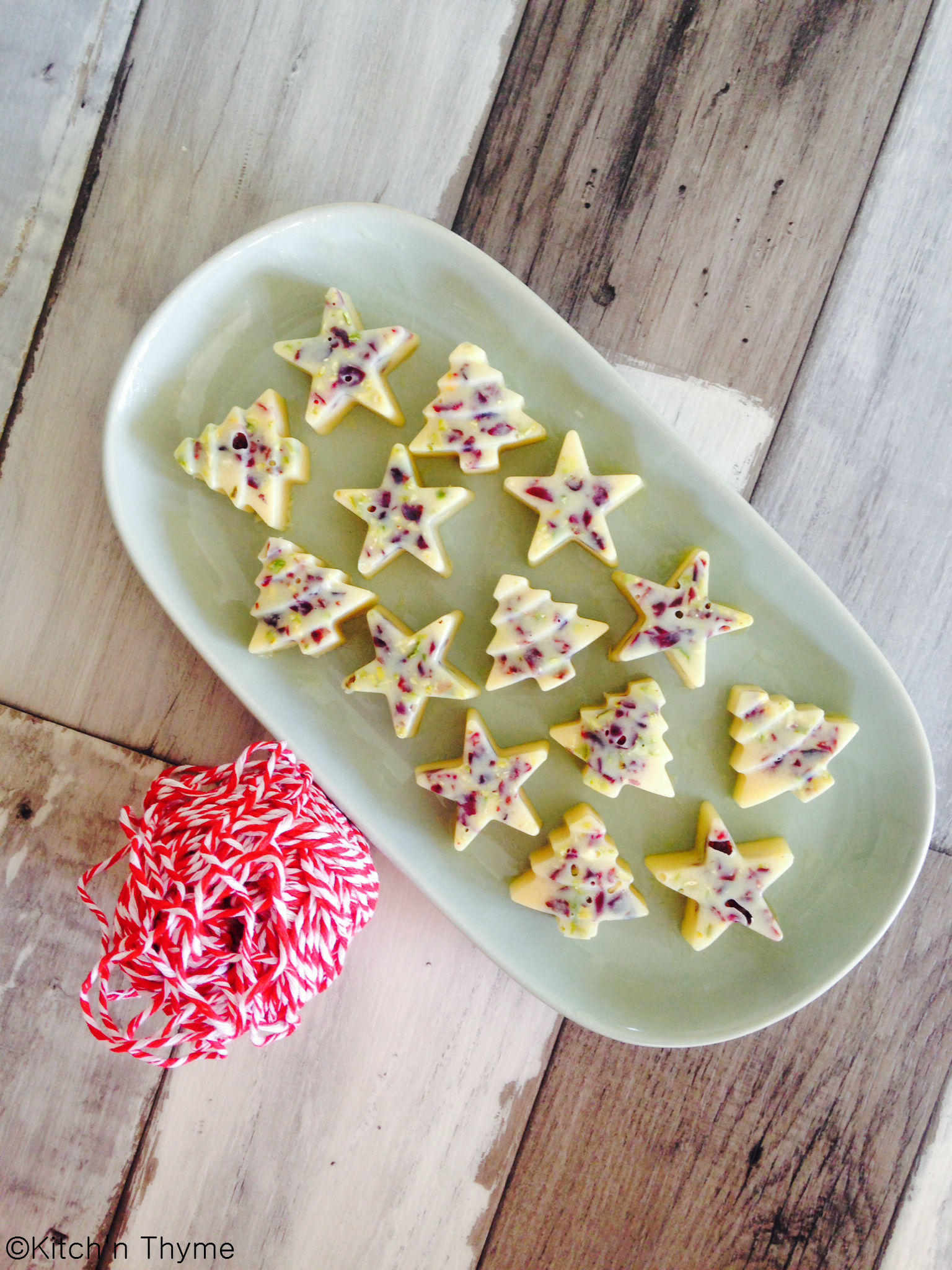 A delicious full-of-fat Christmas delight!
Ingredients
20g Pistachios
20g Cranberries (naturally sweetened)
100g Raw Cacao Butter
100g Coconut Butter
30g Raw Honey or Maple Syrup
1 tsp Vanilla Essence
Instructions
Place the pistachios & cranberries into the Thermomix and chop 1.5 Sec/Turbo. Set aside.
Roughly chop the cacao butter and place into the Thermomix. Mill 10 Sec/Speed 9.
Add the coconut butter, honey and vanilla essence and melt and mix 3 Mins/37°/Speed 2.
Sprinkle the nuts & cranberries over the bottom of the moulds and pour over the chocolate mixture.
Give them a good tap on the bench to let any air bubbles out. Set in the fridge for 1 hour or until set firm. Turn the mould upside down and push the chocolates out with your thumbs. Keep refrigerated until ready to serve as they will go quite soft once out of the fridge.
Flavour Variation
Replace cranberries & pistachios with
10g Freeze Dried Raspberries
10g Freeze Dried Blueberries
Kitch'n Thyme http://kitchnthyme.com.au/