Rather than muesli, this is delicious chunky, crispy, crunchy Granola! Sound good? Then this is for you! Homemade granola is wonderful to have in the house. My memory drifts to when I was a little girl and stood there stirring huge bowls of it! It can be a delicious healthy alternative to sugar laden cereals and great for mornings when you are on the go! The benefit to making it yourself is that you know exactly what has gone into it. Many of the store bought varieties are really high in sugars (especially granolas) and contain unhealthy oils/fats and unnecessary fillers, preservatives and numbers!
This granola is really easy and quick to make. Making it at home gives the you freedom to control what goes into it too. Every fortnight I try to have at least 1-2 food prepping days, which sets us up well with ready-to-eat foods. These are the sorts of things I will cook on these days. This is a really big batch, it will make around 2.5kg. Depending on the size of your family it should last you a good number of weeks!
I sweeten it with apple sauce and honey. The apple sauce is just apples cooked and blitzed into sauce in 8 minutes with the Thermomix – no other things added! By using apple sauce over apple juice you are eating the fruit in its whole state, with all the fiber, and not just the sugar! The apple sauce also helps to create that chunky granola texture. I always use good quality organic raw honey. Whilst heat treated honey looks prettier and has a longer shelf life, many of the natural minerals, enzymes and antioxidants have been destroyed in the intensive processing. The pollen which is also filtered out has an array of health benefits too. So I always advocate local, raw honey.
Dried fruits contain concentrated amounts of sugars so I try to only put 1 to 2 varieties of dried fruits in. These are a couple of my favourite combinations below. The addition of nuts and seeds enhances the protein content and delights the tastebuds! Even though the nuts are in the mixture I cook, I do pre-roast the almonds first, because I find you get a better roast on them, when roasted first on their own. You can roast them at 180° for 10-15 minutes.
Play around with the ingredients and make your own varieties using the flavours that you love. Enjoy!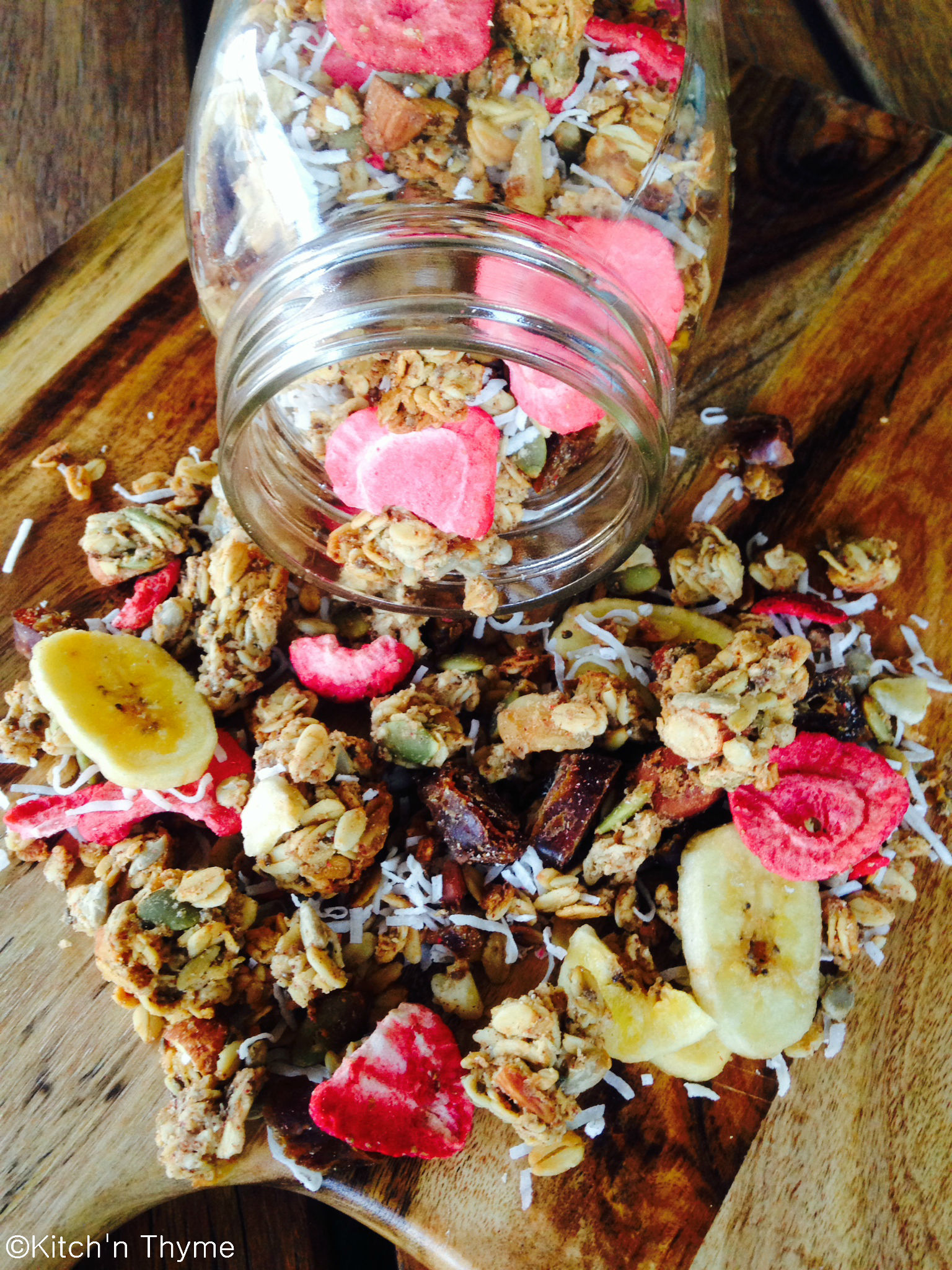 Coconut & Strawberry Granola
2014-12-11 23:06:18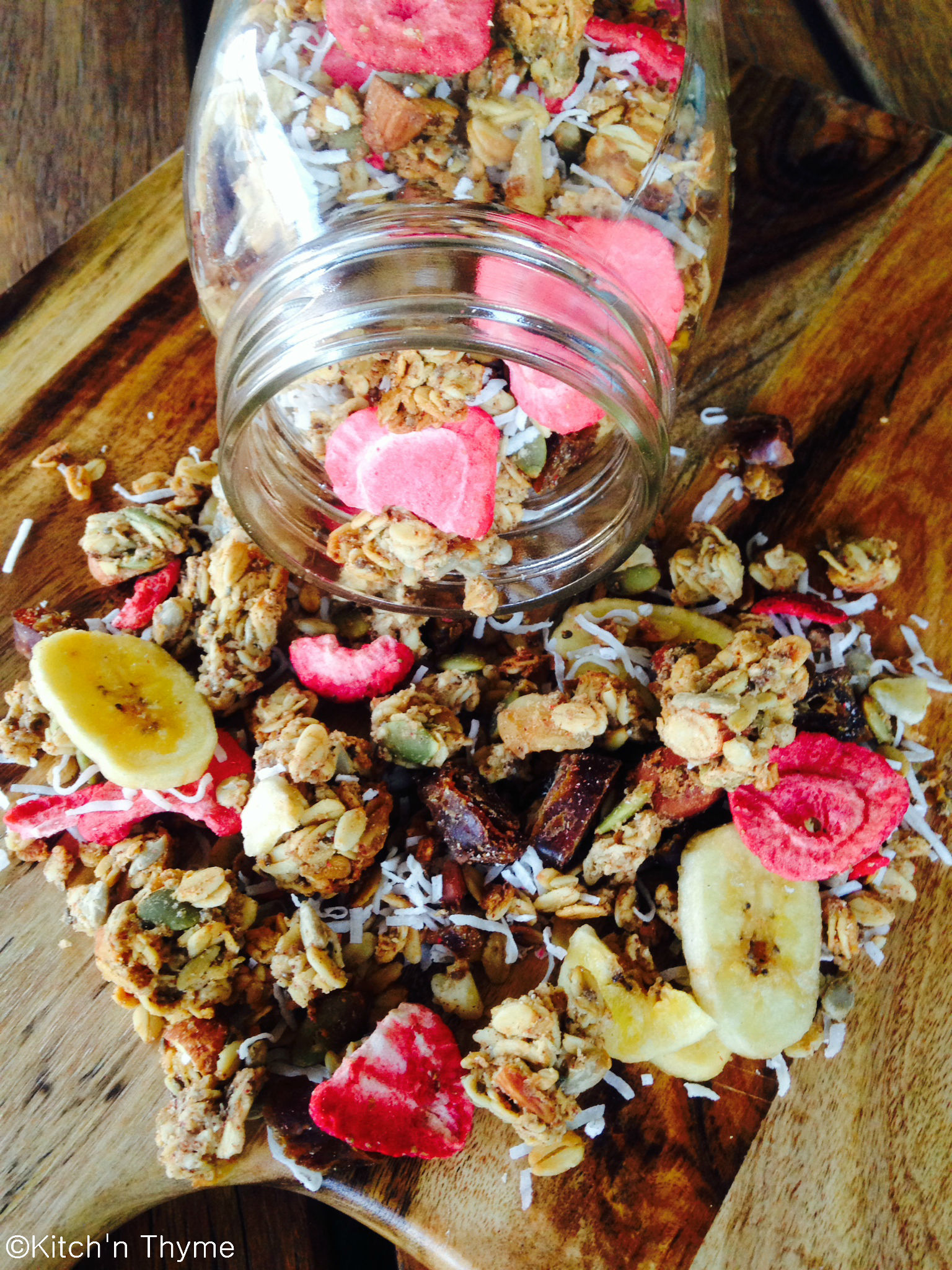 Delicious chunky, crispy, crunchy Granola! Top with yoghurt and a drizzle of honey for a yummy breakfast!
Ingredients
1.2kg Organic Rolled Oats
100g Quinoa Flakes
100g Activated Buckwheat Kernels (optional)
100g Almond Milk Pulp (or Almond Meal)
50g Black Chia Seeds
100g Pepitas (or Pumpkin Seeds)
150g Sunflower Seeds
1 Tbsp Cinnamon
2 tsp Pimento
120g Macadamias
120g Roasted Almonds
400g Apple Sauce
300g Organic Butter
250g Honey
2 tsp Vanilla Essence
20g Freeze-dried Strawberries
100g Shredded Coconut or Coconut Chips
150g Dates (roughly chopped)
100g Banana Chips (naturally sweetened)
Instructions
Preheat the oven to 180°. Line large baking trays with baking paper and set aside.
Place the oats, flakes, buckwheat, almond meal, seeds, & spices into a very large mixing bowl. Stir to combine.
Place the nuts into the Thermomix bowl and chop roughly 0.5 Second/Speed 6.
Place the apple sauce, butter, honey & vanilla into the Thermomix and cook 2 Mins/50°/Speed 3. Pour this wet mixture over the dry ingredients and using your hands coat all the dry ingredients well.
Place handfuls onto the baking trays, slightly clumping it in your hands as you go. Spread it out fairly thinly and evenly over your trays, and bake for 30-35 minutes, giving a quick stir halfway through.
Remove from the oven and cool on the trays before placing back into the mixing bowl and tossing with the strawberries, coconut and dates.
Once completely cooled, place into airtight containers or jars and store in a cool, dry place for 2-3 weeks.
Kitch'n Thyme http://kitchnthyme.com.au/