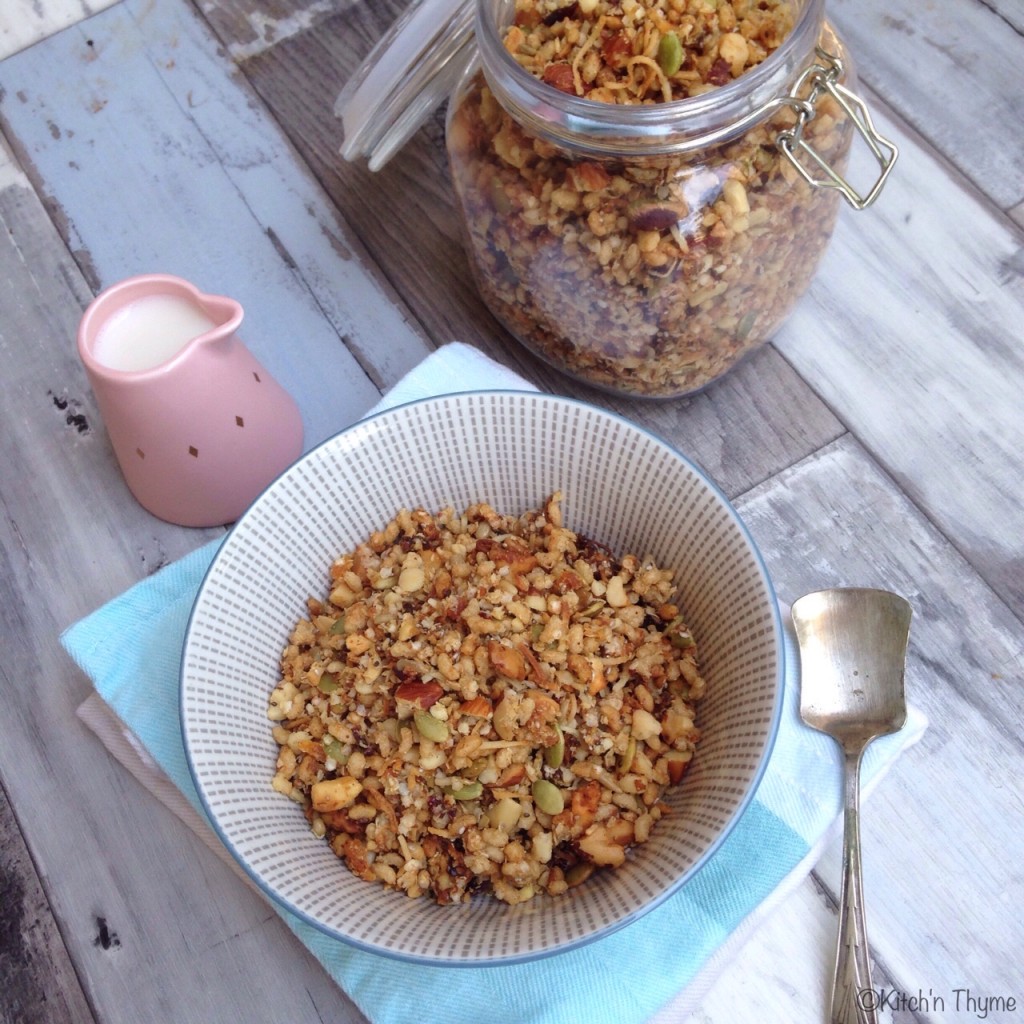 This yummy granola is so satisfying you will barely notice it's any different to 'normal' granola!
Filled with nuts, dried fruit, coconut, quinoa & rice and mixed together with the lusciousness of butter and honey, its the perfect fast-food option for breakfast.
The quinoa flakes increase the protein content and create a really lovely flavour once baked.
You can leave some of the fruit out if you are watching the fructose sugars, but some in there is nice.
You can use coconut oil in place of the butter if you want it completely dairy free too.
I love having granola in the cupboard as a backup for when time is of the essence or eggs are getting a bit monotonous! It's just delicious with my creamy homemade Almond Milk
Enjoy, Gabrielle xx.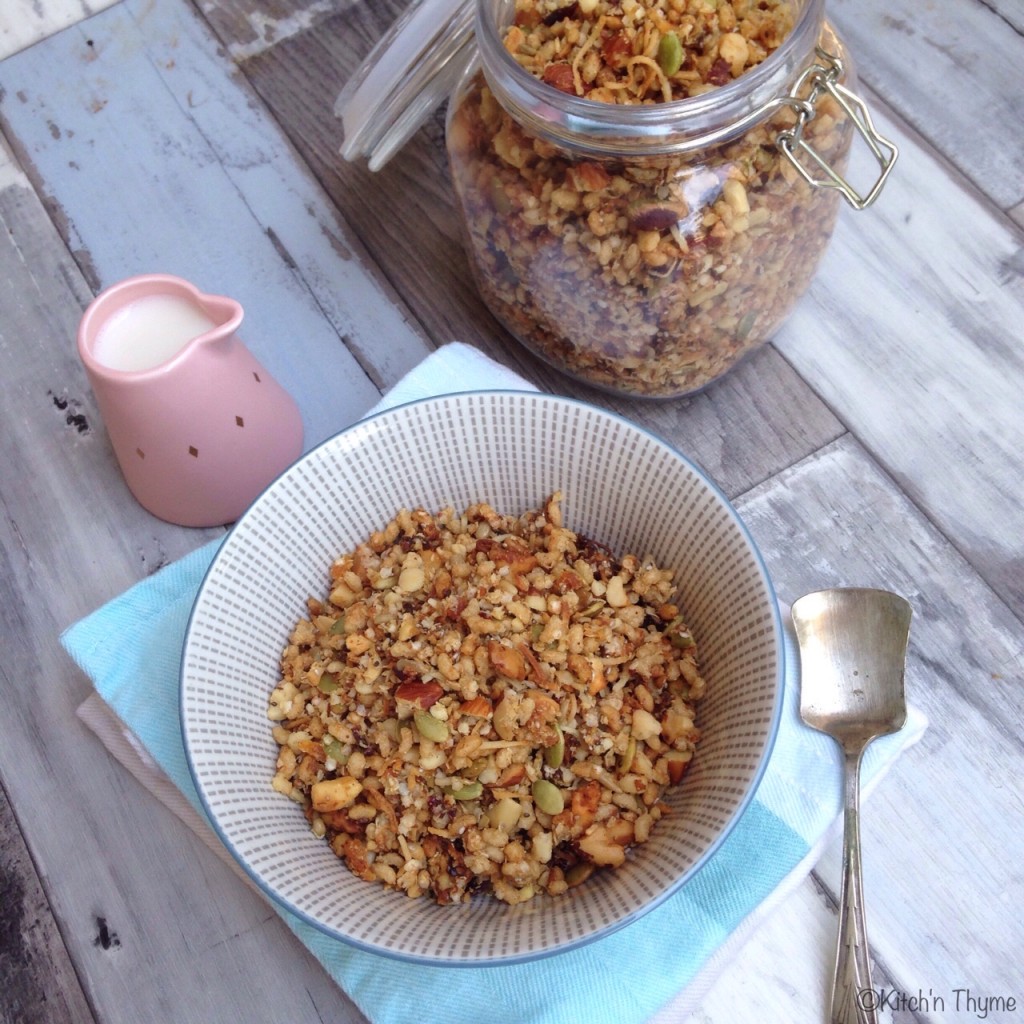 Gluten Free Granola
2015-11-24 05:49:29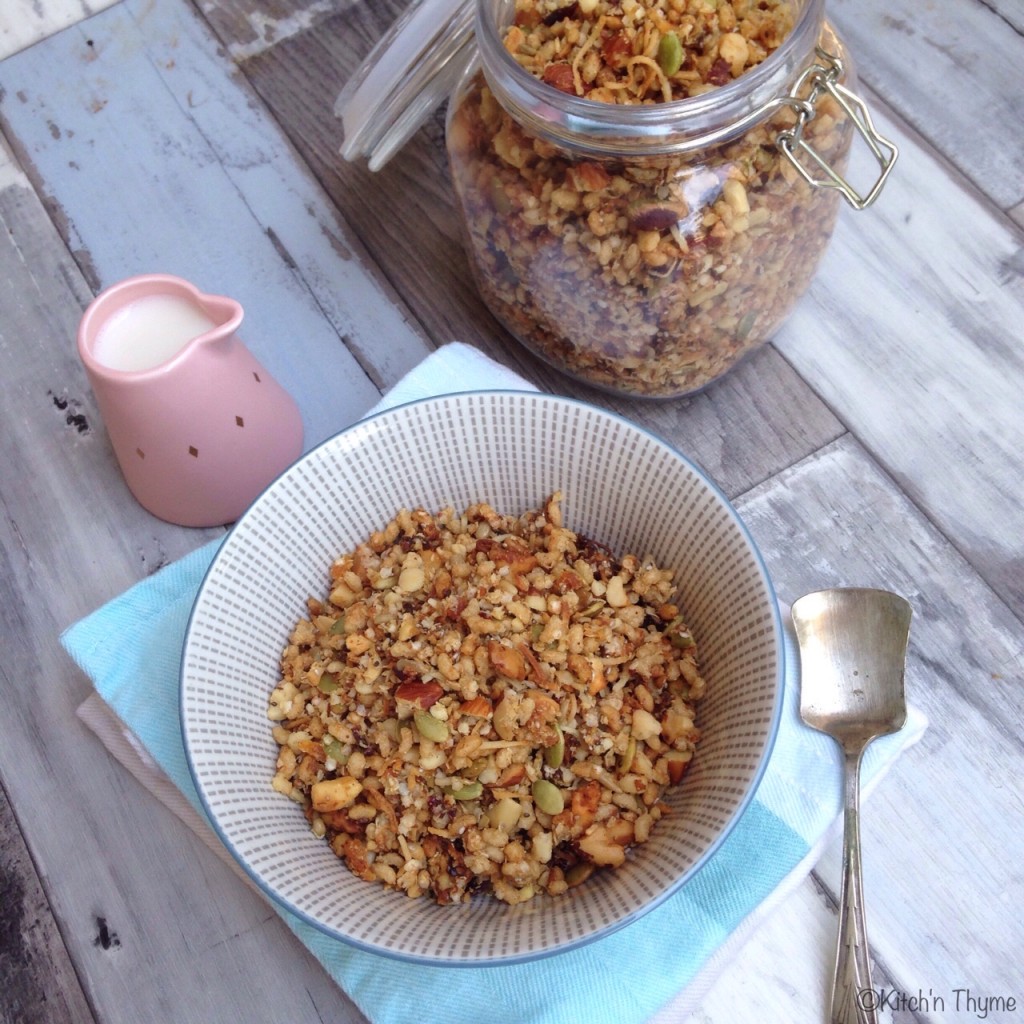 Nutty, golden, crunchy goodness!
Ingredients
120g Almonds
120g Macadamias
150g Brazil Nuts
150g Quinoa Flakes
50g Sunflower Seeds
50g Pepitas
30g Chia Seeds
50g Shredded Coconut
100g Organic Puffed Brown Rice
1 tsp Cinnamon
1/2 tsp Allspice
50g Cranberries
50g Dried Dates
50g Apricots
150g Organic Butter
150g Honey
Instructions
Preheat the oven to 180°C. Line 2 large baking trays with baking paper and set 1 aside.
Spread the nuts out evenly over 1 tray and roast for 10-15 minutes.
Place the quinoa, seeds, coconut, rice & spices in a large mixing bowl and stir well to combine.
Place the roasted nuts into the Thermomix and chop 2 Sec/Speed 5. Add to the large mixing bowl.
Place the dried fruit into the Thermomix and chop 3 Sec/Speed 7. Add to the large mixing bowl also.
Place the butter and honey into the Thermomix and cook 2 Mins/50°/Speed 3.
Pour over the dry ingredients and toss well to combine. Spread out evenly over the large baking trays and bake for 15 minutes. Stir well with a spoon and cook for a further 10-15 minutes or until golden brown.
Cool on the trays completely before transferring to airtight containers or jars.
Notes
Serve with your choice of milk, greek yoghurt, coconut yoghurt or atop fresh fruit salad for a nutty crunch!
Kitch'n Thyme http://kitchnthyme.com.au/