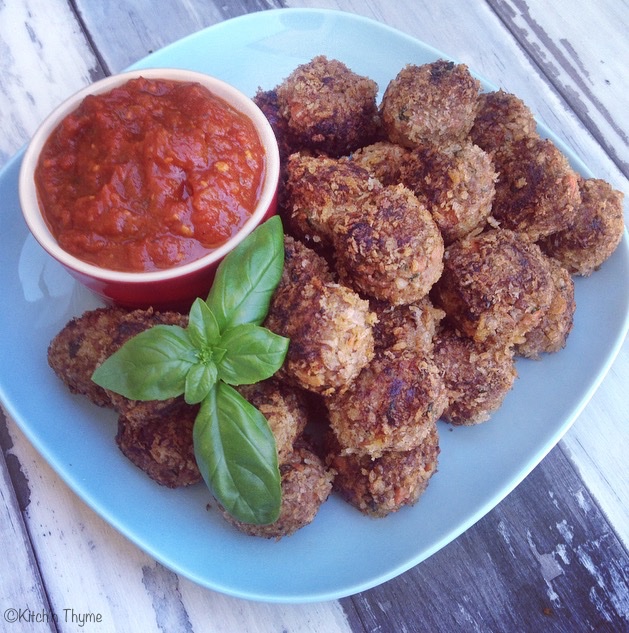 I'm pretty positive you will LOVE these meatballs!!! They make the perfect weeknight meal, or part of an elaborate Italian feast, or more simply the perfect protein hit for a quick lunch or lunchbox!
I made a bit batch of these for my friend when she had her baby earlier this year! They went down a real treat and her husband wanted the recipe…SO you're all super lucky, because otherwise I might not have shared this favourite recipe of mine!
The walnuts just add such a lovely texture to the meatball and compliment beef in flavour so well! You could substitute other nuts with what is in your pantry though!
I do use Panko breadcrumbs sometimes for rolling….I know – Japanese & Italian! Say again?!! Yes, just this once, I'm mixing up the cuisines! These breadcrumbs are a real treat in my home! But they really do make them so yummy and crunchy on the outside! I've used ordinary breadcrumbs, gluten free breadcrumbs, or some crushed nuts (for Paleo) and they all work fine too! If using Panko crumbs, you may need to gently press the crumbs into the meatballs to help them stick sufficiently.
When cooking the meatballs, be really gentle when turning them over in the pan. Just gently turn them, as they may have the potential to crumble, depending on how wet your mix is. If you have cooked off the onions and veggies sufficiently, they shouldn't fall apart though, but just be mindful of it!
You can absolutely leave the feta cheese out of them if you are dairy free or Paleo. They are still delightfully delicious without!
The sauce here, is a really quick pasta sauce. Sometime I'll share with you my yummy-licious Roast Tomato, Garlic & Thyme Pasta Sauce! But this one is perfect for meals on the table fast! Just use whatever herbs are in your garden or what you have in the fridge! When I cook I don't get too hung up on being exact with these things. If a recipe says 1/2 and onion, I'd chuck the whole one in! If you think some rosemary or oregano would be nice then stick it in! I've used both before and they are yum! Just whatever flavour hits you in the moment will work perfectly!
Enjoy!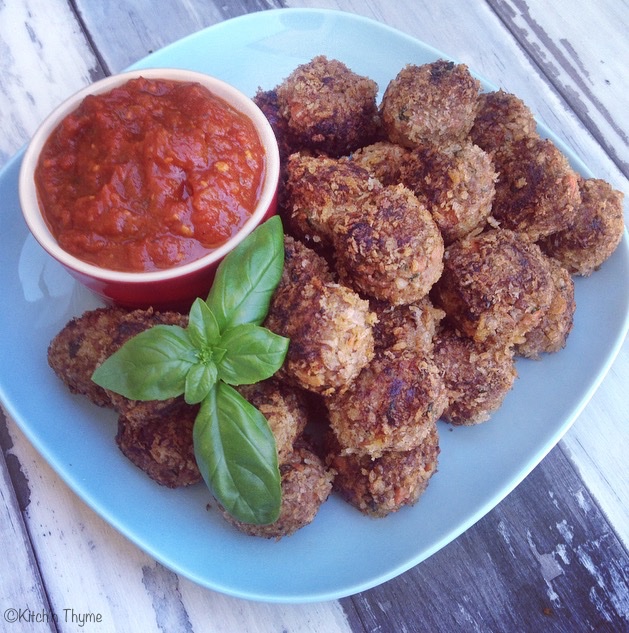 Feta & Walnut Meatballs
2015-05-28 13:08:54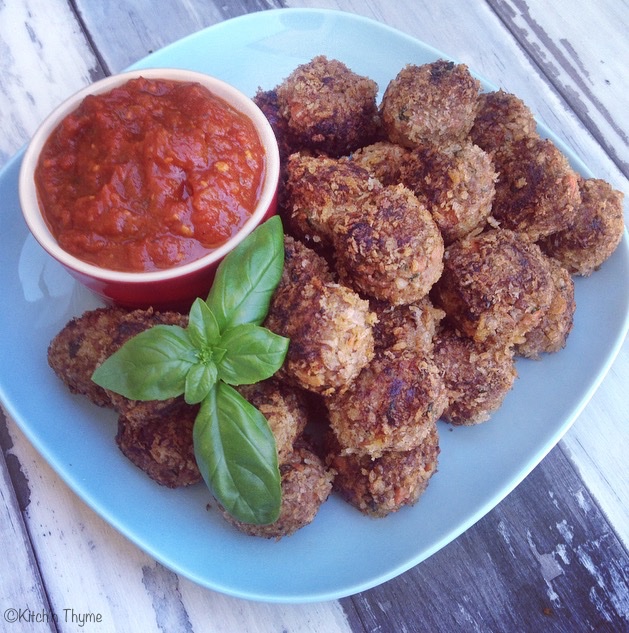 Serves 4
My delicious meatballs make for the perfect dinner or for a fantastic ready-to-eat snack from the fridge! Get cooking!
Meatballs
1 Large Red Onion
1 Clove Garlic, peeled
4 Sprigs Italian Parsley, chopped finely
2 Zucchini, cut into 3-4cm pieces
2 Carrot, cut into 3-4cm pieces
4 Tbsp Olive Oil
100g Walnuts
500g Organic Beef Mince
100g Feta, crumbled into rough pieces
1 Tbsp Italian Herbs
2 tsp Balsamic Vinegar
2 tsp Dijon Mustard
2 Tbsp Tomato Paste
2 tsp Celtic Sea Salt
100g Panko Breadcrumbs or preferred breadcrumbs
Ghee or Coconut Oil for shallow frying
Quick Pasta Sauce
1 Brown Onion, halved
2 Cloves Garlic, peeled
2 Sprigs Fresh Basil
4 Sprigs Fresh Italian Parsley
2 Sprigs Fresh Thyme
50g Olive Oil
800g Organic Tinned Diced Tomatoes
1 tsp Honey
1 tsp Celtic Salt
1/2 Lemon, zested
Meatballs
Place the onion, garlic, parsley and olive oil into Thermomix mixing bowl and chop 5-7 Sec/Speed 5.
Heat a non-stick fry-pan over medium heat. Place 1/2 the olive oil in the pan to heat a little.(Being careful not to overheat it.)
Scrape the onion mix into the pan and sauté until it starts to go golden brown and the moisture from the onions has cooked off.
Place into a large mixing bowl and set aside. Leave the pan on the heat and add the remaining oil to heat.
Place the zucchini and carrot into the mixing bowl and chop 10-15 Sec/Speed 4.
Scrape into the pan and sauté until all the moisture has cooked off from the veggies. Add to the large mixing bowl with the onion mixture.
Place the walnuts into the mixing bowl and chop 10 Sec/Speed 4, or until roughly chopped and add to the large mixing bowl.
Add all the remaining ingredients and mix well to combine.
Roll the mixture into tablespoon sized balls before rolling in the breadcrumbs. You may need to gently press the panko crumbs into the meatballs so they stick sufficiently.
Heat a large non-stick frypan over medium heat with the ghee or oil, and cook in batches, turning frequently, for about 4 minutes, or until golden brown all over. Please take when turning the meatballs, they need to be handled with care.
Remove from the heat and serve with tomato pasta sauce, fresh zucchini or parsnip pasta or traditional spaghetti.
Quick Pasta Sauce
Place onion, garlic, herbs and olive oil into the mixing bowl and chop 5 Sec/Speed 5. Scrape down the sides of mixing bowl and sauté 7 Mins/120°/Speed 1.
Add the tomatoes, honey, salt and lemon zest and cook 20 Mins/100°/Speed 2.
Serve hot over the meatballs.
Kitch'n Thyme http://kitchnthyme.com.au/