I came up with these scrumptious cookies a little while ago when I felt like making cookies but wanted a change from the husbands favourite of Cranberry & Macadamia! I was dreaming of something more hearty and thicker, like a really filling cookie. Well I kept dreaming and was drawn to a favourite classic combo of oats, cranberries and choc chips. Couldn't be more simple, yet hearty and everything I wanted in a big fat bite of cookie!
Rapadura is a perfect sweetener in these cookies. A, because it's much less refined that a white sugar or brown sugar. And B, because it will help the cookie to, once again, spread more slowly in the oven with it's more complex sugar cyrstals which break down slower in heat. And C, because it will help the dough to be that much drier- a wetter dough will spread more quickly!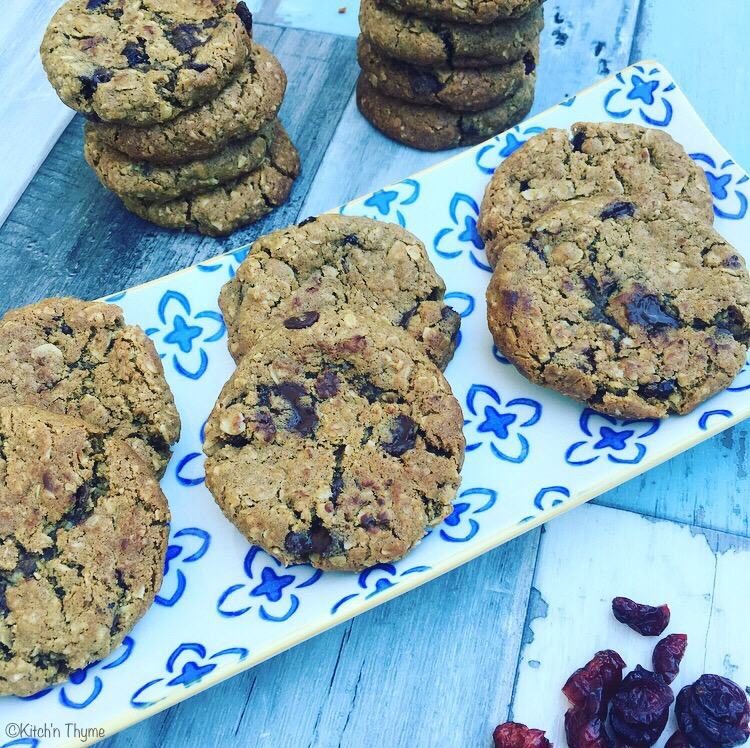 The creaming of the butter and sugar is really important too. The more air you can incorporate into the dough for these little gems the better! This air creates little bubbles, and when they enter the oven, the steam created causes the bubbles to expand and grow into super fluffy, puffy cookies!
They'll look like little ant mounds when they come out of the oven so it's really important to give them that gentle tap straight away so you end up with that perfect looking and textured cookie – crunchy on the outside, soft and oozing in the middle! Yumm!
I love the cinnamon hit in them! It's so delicious! You could even use some pimento (Allspice) in them if you like too!
These cookies seriously take minutes to make, they are so ridiculously delicious and yummy for the whole family. So get in, whip up a batch and you won't be disappointed! xx
Cranberry, Oat & Choc Chip Cookies
2016-04-06 07:00:47
Scrumptious morsels of cookie deliciousness perfect for any snack, picnic, or teddy bear party!
Ingredients
80g Rapadura Sugar
125g Organic Butter, softened
1 Organic Egg
1 tsp Vanilla Powder, Paste or Extract
125g Rolled Oats
2 tsp Cinnamon
1/2 tsp Bicarb Soda
110g Wholemeal Spelt Flour
50g Unsweetened Cranberries
30g Chocolate Chips (rapadura sweetened - I use Organic Times brand)
Instructions
Place sugar into the Thermomix bowl and mill 20 Sec/Speed 9. Insert Butterfly.
Add the butter and cream 1 Min/Speed 3.
Add the egg and the vanilla and cream 20 Sec/Speed 3. Remove butterfly.
Add the oats, cinnamon and bicarb and mix 20 Sec/Speed 2/Reverse.
Add the flour and mix 15 Sec/Speed 2/Reverse or until just combined.
Add the cranberries and choc chips and mix 5 Sec/Speed 2.5/Reverse.
Place the cookie dough into the fridge for 45-60 Mins to firm. This is an important step to ensure your cookies don't spread. Soft things will spread more quickly than firm, so it's important to give them a little chill-out time in the fridge to firm.
20 minutes prior to getting your cookie dough out of the fridge, preheat your oven to 180°C and line to large baking trays with baking paper or get your silicone baking mat out.
Once chilled, roll slightly heaped Tbsp sized portions of dough into a ball and place on the baking tray. Don't be tempted to squash them flat - they will spread more slowly in their ball shape.
Bake for 10 minutes or until the edges are just turning golden brown.
Remove from the oven and using a breakfast spoon, quickly and gently tap down these fluffy puffy mounds. This will give them the right finished look and also expose the oozing yummy chocolate!
Cool completely on a wire rack before storing in an airtight container for up to 5 days....if they last that long! Let me assure you that they won't! 😉 Enjoy!
Kitch'n Thyme http://kitchnthyme.com.au/