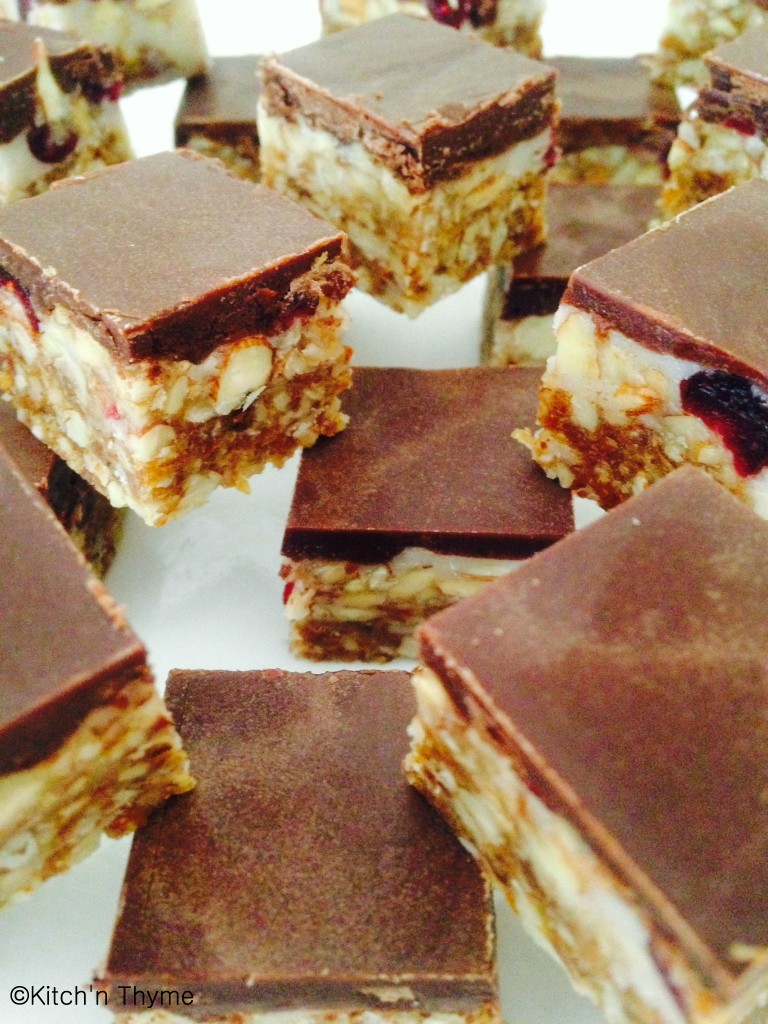 This delicious slice is perfect for any afternoon tea. It is almost raw, except for the roasted almonds. You can keep the almonds raw for the filling if desired, however the roasted flavour adds amazing dimension to this slice.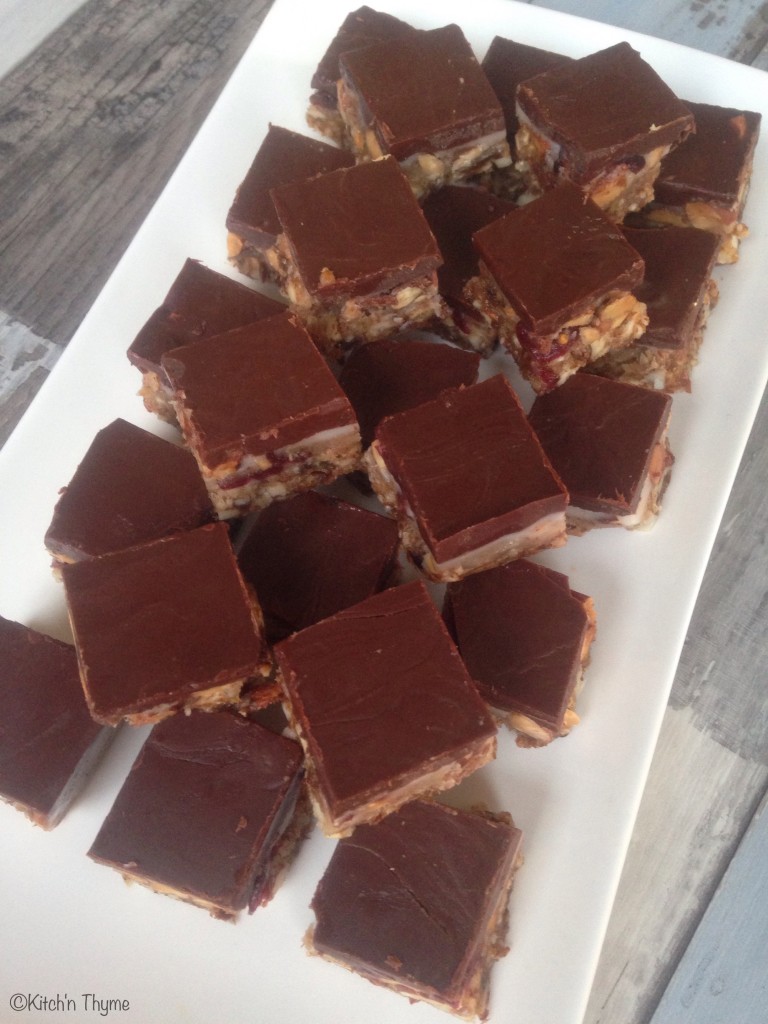 The chocolate layer is technically still raw as it isn't heated over 40 degrees. Add it is pure raw chocolate goodness! Free of any nasty additives and sweeteners, and full of loads of antioxidants and good fats! This is a fabulous one for kids. My little boy devours it – thankfully I cut the pieces small!!
Choc Cranberry Crunch Slice
2015-04-05 07:03:17
A delicious crunchy, nutty chocolate fix!
BASE
230g Raw Almonds
150g Dates
10g Shredded Coconut
60g Maple Syrup
35g Coconut Oil
FILLING
120g Coconut Oil
80g Maple Syrup
150g Roasted Almonds, halved
40g Dried Cranberries
1 tsp Vanilla Essence
small pinch celtic salt
TOPPING
150g Raw Cacao Butter
30g Raw Cacao Powder
30g Maple syrup
1 tsp vanilla Essence
small pinch celtic salt
BASE
Line a medium sized rectangle slice tray with baking paper. Set aside.
Place all the base ingredients into the bowl of the Thermomix and process for 10-15 Seconds/ Speed 7. (This may vary between the TM31 & the TM5, so just look for a nice somewhat chunky consistency but processed enough to hold together as a base.)
Press the mixture into the lined slice tray and refrigerate for 30 minutes.
FILLING
Place the coconut oil, maple syrup and vanilla into the bowl of the Thermomix and melt 1 minute/50°/Speed 3.
Add the chopped almonds, cranberries & salt and mix together 5 Seconds/Speed 3/Reverse.
Once combined, pour the nut mix evenly over the chilled base. Return to the fridge for a further 30 minutes to set.
TOPPING
Place the cacao butter into the bowl of the Thermomix and mill 10-15 Seconds/Speed 9.
Melt the cacao butter for 10 minutes/37°/Speed 2 scraping down the sides of the bowl and around the blades closer to the finish time.
Add the cacao powder, maple syrup, vanilla & salt and continue cooking for a further 5 minutes/37°/Speed 2.
Pour over the slice as the final layer. Refrigerate for another 30 minutes until set. Chop into small squares and serve.
Kitch'n Thyme http://kitchnthyme.com.au/