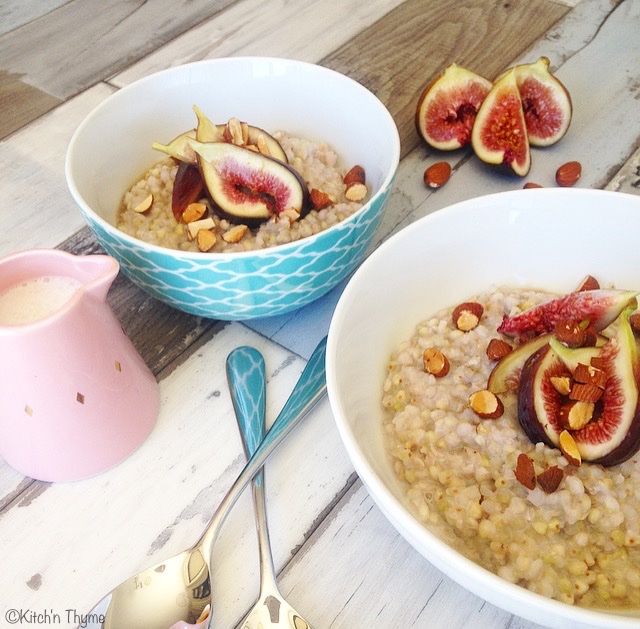 How gorgeous is this beautiful simple, super quick & easy breakfast! Figs are one of my favourites! I love them! And it's fig season now and just the time to be using them in your kitchen! I got a beautiful big punnet really cheaply at my local farmers market last weekend…..I just love farmers markets.
There's just something so wonderful buying produce straight from the farmer! It looks fresher, tastes fresher, stays fresher for longer and is mostly spray free or organic and cheaper! I love that the tops come on the beetroots (we keep them and add them into juices or cook with them!), the beets feel hard and crispy not old and wilted and soft! The silverbeet isn't wrapped in plastic, it's vibrant and crisp and ready to chomp on! And the herbs – they are a real size bunch of herbs! Not in teeny tiny plastic packets or a measly few sprigs in a plastic sleeve, these herbs are the real deal, about 3 or 4 times the size!
I could go on and on!!! But I digress…..back to breakfast!!!….But just go and hunt down a local farmers market when you can! Ok!
Buckwheat is a pseudo grain that I grew up on! We would probably eat this breakfast 1-2 a week. Recently it's come into vogue and is considered a very healthy food. Related to rhubarb, buckwheat is actually the seed of a flowering plant! In some circles it isn't considered part of a Paleo diet, but it is most definitely Gluten Free and suitable for baking and for the likes of this yummy porridge.
Being high in protein, a rich source of iron, zinc, manganese, copper, magnesium, & fiber, it has many wonderful health properties.
Instead of just typical oats for breakfast, I love to mix it up with using different grains for my family. Growing up, we used to have Millet & Polenta in much the same way. And it is thoroughly delicious also! I'll post those recipes in another post!
So below I will give you 2 different methods. Growing up my mum didn't have a Thermomix so I'm showing you the traditional method in the oven. I will say too that I want my children to know how to do things in the traditional methods of an oven or stove, so that they can then appreciate the Thermomix for how fast it truly is! You can also do this buckwheat on the stove, just on a gentle simmer, but you have to make sure you don't forget it, you'll need to stir it quite frequently!
You will see above the buckwheat ready to go into the oven and then freshly cooked, straight out of the oven and ready to eat! Yum!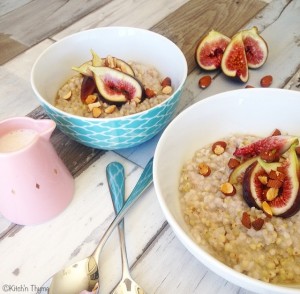 Buckwheat Porridge w Fresh Figs & Roasted Almonds
2015-04-29 22:54:23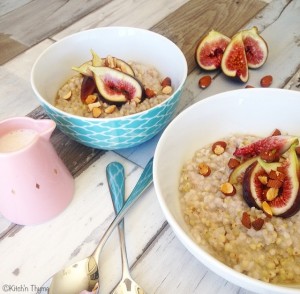 Serves 4
A wonderful Gluten Free alternative to Oat Porridge
Ingredients
200g Raw Buckwheat Kernels
550-600g Water
pinch Celtic Sea Salt
40g Maple Syrup, Honey or Coconut Flower Nectar
250g Coconut Cream, plus extra for serving
2 tsp Vanilla Essence
4-6 Fresh Figs, quartered or cut into eighths
20g Roasted Almonds, roughly chopped
Thermomix Method
Place the buckwheat, water and salt into the mixing bowl of the Thermomix and cook 20 Mins/100°/Reverse/Speed 2.
Add the maple, coconut cream and vanilla and cook a further 2 Mins/100°/Reverse/Speed 2.
Serve with chopped fresh figs, roasted almonds and extra coconut cream.
Oven Method
Preheat the oven to 180°.
Lightly spray a 1.5L stoneware baking dish with olive oil. Place the buckwheat, water and sea salt in the dish.
Bake for 45-60 minutes or until all the water is absorbed. If you cover with a lid or aluminium foil it will only take 30-40 minutes to cook. I don't have a lid for mine, so I just bake it without.
Remove from the oven. Add the maple, coconut cream and vanilla and stir to combine.
Serve with chopped fresh figs, roasted almonds and extra coconut cream.
Notes
Please note, you can change the consistency of this porridge by adding more or less water, depending on the desired consistency. You can also pre-chop the grains slightly before cooking if you would like it more porridge consistency. I quite like the texture of the individual grains so I like to leave them whole.
You can sub the fresh figs for fresh pairs or bananas, strawberries or any other in season fruit.
Kitch'n Thyme http://kitchnthyme.com.au/