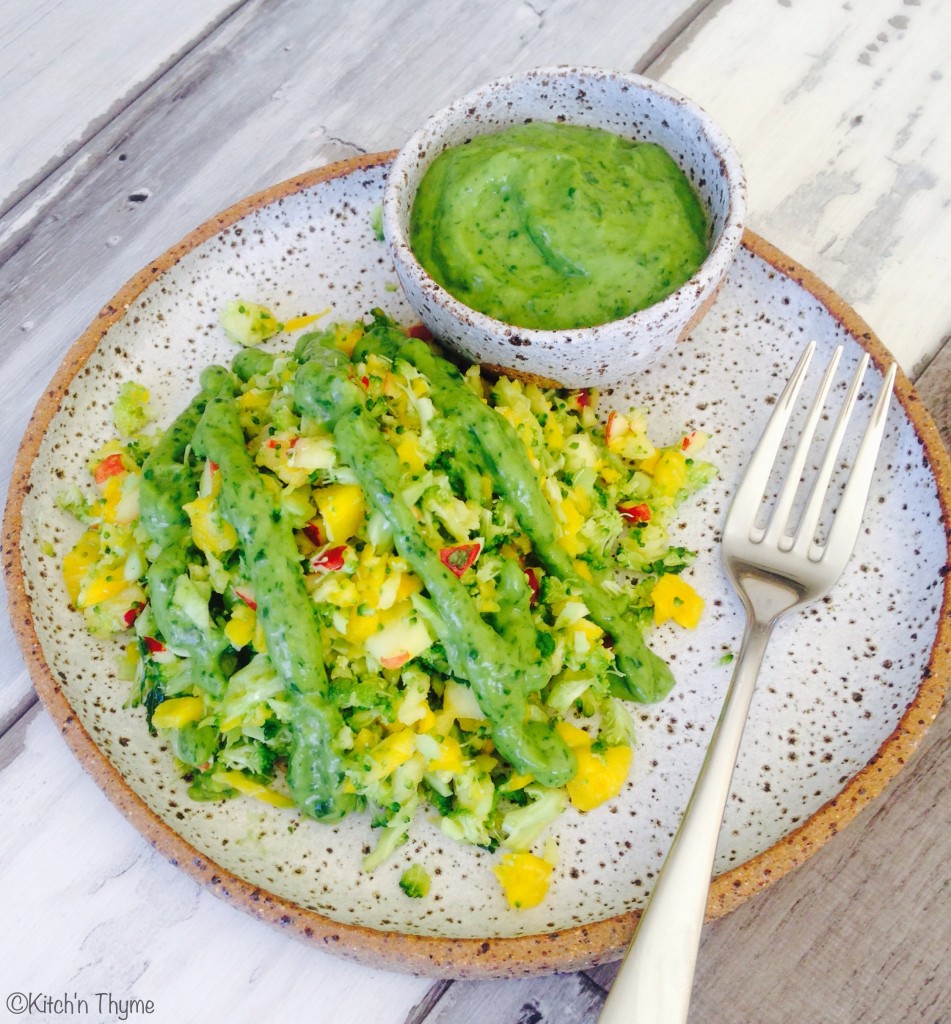 At the recent Thermomix Spectacular on the Sunshine Coast, I teamed up with my beautiful friend from over at Desperate Healthwives. We had a gorgeous simple Raw/Paleo, Nut Butter/Nut Milk stand. Along with that gorgeous Raw Macadamia Salted Caramel that I know many of you wanted to lick the plate off, we did this gorgeous fresh salad! It's a bit of a take on the classic Thermomix Beetroot Salad. We've jazzed it up with gorgeous Golden Beetroots that are in season at the moment mixed with fresh spray free broccoli and of course this to die for Green Goddess Dressing! The original credit for the dressing goes to Oh She Glows. If you google green goddess dressing you can read about the history of this awesome dressing too! I've converted it to a recipe for the Thermomix and we have added in some fresh Coriander along with the other herbs! I use honey for a touch of sweetener, obviously if you're vegan you can substitute with some maple syrup. It is 100% lick the bowl material!! Drizzled over this salad it's a perfect match made in heaven! I know it sort of looks a bit like green slop on a plate, but when you taste it, you completely forget that you are eating green sludge!….Saying that, just look how vibrant green it is! Really you can't get more 'real' food than that! The avocado makes it oh so creamy & smooth, yet it's still so light….and you almost want to drink it! Enjoy!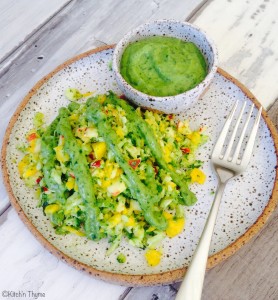 Golden Beetroot & Broccoli Salad w Green Goddess Dressing
2015-04-23 05:45:20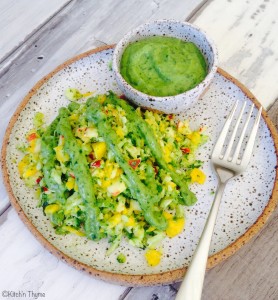 Serves 4
This gorgeous salad is oh so refreshing and nourishing!
Salad
200g Broccoli, roughly chopped
1 Medium Golden (yellow) Beetroot, peeled & quartered
1 Red Apple, cored & quartered
1/4 Red Onion
2-3 sprigs fresh Coriander, leaves only
2 Tbsp Olive Oil
1 Tbsp Lemon Juice or Apple Cider Vinegar
1/2 tsp Celtic Sea Salt
Dressing
1 Garlic Clove, peeled
150g Avocado (Approx 2 Med), peeled
3 Spring Onions (green part only)
1/2 Bunch Coriander leaves
1/2 Bunch Basil leaves
1/2 Bunch Italian Parsley leaves
60ml Extra Virgin Olive Oil
2 Tbsp Lemon Juice
1 Tbsp Apple Cider Vinegar
80ml Water
1 tsp Honey (or Maple Syrup if vegan)
1 tsp Celtic Sea Salt
pinch Cayenne Pepper
Salad
Place all ingredients into mixing bowl and chop 3-5 Sec/Speed 4. Scrape down the sides of the bowl and chop a further 1-2 Sec/Speed 4, or until desired consistency is achieved. Be careful not to over process or it will turn into a dip - delightful as that may be!!
Serve straight away with the dressing or cover and place in the fridge until serving.
Dressing
Place the garlic into the mixing bowl and chop 3 Sec/Speed 7. Scrape down the sides of the bowl.
Add the remaining ingredients and process 10-15 Sec/Speed 7. If some of the dressing is left unprocessed on the sides of the bowl just scrape down the sides and process a further 3 Sec/Speed 7.
Drizzle over the salad and serve extra on the side! You will be licking the plate!!
Store in an airtight container in the fridge. Will keep for about 5 days.
Notes
You can add more water, vinegar, or lemon depending on how runny you would like it and your personal tastebuds.
Kitch'n Thyme http://kitchnthyme.com.au/